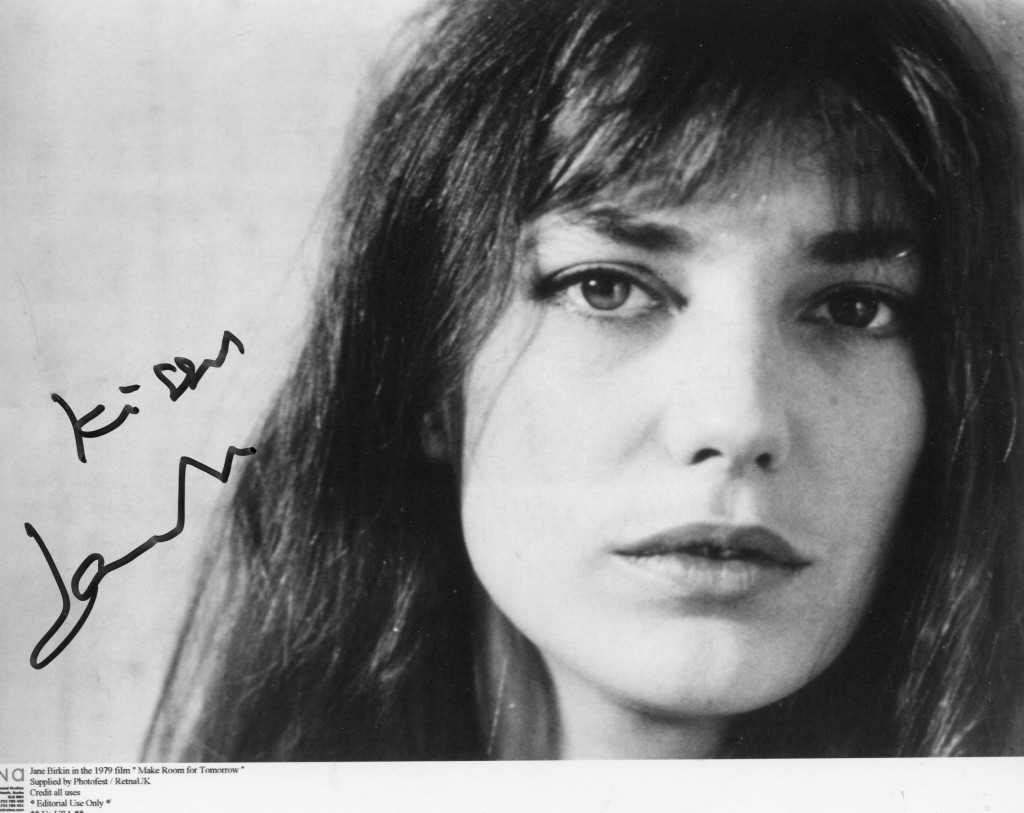 Jane Mallory Birkin was born on 14 December 1946, in Marylebone, London. Her mother, Judy Campbell, was an English actress, best known for her work on stage. Her father, David Birkin, was a Royal Navy lieutenant-commander and World War II spy. Her brother is the screenwriter and director Andrew Birkin. She was educated at Upper Chine School, Isle of Wight."Je t'aime" made UK chart history in that on 4 October 1969 and the following week on 11 October, the song was at two different chart positions even though it is the same song, the same artists, and the same recorded version
TCM overview:Landed several lightweight movie roles in the 1960s, when her looks seemed to symbolize the swinging spirit of the times (she played one of the nude models in Antonioni's 1966 "Blow-Up") and subsequently resurfaced as a respected talent in France. Birkin was the subject of a documentary by Agnes Varda, "Jane B. par Agnes V." (1988) and gave an affecting performance opposite Dirk Bogarde in Bertrand Tavernier's "Daddy Nostalgia" (1990). Her younger daughter Charlotte Gainsbourg, by composer-director Serge Gainsbourg, is also an actress and her brother is writer-director Andrew Birkin ("Burning Secret" 1988). The ultra-expensive luxury item the Birkin bag was created by Hermès head Jean-Louis Dumas in 1984, inspired by a meeting with the actress and singer in which she complained about never finding a leather purse she really liked.
Jane Birkin died in Paris in 2023 aged 76.
The Times obituary in 2023:
Shortly after Jane Birkin and Serge Gainsbourg had recorded the infamously erotic Je t'aime . . . moi non plus, the couple went to dinner at the Hôtel des Beaux Arts in Paris.
"There was a record player, and without saying a word, Serge put the song on," Birkin recalled. "All of a sudden all the couples around us stopped talking, their knives and forks held in mid-air."
As their fellow diners sat transfixed by the record's sexually explicit lyrics interspersed with Birkin's orgasmic gasps and moans, Gainsbourg turned to his lover. "I think we've got a hit record," he said.
Birkin with Serge Gainsbourg and their daughter Charlotte in 1971
Indeed, the duo not only had a hit but a song that would become an avatar for the Swinging Sixties and its sexual permissiveness — a "symbol of freedom", as Birkin called it.
Prudes and moral guardians everywhere were outraged. The Vatican denounced the record and the BBC banned it, as did countless other radio stations around the world.
The critic Sylvie Simmons described the song as "the musical equivalent of a Vaseline-smeared Emmanuelle movie", and the aural sex that oozed from the grooves was too libidinous even for the traditional Gallic laissez-faire: the record was declared too risqué to be played on French radio before an 11pm watershed. In Italy the head of Gainsbourg and Birkin's record label was jailed for offending public morality.
The bans only served to enhance the record's success and Gainsbourg called Pope Paul VI "our greatest PR man". Je t'aime . . . moi non plus hit No 1 in the UK charts in the autumn of 1969, the first banned record to do so. It remained in the charts for 31 weeks and was said to have contributed to a dramatic spike in the birth rate.
Birkin in Cannes in 2021 for the release of a film, Jane Par Charlotte, about her by her daughter Charlotte
A prurient media speculated that it was a genuine live sex session recorded in the boudoir rather than faked in the studio, although Gainsbourg denied it. "Thank goodness it wasn't, otherwise I hope it would have been a long-playing record," he said. Birkin giggled alongside him as he said it.
Birkin had arrived in Paris in 1968 as a 21-year-old aspiring actress with an androgynous figure and an innocent baby-doll look that had earned her a role in Antonioni's "swinging London" movie Blow-Up. She also had a one-year-old daughter from a brief marriage to the film composer John Barry, who as soon as she had fallen pregnant left her for an even younger model and moved to Los Angeles.