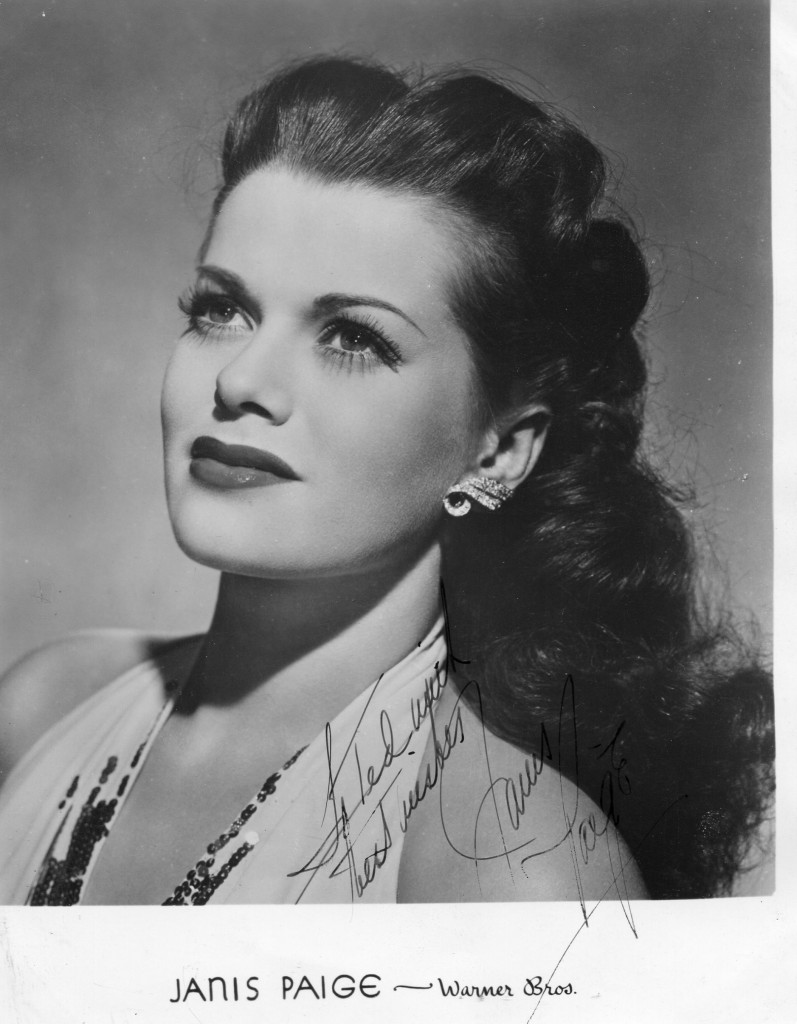 Born in in Tacoma, Washington in 1922. Paige began singing in public at age five in local amateur shows. She moved to Los Angeles land was hired as a singer at the Hollywood Canteen during World War II.
The Hollywood Canteen was a studio-sponsored club for members of the military. A Warner Bros. agent saw her potential and signed her to a contract. She began co-starring in low budget musicals, often paired with Dennis Morgan or Jack Carson. She co-starred in "Romance on the High Seas," the 1948 film in which Doris Day made her movie debut. Paige later co-starred in adventures and dramas, in which she felt out of place. Following her role in Two Gals and a Guy (1951), she decided to leave Hollywood. Paige appeared on Broadway and was a huge hit in a 1951 comedy-mystery play, Remains to Be Seen, co-starring Jackie Cooper. She also toured successfully as a cabaret singer.
She obtained huge acclaim in 1954 with her role as "Babe" in the Broadway musical The Pajama Game. (Doris Day played the part on film.) After a six years away, Paige returned to Hollywood in Silk Stockings (1957), which starred Fred Astaire and Cyd Charisse, the Doris Day comedy Please Don't Eat the Daisies (1960), and as a love-starved married neighbor in Bachelor in Paradise (1961) with Bob Hope.
A rare dramatic role was as "Marion," an institutionalized prostitute, in The Caretakers (1963).
Gary Brumburgh's entry:
This joyous scene-stealer started out playing rather bland film ingénues, but never seemed to be comfortable in those roles–she had too much snap, crackle and pop to be confined in such a formulaic way.
Born in 1922 in Tacoma, Washington, Janis Paige was singing in public from age 5 in local amateur shows. She moved to Los Angeles after graduating from high school and earned a job as a singer at the Hollywood Canteen during the war years. The Canteen, which was a studio-sponsored gathering spot for servicemen, is where she was spotted by a Warner Brothers talent scout, who saw potential in her and signed her up. She began co-starring in secondary musicals that often paired her with either Dennis Morganor Jack Carson. Later she was relegated to rugged adventures and dramas that just seemed out of her element. Following her role in the forgettable Two Gals and a Guy(1951), she decided to leave the Hollywood scene. She took to the Broadway boards and scored a huge hit with the 1951 comedy-mystery play "Remains to Be Seen", co-starringJackie Cooper. She also toured successfully as a cabaret singer, performing everywhere from New York to Miami to Las Vegas to Los Angeles. Definitive stardom came in 1954 with the feisty role of Babe in Broadway's "The Pajama Game" opposite John Raitt. Her old Warner Bros. rival Doris Day, however, was a bigger name and went on to play the role on film (The Pajama Game (1957)) with Raitt. After a six-year hiatus, Janis returned to films in tongue-and-cheek support, all but stealing Silk Stockings (1957) from co-starsFred Astaire and Cyd Charisse. She then grabbed her share of laughs in a flashy role with the comedy Please Don't Eat the Daisies (1960) opposite Ms. Day. Janis ventured on in summer stock, playing such indomitable roles as Annie Oakley in "Annie Get Your Gun", Margo Channing in "Applause", Mama Rose in "Gypsy" and Adelaide in "Guys and Dolls". From the mid-'50s on, Janis also tapped into TV with such series like It's Always Jan(1955), Lanigan's Rabbi (1976) and Trapper John, M.D. (1979). In the 1990s, among other TV appearances, she had recurring roles on the daytime serials General Hospital(1963) and Santa Barbara (1984). Married three times, she was the widow of Disney composer Ray Gilbert, who wrote the classic children's song "Zip-a-Dee-Doo-Dah."
– IMDb Mini Biography By: Gary Brumburgh / gr-home@pacbell.net
TCM overview:
An enthusiastic singer from childhood, Janis Paige was discovered by a talent scout while performing at the Hollywood Canteen, which quickly led to a career in movies. As a contract player for Warner Brothers, she graced such musicals as, appropriately enough, "Hollywood Canteen" (1944), "The Time, the Place and the Girl" (1946) and "Romance on the High Seas" (1948). Paige's spirited work during this period registered positively with the public, even if most of her pictures were formula exercises that rarely exceeded their expectations. After a brief period as a freelancer at the beginning of the 1950s, Paige found her true fame as a stage actress, impressing Broadway patrons in "Remains to be Seen" (1951-52) and the comic blockbuster "The Pajama Game" (1954-56), where she gave one of her trademark performances as a sexy union leader who falls in love with a factory supervisor. While the stage took on a special importance for her, Paige periodically reappeared on the silver screen, with "Silk Stockings" (1957) showcasing her appeal at its peak. She also briefly toplined her own sitcom and was a regular presence on TV programs of several genres. While not considered a top flight star in most circles, Paige was one of the true iron ladies of show business, boasting a career more than seven decades in duration, and was still delighting audiences on stage in her nineties.
A native of Tacoma, WA, Janis Paige was born Donna Mae Tjaden on Sept. 16, 1922. Gifted with an aptitude for singing, she was performing for audiences by age five and appeared with the Tacoma Opera Company in her teens. Upon finishing high school, Paige's mother moved her daughter to Los Angeles in the hope of establishing an entertainment career for the girl. While showcasing her vocal abilities at the fabled Hollywood Canteen, Paige's talent and beauty impressed a scout and she made her film debut in the Esther Williams vehicle "Bathing Beauty" (1944). A contract with Warner Brothers followed, along with roles in the studio's all-star extravaganza "Hollywood Canteen" (1944), as well as "Her Kind of Man" (1945) and "Of Human Bondage" (1946). Paige was well-utilized in Warner musicals like "The Time, the Place and the Girl" (1946), "Love and Learn" (1947), and "Romance on the High Seas" (1948), and while no match for their glossy counterparts from MGM, they possessed a laid-back appeal that went down well with audiences of the time. While she was a consistently engaging presence and able performer, Paige remained relegated to the studio's second tier productions and after the completion of "The House Across the Street" (1949), her relationship with Warners came to an end.
Entering the 1950s as a freelancer, Paige journeyed to Italy to star in the crime drama "Fugitive Lady" (1950), while also gracing the routine likes of "This Side of the Law" (1950) and "Two Gals and a Guy" (1951). By that point, Paige's movie career was largely going nowhere, but she soon shifted gears and concentrated on live stage work, a move that not only brightened her prospects, but also generated her most lasting fame. Paige made a splashy Broadway debut in the comedy "Remains to be Seen" (1951-52) and really hit her stride as union spitfire Babe Williams in the first year's run of the hugely successful musical farce "The Pajama Game" (1954-56). In 1954, she also began what turned out to be a regular guesting gig on "The Bob Hope Show" (NBC, 1952-1975), appearing in a number of the comedian's specials during his long association with NBC. Capitalizing on her newfound notoriety, Paige accepted an offer to headline her own sitcom, "It's Always Jan" (CBS, 1955-56), but the program was not renewed for a second season. She returned to movies with a memorable part in the Fred Astaire/Cyd Charisse outing "Silk Stockings" (1957), a splendidly colorful musical variation on "Ninotchka," where she nearly stole the show with her "Satin and Silk" number. The same year's film version of "The Pajama Game" gave her role to Doris Day, but no bad blood existed between the two actresses and Paige went on to co-star in Day's comedy hit "Please Don't Eat the Daisies" (1960).
Paige's achievements were also honored with a star on the Hollywood Walk of Fame and she became a fixture in Bob Hope's annual globetrotting USO variety shows. She graced the London stage in a local production of "The Unsinkable Molly Brown" (1961) and reunited with Hope in the suburban farce "Bachelor in Paradise" (1961). The following year, she wed her third husband, songwriter Ray Gilbert, best known for the Oscar winning favorite "Zip-a-Dee-Doo-Dah" from "Song of the South" (1946), and enjoyed an offbeat dramatic performance as a troubled prostitute in "The Caretakers" (1963). Frequent guest star outings on various television programs kept Paige's small screen profile active during this period and she returned to the Great White Way in "Here's Love" (1963-64), a musical take on "Miracle on 34th Street." The low-grade Western "Welcome to Hard Times" (1967) offered her little of interest, but the following year presented a new engagement on Broadway when Paige took over from Angela Lansbury as the star of the musical-comedy sensation "Mame" (1966-1970). She also continued her live performing in smaller scale efforts, including "The Gingerbread Lady."
After a hiatus from film and television work during the late 1960s and early '70s, Paige was regularly busy, guesting on both sitcoms and dramas, and was a regular on the short-lived crime show "Lanigan's Rabbi" (NBC, 1976-77). In 1976, Gilbert died, leaving Paige with control of the Ipanema Music Corporation, which she continued to supervise. However, Paige also kept her SAG card active via a pair of quickly cancelled sitcoms, "Gun Shy" (CBS, 1983) and "Baby Makes Five" (ABC, 1983), as well as a recurring part on the last season of "Trapper John, M.D." (CBS, 1979-1985). She also made her Broadway bow alongside Kevin McCarthy in "Alone Together" (1984-85) and had a run on the soap opera "Santa Barbara" (NBC, 1984-1993). After a 27-year gap, Paige made a one-shot return to movies with a supporting role in the little seen drama "Natural Causes" (1994). After almost six decades, Paige retired from film and television assignments in 2001. Thanks to an unfortunate health scare, Paige was almost not heard again, period. She enlisted professional help to deal with a break in her voice, but the treatment ended up leaving Paige speechless. With the aid of experts at Vanderbilt University and a new instructor, her abilities returned after several years of work and she took to the stage once again. Her one-woman show featured Paige singing various classic songs and discussing memorable times from her life. Paige was praised for the charm and vitality on display throughout the production, which she first performed in 2010 and continued doing right through her eighties and nineties.
By John Charles