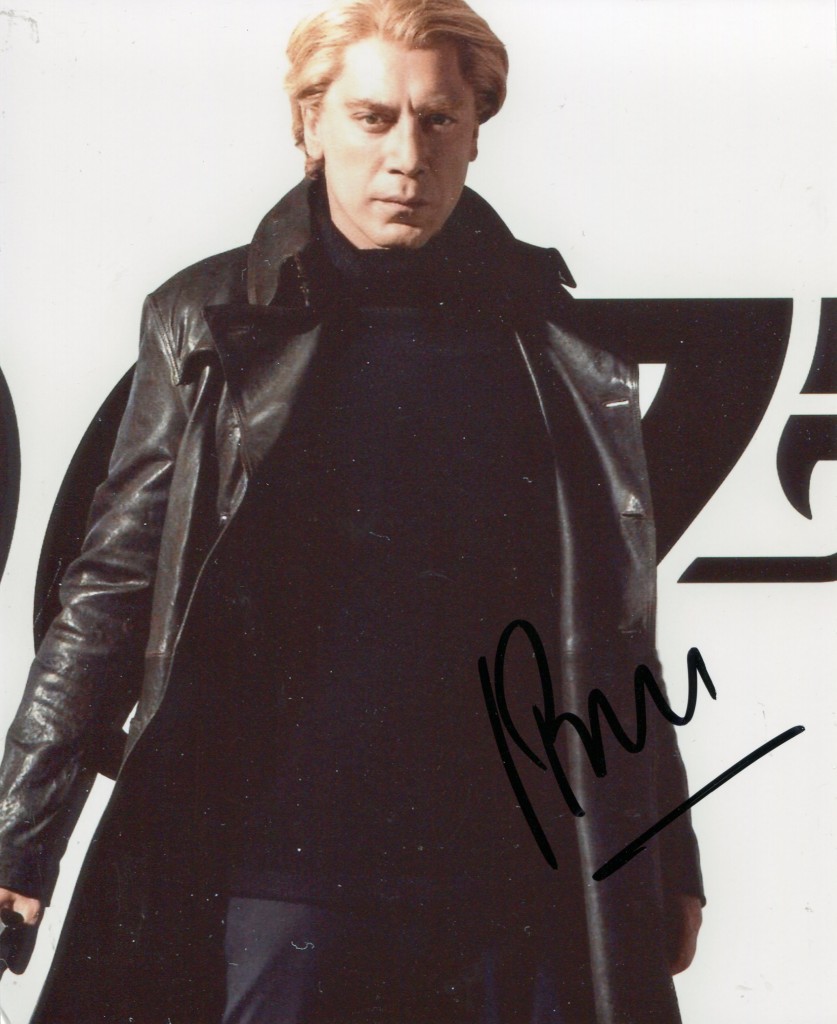 Javier Bardem was born in 1969 in Las Palmas, Canary Islands. He came to fame with his performance in "No Country For Old Men" for which he won an Oscar. He recently played the villain 'Raoul Silva' in "Skyfall".
TCM Overview:
Hardly one to have hungered for a Hollywood career, Spanish-born actor Javier Bardem nonetheless achieved great stardom and acclaim while being highly selective of the roles he chose to play. After making his film debut in "The Ages of Lulu" (1990), Bardem graduated to leading roles with "Jamón, Jamón" (1992) and made his English language debut in "Perdita Durango" (1997). He made an international splash with his Oscar-nominated performance as openly gay Cuban author Reinaldo Arenas in "Before Night Falls" (2000), and continued to win serious praise for "The Dancer Upstairs" (2003). Bardem went on to deliver a sterling performance as quadriplegic Ramón Sampedro, who spent 29 years fighting for his right to die in the "The Sea Inside" (2004). Following a brief, but pivotal turn as Mexican drug lord in "Collateral" (2004), Bardem was the fictional Brother Lorenzo in the otherwise historical drama "Goya's Ghosts" (2006), before starring in Mike Newell's adaptation of "Love in the Time of Cholera" (2007). But it was his Oscar-winning performance as the ruthless, coin-tossing assassin Anton Chigurh in the Coen Brothers' "No Country for Old Men" (2007) that catapulted Bardem into superstardom. From there, he was a Spanish painter in Wood Allen's "Vicky Christina Barcelona" (2008), a deteriorating family man in "Biutiful" (2010), and James Bond's arch-enemy in "Skyfall" (2012), all while embarking on a low-profile marriage with Penelope Cruz. Whether sympathetic hero or psychotic villain, Bardem was certainly worthy of the slew of awards and critical praise he routinely received.
Born on Mar. 1, 1969 in Las Palmas, Canary Islands, Spain, Bardem was raised in a show business family. His mother, Pilar, was a talented and well-known stage actress who exposed her children to the craft at an early age. His uncle, Juan Antonio Bardem, was an acclaimed filmmaker, and his grandfather, Rafael Bardem, also acted. At age 4, Bardem followed his mother to the theater where he watched her perform and routinely get sick from stage fright before stepping onstage. Though his mom helped secured him a small part in the miniseries, "El Picaro" (1974), Bardem decided painting was his path and began studying art at the Escuela de Arte y Oficios in Madrid. While struggling to become an artist, he took several odd jobs including as a waiter, security guard and even a stripper at a nightclub to earn his keep. By the time he was in his late-teens, Bardem working as an occasional extra segued into acting, leading to small parts that eventually blossomed into more prominent roles and eventually a burgeoning career.
Bardem had his start with famed Spanish director Bigas Luna, whose searing examinations of masculine obsessions were borderline pornographic. He landed a role in "Las Edades de Lulu (The Ages of Lulu)" (1990) after following his sister to the audition because he had "nothing better to do that day" (Hispanic, May 31, 2003). Though his sister failed to make the cut, Bardem went on appear in the nearly plotless erotic thriller about a sheltered adolescent (Francesca Neri) who loses her virginity to a family friends, sparking a sexual odyssey that leads her down several twisted paths. After brief appearances in "Amo Tu Cama Rica" (1991) and Pedro Almodovar's "High Heels" (1991), Bardem landed his first starring role in Luna's "Jamón, Jamón" (1992), playing an aspiring bullfighter tasked to seduce a beautiful working girl (Penélope Cruz) by the distraught mother (Stefania Sandrelli) of the girl's upper class lover (Jordi Molla), only to work his charms on both.
His next film with Luna, "Huevos de Oro (Golden Balls)" (1993), saw Bardem as a macho, crotch-grabbing ex-military man obsessed with sex who wants to build a phallic skyscraper with the money inherited from his marriage to a rich man's daughter (Maria de Medeiros). One of Luna's most notorious films – really more soft-porn than anything else – also proved to be one of his most detested, despite a strong performance from Bardem. After appearing for a small role in "La Teta y la Luna (The Tit and the Moon)" (1994), Bardem's early collaboration with Luna ended. But his being typecast as a type-A hunk continued with the sex comedy "Mouth to Mouth" (1995) – a role that earned him a Goya Award for Best Actor in 1996 – and the bizarre Rosie Perez black comedy "Perdita Durango" ("Dance With the Devil") (1997), his English-language debut, spurned the young actor to be more selective in order to avoid being trapped in the same kinds of films.
Bardem finally began breaking the mold with another Almodovar film, "Live Flesh" (1997), playing an ex-cop bound to a wheelchair after a fateful shooting involving a heroin addict (Francesca Neri) and a pizza delivery man (Liberto Rabal), all of whom reunite years later in a web of fate to confront their guilt. After his first turn as executive producer on "Los Lobos de Washington" (1999), Bardem returned to his soft-core porn beginnings with "Entre Las Piernas (Between Your Legs)" (2000), playing a struggling screenwriter who joins a sex therapy group only to relapse with a radio announcer (Victoria Abril) while a series of murders happen around them. In "Second Skin" (2000), Bardem delivered a unique spin on his Lothario persona by playing a surgeon who seduces a man (Jordi Molla), disturbing the man's marriage with his artist wife (Ariadna Gil). By this time, Bardem had built a pile of respected work, though he had failed to become known outside his native Spain. But his next film changed everything.
Bardem leaped from obscurity to become an Oscar-nominated actor and international star with "Before Night Falls," the moving and elegiac story of Cuban poet and novelist Reinaldo Arenas. Raised in pre-Castro Cuba in the 1940s, Arenas leaves home as an adolescent and moves to Havana where he finds himself swept up in the revolutionary spirit, joining a circle of political writers and artists. After publishing his first novel, Castro's oppressive regime engulfs Arenas because of his overt homosexuality and radical political writings. He is imprisoned after being falsely accused of molestation and later flees Cuba for New York City where his hopes for a new life are destroyed when he contracts AIDS. Bardem's emotional, but gritty performance earned him several critics' awards, a Best Actor statue at the Venice Film Festival, and nominations at the Golden Globes and Academy Awards.
Bardem went to work building on his success from "Before Night Falls" with another sterling performance. In "Los Lunes al Sol (Mondays in the Sun)" (2002), he played a gruff, out-of-work shipyard man spending his time drinking and commiserating with his fellow working class stiffs, all of whom are down on their luck and pine for better days. Finally, Bardem had moved beyond playing over-sexed macho guys in favor of more nuanced and dimensional characters. He completed his transformation with a strong, but subtle performance in "The Dancer Upstairs," playing Agustin Rejas, an idealistic policeman in an unspecified Latin American country ravaged by a bloody conflict with a highly-organized terrorist group. Rejas hunts down the leader of the group while falling for a beautiful ballet teacher (Laura Morante), only to suspect her of being involved with the terrorists. Though no awards were forthcoming, Bardem nonetheless delivered a worthy performance to follow up the hoopla surrounding his Oscar nomination.
Taking the advice of actor John Malkovich, who made his directorial debut with "The Dancer Upstairs," Bardem became decidedly choosier with his roles than he already had been. His constant thirst for good material led him to star in "The Sea Inside," director Alejandro Amenabar's moving account about Spanish poet Ramón Sampedro, who became a quadriplegic after a diving accident and his 29-year struggle to end his life with dignity. Bardem delivered a charismatic and witty performance that was counterbalanced by his character's dark desire to end his life, earning the actor another Best Actor prize at the Venice Film Festival and a nod for Best Actor at the Golden Globes. Bardem made the jump to big Hollywood fare with a small role in Michael Mann's adept thriller, "Collateral" (2004), playing a powerful drug lord using a determined assassin (Tom Cruise) to kill witnesses set to testify at his pending trial.
After "Collateral," he returned to Spain to star in Milos Foreman's historical drama, "Goya's Ghosts" (2006), playing an enigmatic member of the powerful Spanish clergy who becomes infatuated with the beautiful teenage muse (Natalie Portman) of famed painter Francisco Goya (Stellan Skarsgard). Continuing to work with top directors, Bardem was tapped by the Coen Brothers to play the coldly psychopathic killer Anton Chigurh in their laconic thriller, "No Country for Old Men" (2007). Initially reserved about playing a role that required using guns and speaking English, Bardem nonetheless was excellent in his portrayal of Chigurh, a criminal who flips coins for lives and kills with a high-powered air gun while he hunts down a Vietnam vet (Josh Brolin) trying to make off with $2 million found at the bloody scene of a drug deal gone bad. So impressive and powerful was his performance, Bardem won both a Golden Globe and Academy Award for Best Supporting Actor in a Motion Picture in early 2008.
He followed his win with an Oscar nod for Best Performance by an Actor in a Supporting Role. Meanwhile, he had a much quieter and far less hailed starring turn in "Love in the Time of Cholera" (2007), Mike Newell's adaptation of Gabriel García Márquez's novel about a poet and telegraph clerk entangled in a love triangle with the beautiful young wife (Giovanna Mezzogiorno) of a sophisticated aristocrat (Benjamin Bratt). Bardem then starred in his first Woody Allen film, "Vicky Christina Barcelona" (2008), playing a suave artist who woos two American best friends (Rebecca Hall and Scarlett Johansson) on vacation in Spain, while contending with his darkly tempestuous ex-wife (Penélope Cruz). Bardem earned his third Golden Globe nomination, this time for Best Actor in the Motion Picture – Comedy or Musical category. He also earned an Independent Spirit Award nod in the same category. And off-screen, he won the heart of co-star Cruz. The couple became a hot fixture in tabloids once pictures of the couple on vacation surfaced on the Internet. In 2010, it was announced the pair had married in the Bahamas, while the following year Cruz gave birth to their son, Leo.
Meanwhile, Bardem lent his considerable talents to the lightweight romantic travelogue movie "Eat Pray Love" (2010), based on the best-selling novel by Elizabeth Gilbert. In the film, a recently divorced woman (Julia Roberts) goes on a globetrotting quest for self-discovery and inner peace, ultimately leading her into the arms of an irresistibly charming Brazilian lover (Bardem). Although carried along at the box office by fans of the book and the film's lead, "Eat Pray Love" was shown little love by film critics. Returning to Spain and the type of complex, gritty material he had become known for, Bardem next appeared in Mexican director Alejandro González Iñárritu's Spanish-language drama "Biutiful" (2010). This grim, yet ultimately hopeful story centered around the lives of the poor in the slums of Barcelona, with Bardem portraying Uxbal, a deeply flawed man with a connection to the dead, who desperately attempts to provide for his two young children as his own mortality looms ominously before him. While the film met with mixed reviews and his performance was overlooked by both the Golden Globe and SAG awards, Bardem's work in the film was universally lauded by critics, cheerleaded publicly by "Eat Pray Love" co-star Roberts, and finally recognized with an Academy Award nomination for Best Actor. Following a lull in 2011, Bardem once again played the villain, this time portraying the arch-enemy of James Bond (Daniel Craig) in Sam Mendes' highly-anticipated "Skyfall" (2012), which was released on the 50th anniversary of the first Bond film, "Dr. No" (1962). For his work in the film, Bardem was nominated for a Best Supporting Actor SAG Award.
The above TCM overview can also be accessed online here.