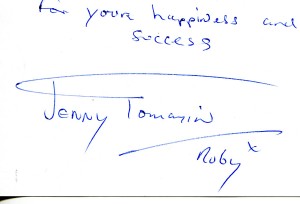 "Independent" obituary:
The role of Ruby Finch, the dim-witted, put-upon scullery maid in Upstairs, Downstairs forever dreaming of running away with Rudolph Valentino, brought Jenny Tomasin fame worldwide. The familiar cry of "Oh, Ruby!" from the Bellamy household's cook, Mrs Bridges, in response to the accident-prone servant's clumsiness, was perhaps the closest the saga came to having a catchphrase.
Tomasin joined the programme for just one episode in its second series, in 1972, but her portrayal of the downtrodden Ruby was so admired that she was kept on until Upstairs, Downstairs ended three years later. She was seen "downstairs" alongside others including Angela Baddeley as the grumpy but warm-hearted Mrs Bridges, George Jackson as the dour butler Hudson, Jean Marsh as the pivotal housemaid Rose and Pauline Collins as the day-dreaming parlour maid Sarah in the drama set at 165 Eaton Place, London, against a background of events from the Edwardian era and First World War to the General Strike and Wall Street Crash. In typical fashion, Ruby once shocked her fellow servants by announcing that she was leaving for a job in a munitions factory, only for it to be blown up with her inside. She took the long walk back to Belgravia, her face blackened, and was reinstated.
The programme was Britain's most successful period drama of the 1970s, watched by 300 million people in 50 countries, including the US, where it won seven Emmys. When it ended, Tomasin felt a big hole had been left in her life and compared it to bereavement. Plans for Ruby to join Hudson and Mrs Bridges in a sequel, running a seaside boarding-house, were abandoned following Baddeley's death.
However, Ruby was a double-edged sword. The character was popular but frequently described as "TV's ugly duckling" and, Tomasin believed, left her typecast as maids, restricting her future career, while "upstairs" stars such as Simon Williams and Lesley-Anne Down saw their careers soar.
"I had to wear these drab outfits and no make-up," she recalled in the 2002 television documentary After Upstairs, Downstairs. "There was one particular incident when I was out with my boyfriend for a meal. I was feeling sexy and attractive, and suddenly somebody yelled out, 'Oh, look, there's Ruby!' I looked at my boyfriend and said, 'I don't want to stay here.' It just felt awful."
Born in Leeds in 1936, Tomasin had childhood ambitions to act or write. Despite her parents' objections, she broke into acting and appeared on stage until she made her screen début in 1972 as a Young Conservative whose parents try to marry her off to the fraudulent Australian of the title (Barry Crocker) in The Adventures of Barry McKenzie, a film written by Barry Humphries (who played Aunt Edna Everage) and the director Bruce Beresford.
Before she finished her run as Ruby, Tomasin took the carbon-copy role of a waitress, Florence Baker, in the motel-set soap opera Crossroads, which she played on and off from 1974-79. There were also one-off appearances in The Dick Emery Show (1976), The Onedin Line (1977) and the sitcom That's My Boy (1985), as well as the small part of Mrs Simmons in the little-seen film Mister Quilp (1975), based on The Old Curiosity Shop. Tomasin also acted one of the child mill workers in later episodes of Midnight is a Place (1977-78).
After she played Naomi Tolly, whose farmer father died in a tractor accident, in Emmerdale Farm (1980-81) and Tasambeker, "ex-ter-min-ated" by the Time Lord's nemeses in the 1985 Doctor Who story "Revelation of the Daleks", Tomasin's appearances became rarer. She took the role of a traffic warden in the 1990 film Just Ask for Diamond and was typecast as a maidservant in a BBC adaptation of Martin Chuzzlewit (1994) and the cook in Beeban Kidron's television film of Cinderella (2000).
On stage and back to type, Tomasin played a parlour maid in a West End production of Man and Superman (Theatre Royal, Haymarket, 1982), starring Peter O'Toole, with the cast reprising their performances in a television film version the same year. She was also in pantomimes and national tours of Blithe Spirit (1988-89), as Edith, the maid, Lettice and Lovage (1990-91) and The Marquise (2004), in which she acted Kate O'Mara's devoted maid.
Tomasin believed her television career might be experiencing a revival when she returned to Emmerdale (as the serial was retitled in 1989) in the role of Noreen Bell (2005-06), a cantankerous, palm-reading, wig-wearing pensioner whose garden fence was painted by Val Lambert as part of a community service order. Noreen became friends with Val but died in a gas explosion while looking round a show home.
It was Tomasin's last screen role, but the character's legacy lives on. The money bequeathed by Noreen to Val enabled her to buy a half-share in The Woolpack pub, where last orders are called with the Noreen Bell bell. However, Tomasin – who never married – always remained optimistic that more work would come along. As she said in 2002: "I've been through such hard times, but I can always bounce back again. I still believe great things are just ahead."
Anthony Hayward
Jenny Tomasin, actress: born Leeds 30 November 1936; died London c. 12 January 2012.