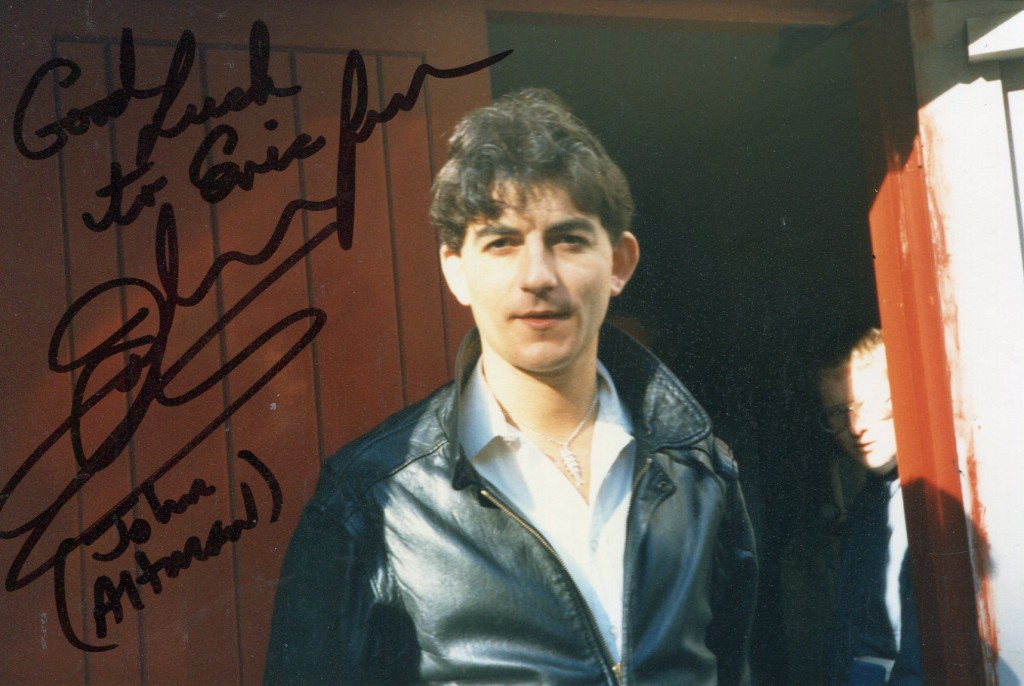 John Altman was born in 1952 in Reading , Berkshire. He is best known for his performance as 'Nasty Nick Cotton' in "Eastenders".
Article from "Walford Gazette":
"Reg Cox, Eddie Royle, and accidentally my son Ashley [a teenager who hasn't yet shown up on U.S. public TV screens]. And don't forget I tried to poison [to death] my dear old Ma [the long-suffering Dot Cotton]. Not too bad, eh?"
In person, Altman turns out to be nothing like Nick and looks great for his 51 years. He usually doesn't reveal his age to the U.K. press, he confides. Nick's tattoos, he smiles, were make-up, as were the needle marks during Nick's heroin-shooting days.
Altman visited New York in late June on a holiday to the States with his 16-year-old daughter Roseanna. Staying at the Long Island home of Paul Bennett, an expatriate friend he's known since schooldays, Altman paid a visit to WLIW to tape a commercial spot to help them promote on-air the then impending EastEnders switch to Saturday nights. WLIW's Matthew Digirolamo was good enough to tip off the Walford Gazette of Altman's local presence and how he might be up for an interview.
"I feel quite lucky to have played Nick Cotton for so many years," says Altman. "Some actors never get anywhere. And every time I've been on EastEnders, they have quite meaty storylines for me. From an acting point of view, it's been a good experience. It's a bit of a cross to bear sometimes though—him being so nasty. When they're casting, I tend to get overlooked for parts like the warm, loving father—which as you can see I am in real life.
"It's [playing Nick] a double-edged sword really because I've been labelled 'Nick Cotton' for the rest of my life. But it's been great because I've been in and out [of EastEnders] the last couple of years. And in the theatre I have been able to play Billy Flynn in an U.K.-touring show of Chicago."
A BBC reviewer on a Norwich performance last November wrote: "Altman certainly looks the part, and his performance as the silver-tongued courtroom attorney draws on his recent TV experience as Dot Cotton's smooth-talking son."
As far as coming back again as Nick, Altman says, "They've left it open." They being the various creative teams that have run EastEnders over the past 18 years. "I think they keep him like an ace card up their sleeve. When it gets a bit quiet, [time to bring back] Nick Cotton."
Indeed, Nick has probably returned to the Square more than any other character, not to mention that he was there from the very first episode in February 1985. I tell him how EastEnders fans often vividly remember the show's first-ever scene of Den Watts kicking in Reg Cox's door; I remember better the last part of that episode with Den throwing Nick out of the Vic after getting into a fight with Ali. "And Nick's fist comes through the window," Altman adds, finishing my thought.
Asked whether he thought that the EastEnders creative teams ever went too far with his evilness, such as poisoning Dot, Altman responds, "Not really. I try to find anything really nice about Nick." He thinks a moment. "Well, he gave his leather jacket to his son Ashley. He did love his son, you know? And when his son dies, he was actually grief-stricken looking over at the coffin. I don't know if you seen that episode yet?"
I tell him no, and explain the time warp Americans who appreciate EastEnders find themselves in and how I didn't yet get BBC America when that storyline hit.
Even though Nick was responsible for Ashley's death, explains Altman, "Nick's warped mind still blames it on Mark Fowler. I don't know what else Nick could do really, other than go out like James Cagney. Personally I wouldn't want to see him as a nice guy. I don't think the viewers would want to either. He's 99 percent rotten Cotton, yeah."
On the Nick Cotton scale, Altman comments that EastEnders' Trevor was "a good bad guy."
Altman's acting credits also include small parts in the Star Wars sequel The Empire Strikes Back and the 1979 film Quadrophenia, based on Pete Townshend's 1973 concept album by The Who.
For Jedi, "I was only working on it for a couple of days. It's easy to miss me, but I did work on it. Quadrophenia was [an acting] learning curve for me. That's a cult movie in the U.K."
I point out, "Here too." Another major role outside of EastEnders for Altman was playing George Harrison in a 1979 TV movie called Birth of the Beatles. A musician in real life, Altman felt at ease playing Harrison, whom he closely resembles physically.
Asked whether he ever met Harrison, he regrets that he never did, but like fellow EastEnders alum Carol Harrison (who played Tiffany and Simon's flashy mum, Walford Gazette, No. 36), Ringo Starr once recognised 'Nick Cotton' in public, remembers Altman.
Of what's on U.S. telly, Altman comments that "24 is damn good television; there's so much going on at the same time."
He mentions playing one of the leads in a play called Bouncers, a satire about nightclub life that's booked for major U.K. cities through January.
Bouncers, written by respected playwright John Godber, was first performed in 1977 at the Edinburgh Fringe Festival and recently enjoyed a successful run in the West End's Whitehall Theatre.
The production of the play also stars Terry Duckworth, an actor in EastEnders' rival Coronation Street, in an obvious ploy by the producers to bring the punters to the theatre.
The four leads in Bouncers play a total of 47 parts—from lager louts to handbag-clutching girls, reminiscent of the acting trio who comprise the BBC's bizarre series The League of Gentlemen (see page 11).
Altman described his Bouncers characters to the British newspaper The Independent in a recent interview: "I switch constantly between three characters: Eric, Maureen and Baz. I was told it would stretch me! There is Lucky Eric, a bouncer, so-called because he always finds a fiver on the dance floor. Maureen, a bit busty, but not a bag, likes a drink and a bit of a laugh. And a young yob called Baz, fit for a fight Friday night—get down there, have a skinful, maybe a Chinese chicken-in-a- basket, and try to pull a bird. The music will change—different disco numbers—one minute I'm a woman, then suddenly I'm a man. It's quite bizarre."
Following Bouncers, Altman tells the Walford Gazette, he's set to appear in a in pantomime production of Peter Pan, which he also did last holiday season. "And after that, who knows?"
With Dirty Den coming back, I mention that there's probably an opportunity to bring back Nick yet one more time given the history (I mention the gripping prison scenes) and the fact that there's no love lost between the two characters. "Yes, that was when he confessed to murdering Reg Cox, thinking that Dirty Den would be impressed. I haven't heard anything [about coming back]. And I'm pretty booked doing plays."
The above "Walford Gazette" can also be accessed online here.