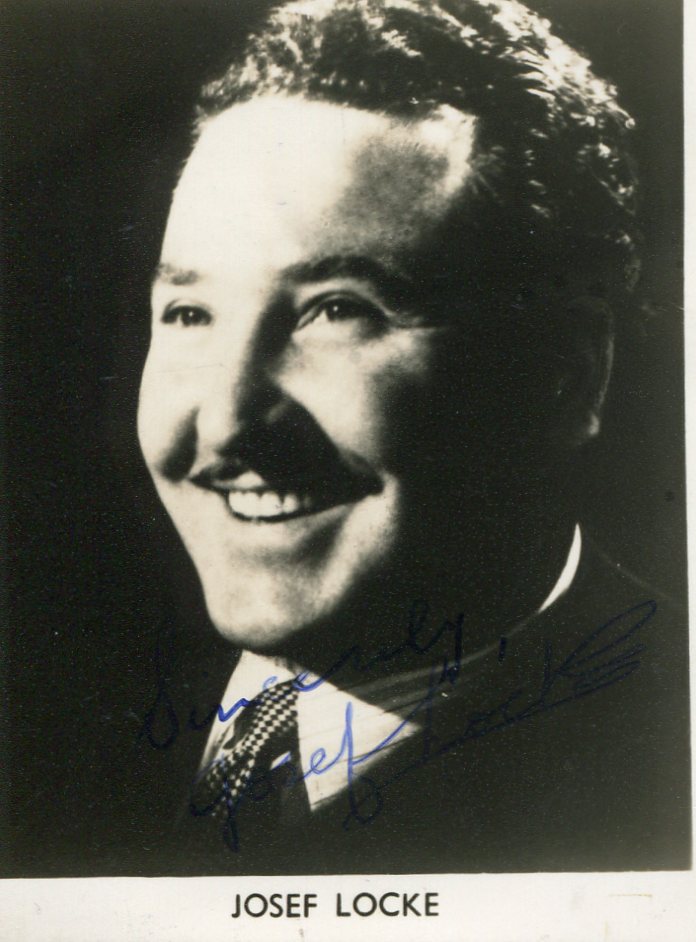 Josef Locke was born in 1917 in Derry. A famous singer in Britain during the 1940's, his songs include "Goodbye" from "The White Horse Inn" and "Here My Song, Violetta". He appeared in a few movies including "What A Carry On" in 1939. He died in 1999.
Stephen Dixon's obituary in "The Guardian":
"Goodbye, goodbye – I wish you all a fond goodbye." As he strutted the stage, his glorious tenor soaring to the back of the "gods" in the north of England's variety theatres, Josef Locke's tearful and adoring audiences sang along and waved their handkerchiefs in time to the music. Locke, who has died aged 82, was an Irish superstar, the Tom Jones of his day – earning £2,000 a week when £100 was a good wage for a music-hall artist.
His voice could have taken him to the world's great opera stages, but he chose the more raffish life of a variety bill-topper, specialising in sentimental ballads such as Hear My Song, Count Your Blessings and I'll Take You Home Again, Cathleen, invariably closing his act with stirring audience galvanisers like Blaze Away or Goodbye. He was handsome, immaculately tailored and flamboyantly rogueish, with a trim moustache and a twinkling eye for the ladies.
Locke based himself in Blackpool, also home to his good friend, the comedian Frank Randle. Together they caroused, brawled and drank through the night, got up to various romantic escapades and lost fortunes on the horses. It was, in fact, Locke's offstage antics that created the legend around him – he happily squandered his vast earnings, and in 1958 fled back to Ireland with the Inland Revenue hot on his heels. The day a warrant for his arrest for unpaid taxes was issued in Blackpool, he was in Kildare, paying 790 guineas for two horses. He named one of them The Taxman.
The story was told, charmingly but fancifully, in Peter Chelsom's 1992 film Hear My Song, in which Locke was played by Ned Beatty. For the premiere, the 75-year-old singer was persuaded to return to England, where he sang Danny Boy to Princess Diana. When Chelsom first mooted the project to Locke, he found the singer only too willing to add to his legend – at one point the director had to track him down to a bar in Spain after he disappeared without signing the contract for clearance rights.
Josef Locke was born Joseph McLaughlin in Derry, Northern Ireland, the son of a butcher and cattle dealer, one of 10 children. He sang at churches in the Bogside as a child, and after a rudimentary schooling joined the Irish Guards, later serving with the Palestine police before returning to Ireland in the late 1930s. He then became a policeman and, performing semi-professionally, was known as "the Singing Bobby". He sought advice about an operatic career from the greatest Irish tenor of them all, John McCormack, who told him that his natural showmanship might serve him better on the popular stage. Again on the advice of McCormack, Locke went to London to see impresario and bandleader Jack Hylton, who, impressed, booked him into the Victoria Palace. It was Hylton who renamed him – Joseph McLaughlin was considered too long for variety bills.
After some success in London, where he made his first recordings in 1947, Locke signed with Lew and Leslie Grade, who realised that his over-the-top style and penchant for sentimentality might go down better on the northern variety circuit, and steered him to stardom. Locke delighted in the world of variety, revelling in his celebrity, wearing only the best clothes and driving the fastest sports cars, always accompanied by a glamorous companion.
He also appeared in films for John E Blakeley's Manchester-based Mancunian company, starring with other music-hall stalwarts like Randle, Tessie O'Shea and Jewel and Warriss. Some critics were sniffy about what they saw as the misuse of a fine voice. "The Londonderry tenor did indeed possess a fine organ," wrote one, "ruined by undisciplined bawling and a delivery drenched in sentimentality."
However, Locke's (mainly female) public thought otherwise, and there was no sign of a diminution in his popularity when he suddenly vanished back to Ireland. Twenty years later, a masked singer, sounding uncannily like Locke and billed as "Mr X", made some appearances in British clubs, and it was thought that he had returned incognito. It turned out not to be the case, although on one occasion he was flown into Britain to appear on This Is Your Life – and then flown straight out again before the taxman could catch him.
The success of the film Hear My Song – Chelsom used the "Mr X" story as the basis for his heart-warming fantasy – brought Locke back into the limelight, and an album of his old recordings became a bestseller. The tax business now long-forgiven, he continued to sing, mostly in Ireland, until fairly recently, then retired. He lived the latter part of his life near Clane, Co Kildare, and is survived by his wife, Carmel, and a son.
• Josef Locke (Joseph McLaughlin), singer, born March 23 1917; died October 15 1999
The above "Guardian" obituary can also be accessed online here.