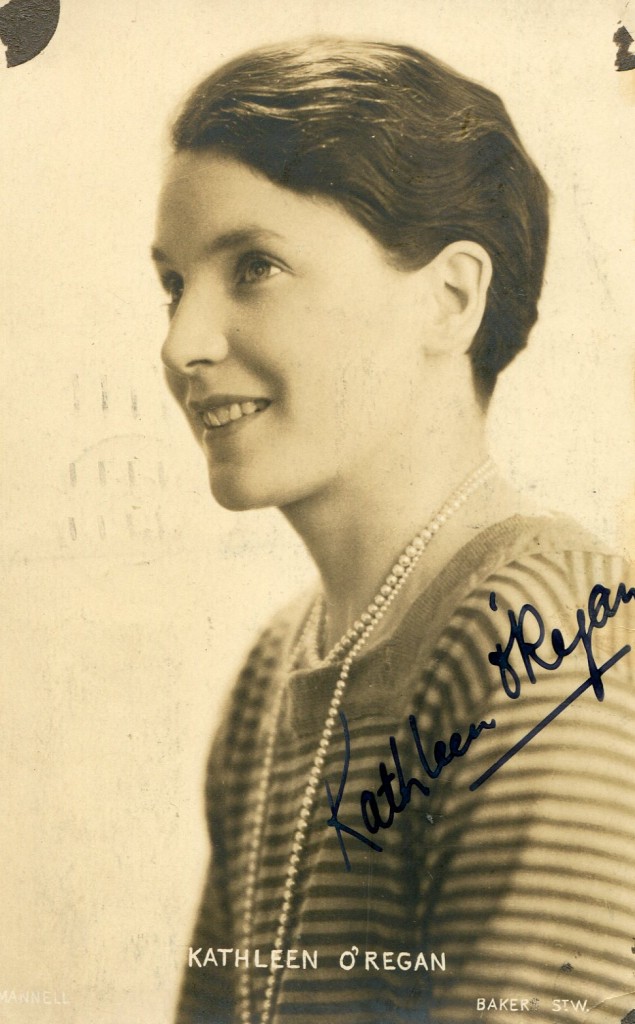 Kathleen O'Regan was born in 1903 in Dublin. In 1929 she starred as 'Mary Boyle' in Alfred Hitchcock's "Juno and the Paycock". She also starred in "The Shadow Between" and "The Rose of Tralee".
!The Times" obituary from 1970:
Miss Kathleen O'Regan, the actress, who died on Thursday, will be remember for her performances in the first London productions of Sean O'Casey's Juno and the Paycock and The Plough and the Stars. In the first she played the daughter; of the two characters from whom the tragedy takes its title, and in the second she played, in succession to Eileen Carey, the young wife who is driven out of her wits by the events of Easter Week, 1916.
Later productions that gave scope to her sense of character or feeling for comedy were those of Van Druten's Young Woodley, in which she played opposite Frank Lawton when it was first tried out by Basil Dean in England; of By Candle Light, an adaptation from the German ("Never choose wine or women by candle light"), in which she succeeded Yvonne Arnaud as a lady's maid masquerading as her employer; and of Banana Ridge, which Ben Travers fashioned to suit Alfred Drayton and Robertson Hare, respectively the lion and the mouse of contemporary farce, and in which Travers himself suggested her for the lion Drayton's mate.
She began her film career by playing her old part under Alfred Hitchcock in Juno and the Paycock, which is credited with being the first British film to have been planned and made from its earliest stages as a "talkie".
Kathleen O'Regan was married to Lieutenant-Colonel K. A. Plimpton, D.S.O., who was for fourteen years Secretary of the Garrick Club.