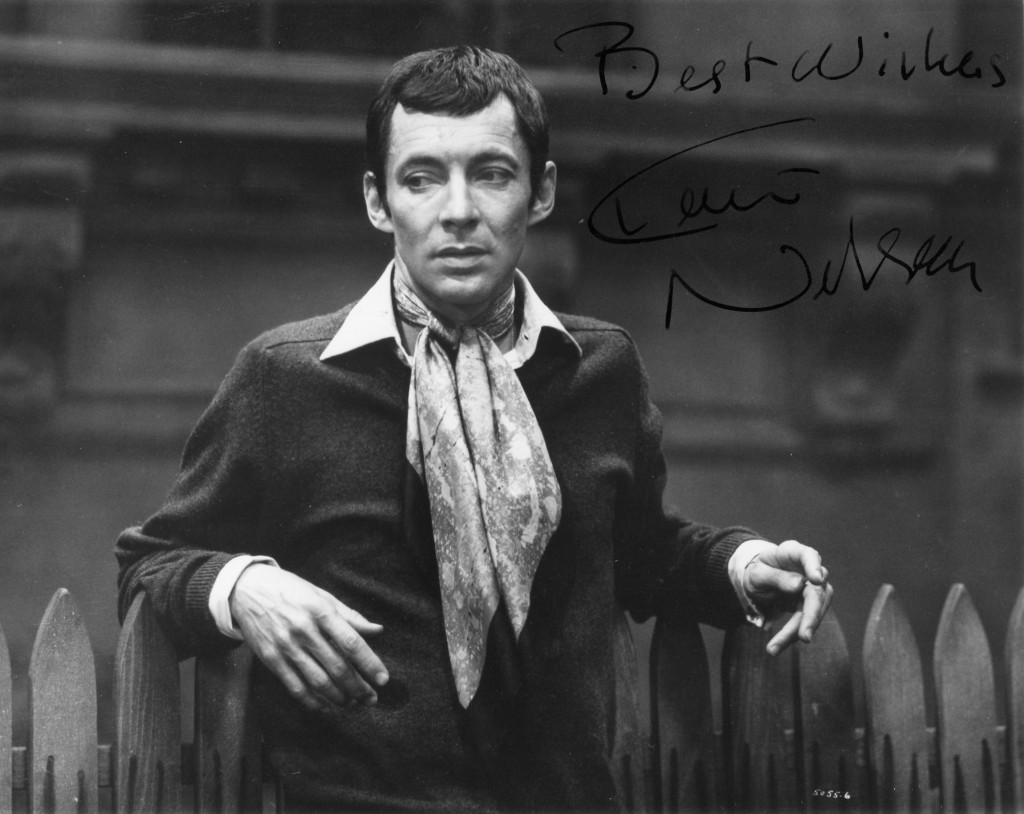 Kenneth Nelson was born in North Carolina in 1930. His most prominent movie role was in "The Boys in the Band" in 1970. He relocated to the UK and was featured in such movies as "Hellraiser" in 1987 and "Nightbreed". He died in 1993.
Jonathan Cecil & Anna Sharkey's obituary in "The Independent":
KENNETH NELSON was a most versatile and accomplished actor, equally at home in drama, musicals and light comedy.
Born in North Carolina, in 1930, Nelson made his first Broadway appearance in Seventeen (1951). Nine years later he created the part of Matt in the long-running musical The Fantasticks. Perhaps his most celebrated performance was as Michael the host in Mart Crowley's The Boys in the Band (1968), which he recreated in London in 1969 and for the film version in 1970.
In 1971 Nelson settled permanently in England, appearing notably in Showboat, Alan Strachan's compilation Cole (1974), David Mamet's Sexual Perversity in Chicago, Annie and for four years in the West End, then on tour, as the megalomaniac director in 42nd Street. He also made many television appearances, his gifts too often squandered as a 'useful American type'.
As a performer Nelson will be remembered for his dark-eyed, vital, faun-like charm and his sympathetic, open-vowelled, old-world American voice. He could show a tough mordant streak as in the Crowley and Mamet plays: he also had a fine sense of comedy. In regional productions of Come Blow Your Horn and The Seven-Year Itch, he brought the same kind of subtle, light touch to Neil Simon's and George Axelrod's work as Richard Briers and Paul Eddington have brought to Alan Ayckbourn's. In Cole he gave the most haunting rendition of that long and difficult ballad 'Begin the Beguine' since Cole Porter's personal favourite, the sophisticated cabaret singer Hutch.
A dedicated Anglophile with a remarkable period sense, Nelson embraced his adopted country wholeheartedly: creating country gardens, and appreciating animals and interior design. He was exceedingly generous as a host and in his praise of friends: especially missed will be his congratulatory telephone calls after watching television performances, always to the point and delightfully effusive: 'Darling, the camera loved you . . .'
During his last, dreadfully debilitating illness he never lost this enthusiasm, still sharing gossip and theatre memories with those whom he called his 'close ones', almost literally to the end, when he was cared for by his devoted sister Naomi Burns, as he had been throughout the last two months. Despite his painfully wasted appearance, visiting him was not in any way distressing. As popular with the hospital nursing staff as he had been with colleagues, he brought an almost backstage atmosphere to his room. Eyes lighting up his characteristic wide smile, he showed a most unegotistical eagerness for news from outside.
Kenny Nelson came into our lives just over 20 years ago. He was a warm-hearted, cultivated companion and an exceptional actor. He had a style and finesse not often found on today's stage but he was by no means old-fashioned in approaching the avant-garde.
The above "Independent" obituary can also be accessed online here.