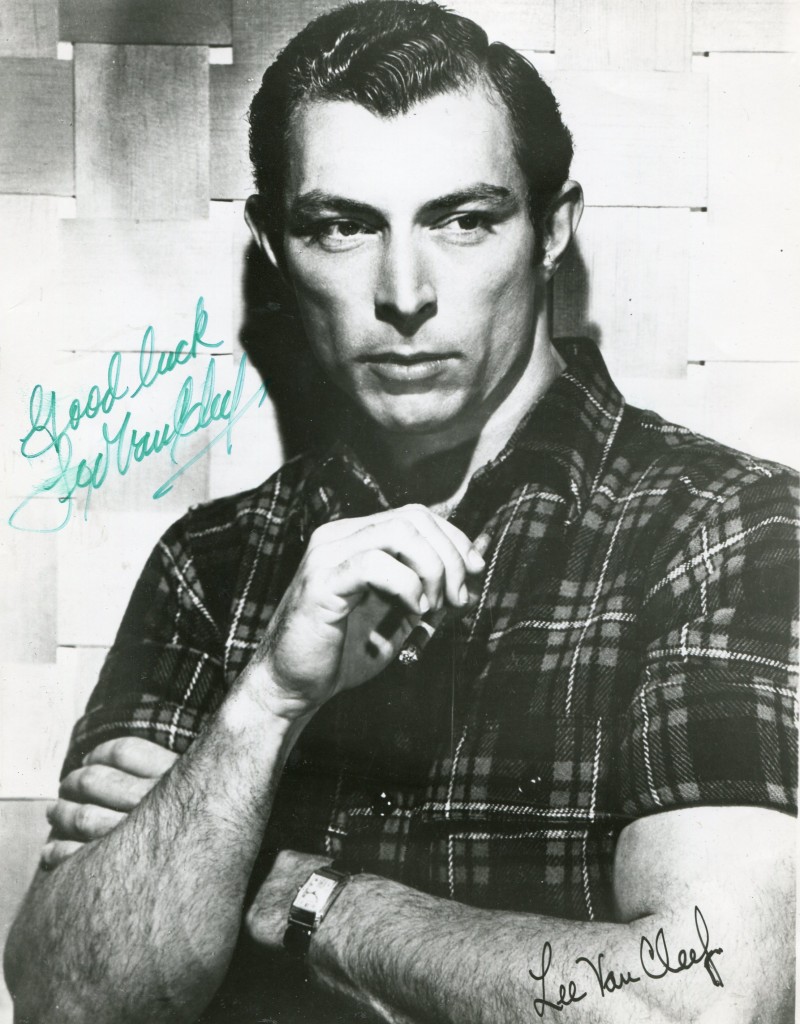 Lee Van Cleef was one of great Western actors. He also carved a niche in gangster movies ofthe 1950's. He was born in 1925 in New Jersey to Dutch parents. He served in the U.S. Navy during World War Two. After demob, he had a brief career as an accountant. He made his mark on film as one of the evil gunslingers eager to mow down Gary Cooper in the classic 1952 Western, "High Noon". He went on to feature in "Kansas City Confidential", "The Beat From 20,000 Fathoms" and "Vice Squad". He was a prolific actor in the 1950's and then became a major Western star with his lead role in 1965 with Cliont Eastwood in Sergio Leone's "For A Few Dollars More". He went on to star with Eastwood again in "The Godd, the Bad and The Ugly". His last film was "Thieves of Fortune" in 1989, the year he died at the age of 64. He is one of my favourite actors.
"New York Times" obituary:
Lee Van Cleef, the film actor whose steely eyes and rugged features led to a long career portraying Western arch-villains, died, apparently of a heart attack, early today at St. John's Regional Medical Center. He was 64 years old and lived in Oxnard. Mr. Van Cleef, who had a history of heart disease, collapsed at his home, about 60 miles north of Los Angeles, late Friday night, said a deputy Ventura County coroner, Craig Stevens.
Mr. Van Cleef got his first film break as one of the desperadoes faced down by Gary Cooper in the 1952 movie "High Noon." He went on to play a series of gunmen and caught the eye of the Italian director Sergio Leone, famous for his "spaghetti Westerns." 'Real Violence Turns You Off' Their association led to Mr. Van Cleef's starring in "The Good, the Bad and the Ugly," portraying "the bad."
Among Mr. Van Cleef's other film credits were the Westerns "A Fistful of Dollars" "For a Few Dollars More," "Take a Hard Ride," "Sabata," "El Condor," and "The Magnificent Seven Ride!" He also acted in the science-fiction thriller "Escape From New York." "I believe in showing real violence, not toy violence," Mr. Van Cleef said in a 1970 interview. "Real violence turns you off because you know it's not the thing to do. If you show violence realistic enough people don't want to do it." Lee Van Cleef was born in Somerville, N.J., on Jan. 9, 1925. His first job was as a farm worker in his home state. He then worked as an accountant in Somerville before beginning in his movie career in 1950.
He is survived by his wife, the former Barbara Havelone, and three children from a previous marriage, Alan, Deborah and David.
IMDB entry:
One of the great movie villains, Lee Van Cleef started out as an accountant. He served in the U.S. Navy aboard minesweepers and subchasers during World War II. After the war he worked as an office administrator, becoming involved in amateur theatrics in his spare time. An audition for a professional role led to a touring company job in "Mr. Roberts". His performance was seen by Stanley Kramer, who cast him as henchman Jack Colby in High Noon (1952), a role that brought him great recognition despite the fact that he had no dialogue. For the next decade he played a string of memorably villainous characters, primarily in westerns but also in crime dramas such as The Big Combo (1955). His hawk nose and steely, slit eyes seemed destined to keep him always in the realm of heavies, but in the mid-'60s Sergio Leone cast him as the tough but decent Col. Mortimer oppositeClint Eastwood in For a Few Dollars More (1965). A new career as a western hero (or at least anti-hero) opened up, and Van Cleef became an international star, though in films of decreasing quality. In the 1980s he moved easily into action and martial-arts movies, and starred in The Master (1984), a TV series featuring almost non-stop martial arts action. He died of a heart attack in December 1989, and was buried at Forest Lawn in the Hollywood Hills.
– IMDb Mini Biography By: Jim Beaver <jumblejim@prodigy.net>
The above IMDB entry can also be accessed online here.