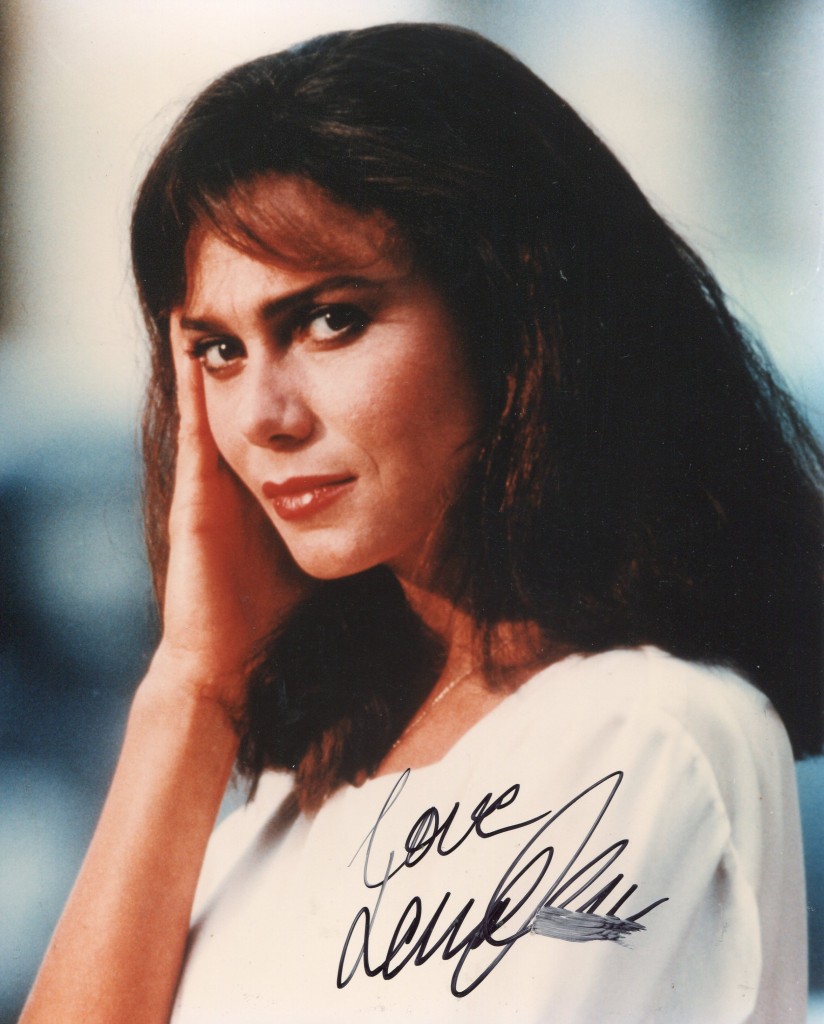 Lena Olin was born in 1955 in Stockholm, Sweden. She has been leading lady to some of the movie icons of the past twenty years including Daniel Day-Lewis in the "The Unbearable Lightness of Being" in 1988, "Havana" with Robert Redford and Johnny Depp in "The Ninth Gate". She is married to the film director Lasse Halstorm.
TCM overview:
A powerful and beautiful Swedish actress in the tradition of Greta Garbo, Ingrid Bergman and Liv Ullmann, Lena Olin first came to prominence in Sweden as a "Bergman actress," working in plays and films directed by the great Ingmar Bergman. The child of actors-her father, Stig Olin, appeared in Bergman films during the 1940s and 50s-she gravitated to the profession in an attempt to overcome her crippling shyness, and though she failed her first audition for the Royal Dramatic Theater school, Bergman saw enough to cast her in a small role in his "Face to Face" (1976). She went on to appear in "The Adventures of Picasso" (1978) and acted for Bergman in "Fanny and Alexander" (1982). In "After the Rehearsal" (1984), she played Anna, a character written expressly for her. Her role as an actress who infuriates her director by getting pregnant while working on one of August Strindberg's plays prefigured actual events when her own pregnancy would complicate a Bergman production of Strindberg's "A Dream Play".
Olin's performance as Cordelia in a Bergman-directed "King Lear" at Stockholm's Royal Dramatic Theater in 1985 brought her to the attention of Bertil Ohlsson, executive producer of Philip Kaufman's "The Unbearable Lightness of Being" (1988), adapted from Milan Kundera's best-selling novel of love and eroticism set against the 1968 Russian invasion of Czechoslovakia. Her turn in that film as Sabina, the bowler hat-wearing artist-mistress of Daniel Day-Lewis, was the first of a series of smart, sexy roles showcasing her unique bearing and dancer's grace, helping to establish her international reputation as a "thinking man's beauty." Whereas the kinky Sabina's sexual proclivities served as a counterpoint to political oppression, the suicidal Masha in Paul Mazursky's "Enemies, a Love Story" (1989) used sex to escape the pain and humiliation of her Holocaust past. Comfortable with her body, Olin appeared in both films without her clothes, and "Enemies" contained sex scenes as graphic as an R rating permitted, prompting the actress to remark that "nudity is just another costume."
Oscar-nominated for her supporting turn as Masha, Olin continued her penchant for films with a background of political upheaval, acting opposite Robert Redford in the Sydney Pollack-directed "Havana" (1990), a disappointing "Casablanca"-like tale of Cuba in the late 50s, perhaps unjustly maligned as a complete bomb. After making her New York theater debut with a moving turn as the tormented titular character in a 1991 Swedish-language production of "Miss Julie", directed by Bergman, she returned to the screen opposite Richard Gere in the dubious "Mr. Jones" (1993), a dull doctor-patient love story with little foundation in reality. She fared far better as the standout of that year's "Romeo Is Bleeding", playing her most outrageous role to date, a psychopathic, Russian assassin (with thighs of steel) who even cuts off her arm to evade capture. She also sandwiched two European flicks, the moribund "The Night & the Moment" (1994) and the slick Swedish actioner "Hamilton" (1998), around Sidney Lumet's "Night Falls on Manhattan" (1997), in which she romanced Andy Garcia.
An instinctual actress who won't look at rushes for fear she might inhibit herself and start to think, Olin completely disdains the perks of stardom, and her indifference to celebrity makes her cautious around the press. Few of her peers, however, can play the complicated, ambiguous characters which are her staple, figures existing on several emotional levels at once, often on the edge of madness. In Teresa Connelly's "Polish Wedding" (1998) she relished her role as a strong-willed mother of five who, although her family means everything to her, still tries to capture the excitement of her youth through illicit love. Olin had a small role as psychiatrist to Casanova Frankenstein (Geoffrey Rush) in the superhero send-up "Mystery Men" (1999) and then performed her determined hellcat routine with gusto as a leader of a satanic cult for Roman Polanski's "The Ninth Gate", its US release moved back three months to March 2000 to give a little more separation between it and another supernatural picture also starring Johnny Depp, Tim Burton's "Sleepy Hollow".
The actress finally achieved the long-held dream of working with her director husband Lasse Hallstrom on "Chocolat" (2000), a delicious morality play with a subtle message about tolerance. Cast as Josephine, a kleptomaniac and abused wife who is shunned by the townspeople, Olin was terrific in the part, particularly in the character's transformation from mousy doormat to chocolate maker under the watchful eye of the mysterious Vianne (Juliette Binoche). Having done some of her best work in years, she followed up as the maternal vampire Maharet in "Queen of the Damned" (2001), based on Anne Rice's novel. Olin resurfaced on American television in 2002 in the form of the "Alias" (2002- ) recurring character Irina Derevko/Laura Bristow, the mysterious double agent mother of lead character Syndney Bristow (Jennifer Garner). Despite an impressive performance, an impasse in contract negotiations ultimately led her to ultimately leave the series.
She also was featured in a high profile role as Harrison Ford's love interest in writer-director Ron Shelton's action comedy "Hollywood Homicide" (2003). Meanwhile, the actress starred as Maria, the mother in an American family that moves into an old house in the remote countryside of Spain, in director Jaume Balaguero's second stab at the horror genre, "Darkness" (2004). Though filmed in 2001, it was released in the United States in December 2004 to poor reviews and mediocre box office. Olin's next effort "Casanova" (2005), director Lasse Hallstrom's fictionalized account of the legendary lothario (Heath Ledger) falling in love at last, was easily one of the most ill-conceived and disappointing films of the year, despite lavish production values and game performances by Olin–as the debt-ridden noblewoman who enters her daughter (Sienna Miller) into a marriage of convenience–and the rest of the all-star cast.
The above TCM overview can also be accessed online
here.