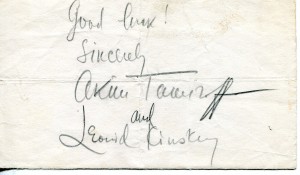 Tom Vallance's "Independent" obituary:
ONE OF Hollywood's most distinctive character actors, often known as "The Mad Russian", Leonid Kinskey was a lanky, shock-haired eccentric with a wrinkled brow and wide grin who specialised in comic continentals with fractured English and manic enthusiasm. Among his most memorable portrayals were the barman who effusively kisses Humphrey Bogart in Casablanca, the gigolo who takes Betty Grable on the town in Down Argentine Way and one of the unworldly professors in Ball of Fire. Occasionally he would be cast in less genial roles, and was chillingly effective as the oily informer in Algiers and a snivelling coward in So Ends Our Night.
Though his countrymen often assumed that he was American ("When I played Russians in the movies they made me so exaggerated no real Russian would believe me"), Kinskey was actually born in St Petersburg in 1903. Sent out of Russia by his mother at 17 – "I belonged to a group of people that was not wanted after the Revolution" – he toured South America as a mime with the acclaimed Firebird Theatre, which specialised in bringing famous paintings to life through mime and dance.
When the company flopped in New York, Kinskey found himself stranded with no money or knowledge of English. He worked as a waiter in Manhattan then managed to get a role in a silent film, The Great Deception (1926), starring Aileen Pringle and Ben Lyon, but when most of his part was cut out he found work in Chicago running a theatre-restaurant with a Russian theme. After the stock market crash caused the restaurant to close, Al Jolson hired Kinskey to appear in the touring version of his show Wonder Bar.
While it was playing in Hollywood, Kinskey was spotted by the director Ernst Lubitsch, who signed him for a brief cameo as a Russian peasant in the exquisite comedy Trouble in Paradise (1932). It was an exaggerated portrayal of an agitated radical who repeatedly exclaims "Phooey" to socialite Kay Francis, who is reassured by her lover Herbert Marshall that "his phooey is less than his bite", and it set the pattern for many of his later roles caricaturing foreigners, such as his delightfully eccentric composer in On Your Toes (1939).
His own favourite role was in the Bing Crosby musical Rhythm on the Range (1936) in which Kinskey bizarrely took part in introducing the song standard, "I'm An Old Cowhand". Other films in which he featured include Duck Soup (1933), We Live Again (1934, another serious role as a murder victim), Les Miserables (1935), The Merry Widow (1935), 100 Men and a Girl (1937), The Great Waltz (1938), Flirting with Fate (1938), in which he and comic Joe F. Brown duetted on "Sweet Adeline"), That Night in Rio (1941) and Can't Help Singing (1944), in which he was one of a pair of bumbling confidence tricksters attempting to swindle Deanna Durbin.
Kinskey was one of the last surviving members of the cast of the enduring classic Casablanca (1942). He claimed that Bogart got him the role of Sacha the bartender after the original actor Leon Mostovoy was fired for lacking the requisite humour. "We used to drink together, Bogart, Ralph Bellamy and myself at Mischa Auer's house at least three times a week," said Kinskey:
We were all good drinkers. Ralph Bellamy was a good-looking guy. We thought he was the one who was going to be a star. And I said to myself about Bogart, "He's short, he speaks with a lisp. And he's not a good- looking guy so what chance does he have?" When Bogart asked me to be in Casablanca, I knew I was replacing an actor who had been thought too heavy, speechwise, and they wanted something very light.
In a memorable scene Kinskey as Sacha is so moved by Bogart's arranging a passport for a young couple desperate to leave that he kisses Bogart on both cheeks as he exclaims, "Boss, you did a wonderful thing" to which Bogart responds, "Get away from me!"
Kinskey appeared in over 70 films. He supplemented his income by writing articles and short stories for Russian publications. During the Second World War he worked with the Soviets in choosing Hollywood movies for showing in the USSR. A television show he did in 1948 called The Spotlight Club is allegedly the first situation comedy ever on television.
Kinskey was also a regular on Jackie Cooper's television series The People's Choice in the Fifties, and made appearances on the shows of Ann Sothern, Spike Jones and others, but he refused to do commercials. A man of strong principles, he was featured in the pilot of Hogan's Heroes, a comedy series about the Second World War, but declined to sign for the series, stating, "The premise was to me both false and offensive. Nazis were seldom dumb and never funny."
Kinskey married his late wife Iphigenia Castiglioni four times. "It started in Mexico City," said Kinskey, "and then over 20 years of our happy marriage we celebrated every five years by taking a new marriage licence in a different country." Castiglioni, a Viennese beauty who died in 1963, was also in movies – she played Empress Eugenie in both The Story of Louis Pasteur (1936) and Maytime (1937) and was the Bird Woman in Hitchcock's Rear Window (1954).
When movie roles dried up (his last was in Glory, 1956), Kinskey wrote and directed industrial films for major corporations. "To dramatise a machine or product requires a great deal more ingenuity to keep it going than a well-written scene played by able actors," he stated. The man whom columnist Louella Parsons once called "the maddest Russian on land or sea" also frequently travelled to Palm Springs to visit old friends from Hollywood's Russian colony.
Tom Vallance
Leonid Kinskey, actor: born St Petersburg, Russia 18 April 1903; married three times, first Iphigenia Castiglioni (died 1963), third Tina York; died Fountain Hills, Arizona 8 September 1998.
The above "Independent" obituary can also be accessed online here.