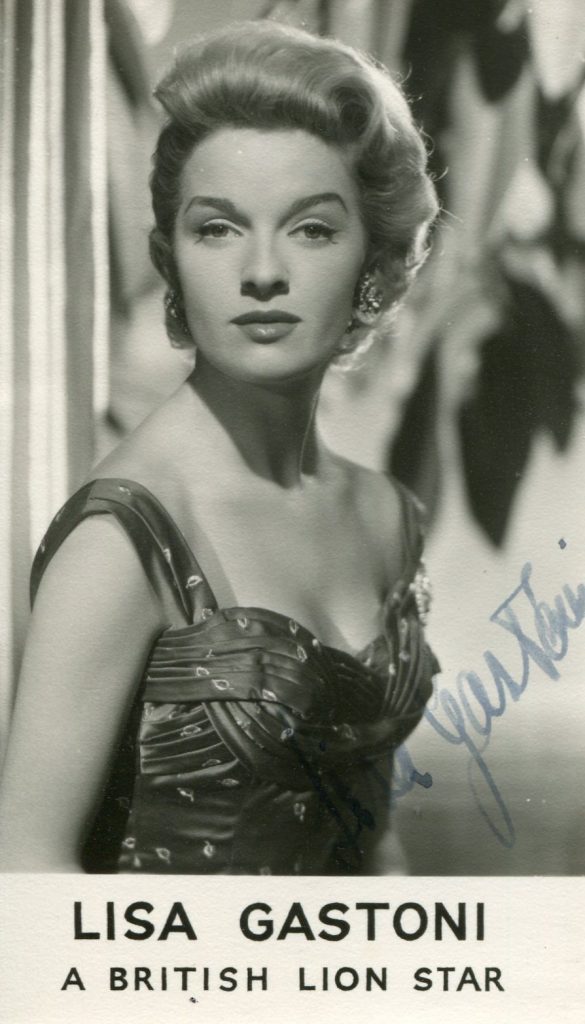 Lisa Gastoni was born in Italy in 1935. Virtually all her career has been in British films starting with "Doctor in the House" in 1954. Her other movies include "The Baby and the Battleship", "Three Men In A Boat" and "Blue Murder At St Trinians".
"Wikipedia" entry:
Daughter of an Italian father and an Irish mother, Gastoni moved to England after World War II and there began her film and modeling career. She appeared in various B-movies throughout the 1950s, as well as co-starring as Giulia in the Sapphire Films TV series The Four Just Men (1959) for ITV. Gastoni returned to Italy in the 1960s, at first appearing in sword-and-sandal and swashbuckler films, but eventually gaining the attention of respected directors. The turning point in her film career was her role in Grazie, zia by Salvatore Samperi. This would set the tone for the roles she would play for the next decade; bourgeois women who were seductive yet sexually frustrated, cruel and arrogant yet sad and sympathetic, manipulating the people around them to try and fill the emptiness in their own lives. After 1979, she retired from acting for over 20 years, focusing on painting and writing. She returned to the screen with an appearance in the film Cuore Sacro.
The above "Wikipedia" entry can also be accessed online here.