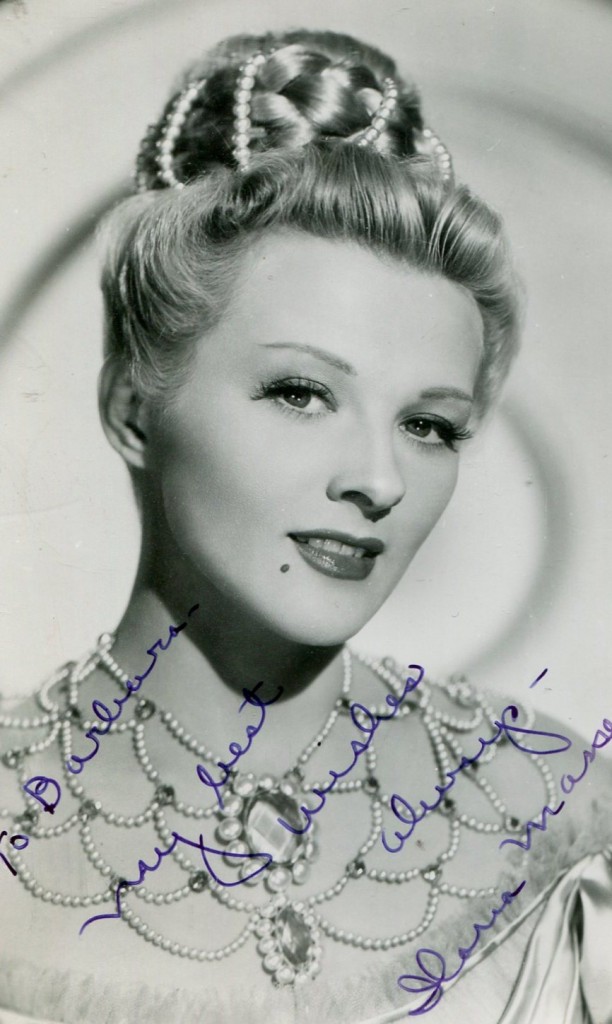 Llona Massey was born in Budapest in 1910. She came to Hollywood ion 1937 and made movies such as "Rosalie" opposite Nelson Eddy, "Frankenstein Meets the Wolfman" and in 1959 "Jet Over the Atlantic". She died in 1974.
Gary Brumburgh's entry:
Sultry, opulent blonde Hungarian singer Ilona Massey survived an impoverished childhood in Budapest, Hungary to become a glamorous both here and abroad. As a dressmaker's apprentice she managed to scrape up money together for singing lessons and first danced in chorus lines, later earning roles at the Staats Opera. A Broadway, radio and night-club performer, she appeared in a couple of Austrian features before coming to America to duet with Nelson Eddy in a couple of his glossy operettas. In the first, Rosalie(1937), she was secondary to Mr. Eddy and Eleanor Powell, but in the second vehicle,Balalaika (1939), she was the popular baritone's prime co-star. Billed as "the new Dietrich," Ms. Massey did not live up to the hype as her soprano voice was deemed too light for the screen and her acting talent too slight and mannered. She continued in non-singing roles in a brief movie career that included only 11 films. For the most part she was called upon to play sophisticated temptresses in thrillers and spy intrigues.Frankenstein Meets the Wolf Man (1943) and Love Happy (1949) with the four Marx Bros. are her best recalled. She appeared on radio as a spy in the Top Secret program and, on TV, co-starred in the espionage series Rendezvous (1952). In the mid-50s she had her own musical TV show in which she sang classy ballads. She became an American citizen in 1946. Married four times, once to actor Alan Curtis, Ms. Massey died of cancer in 1974.
– IMDb Mini Biography By: Gary Brumburgh / gr-home@pacbell.n
Ilona Massey