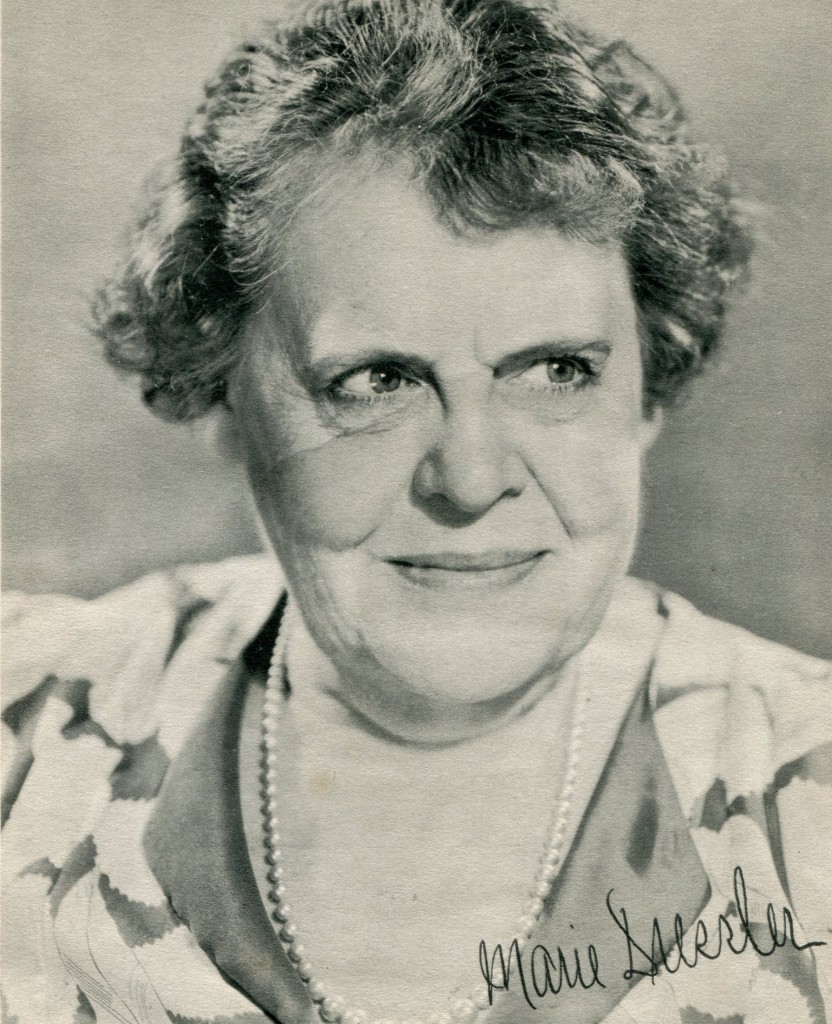 Marie Dressler was one of the great Hollywood stars of the 1930's. She was in her sixties when she came to fame and had a very short period at the top before her death. She was one of the U.S's most beloved movie stars, especially for her roles opposite Wallace Beery in films made by MGM. In 1930 she won the Oscar for "Min and Bill". Her other major roles were in "Tugboat Annie", "Anna Christie" with Greta Garbo, "Dinner At Eight" with Jean Harlow and John Barrymore and "Emma". She died in 1934 at the age of 65.
TCM overview:
Measuring 5'8″ and sporting a hefty frame, Marie Dressler was an imposing lady, but her remarkably expressive face and superb comedic timing made her a beloved figure during Hollywood's Golden Age. Playing equally larger-than-life women, Dressler's rise started with years of acting in repertory theatre before moving to Broadway in her twenties and biding her time in vaudeville. She finally achieved recognition in "Tillie's Nightmare" (1910-11). The popularity of that humorous musical presentation led to an invitation to take her Tillie to the silver screen in "Tillie's Punctured Romance" (1914), where she starred with a young Charlie Chaplin. Motion picture roles continued through the teens and twenties, but it was at the beginning of the sound era where this veteran character player finally found herself a star, thanks to her supporting work in Greta Garbo's "Anna Christie" (1930) and her own Academy Award-winning turn in the tragicomedy "Min and Bill" (1930). Perfectly paired in the latter with the similarly craggy and uncouth Wallace Beery, Dressler joined him again in "Tugboat Annie" (1933) and she enjoyed much attention for her performance as a faded stage actress in "Dinner at Eight" (1933) who delivered one of Hollywood's most memorable lines. Sadly, right at the height of her fame, she discovered she had cancer and died within a year. Proof that movie stars need not be picture-perfect, Dressler's determination was as immense as her skills and the status she earned made for a most unique success story.
Marie Dressler was born Leila Marie Koerber on Nov. 9, 1868 in Cobourg, Ontario, Canada, but the Koerber family moved a number of times during her childhood. Her stage debut came at age five in a local performance put on by her mother, leading the outgoing child to discover that she possessed a knack for winning people over. Tired of attending school, Dressler pretended to be 18 and was accepted into Nevada Travelling Stock Company. She soon grew accustomed to performing on the road under less than lavish circumstances, but eventually worked her way up to a lead role in a different company when the star was unable to take the stage. Dressler went where parts were available, and after gaining additional experience with a pair of opera companies, she finally made her way to New York City. After barely making ends meet as a singer, she was offered her chance on Broadway in a production of "The Robber of the Rhine" (1892). The comedic talent she displayed soon earned her another performing gig in "Princess Nicotine" (1893), which scored well enough with local audiences for it to be taken on the road.
Her fame increased further thanks to the success of "The Lady Slavey" (1896), a two act operetta that enjoyed a lengthy engagement and further performances on tour. She next appeared in the farce "Courted into Court" (1897) as the memorably monikered Dottie Dimple. The play had a short run, but Dressler continued to find assignments in other Broadway productions, including "The Man in the Moon" (1899), "The King's Carnival" (1901), and "Higgledy-Piggledy" (1904-05) as the incomparable Philopena Schnitz. While those shows drew crowds of variable size, Dressler was all but guaranteed to help fill seats on the vaudeville circuit and enjoyed a warm reception from British audiences when she played there. One of the primary draws of vaudeville was the promise of sexy girls, but the portly 5'8″ Dressler never worried about her figure. In fact, nothing about this lady would ever have been considered petite or demure. Nonetheless, Dressler's face was a major component of her appeal and it caught patrons' fancies for its incredible range of comedic expression. Dressler wed George Hoppert, a union that produced a daughter, who reportedly died at a young age. Their union ended sometime early in the 20th century and in 1908, she married her manager, J.H. Dalton.
While she had more than made a name for herself on vaudeville, even greater popularity awaited Dressler on Broadway in "Tillie's Nightmare" (1910-11), where she made audiences keel over with laughter and knocked them out with the song "Heaven Will Protect the Working Girl." Dressler next starred in the two-act production "Roly Poly/Without the Law" (1912-13) and wore a number of hats for "Marie Dressler's 'All Star Gambol'" (1913), serving as star, stager, book author, and both scenic and costume designer. The Ontario native was in her mid-forties when she was convinced to bring Tillie to the silver screen in "Tillie's Punctured Romance" (1914). Co-starring with an up-and-coming Charlie Chaplin, it was not only Dressler's first feature, but also the very first feature-length comedy. A hit with audiences, it spawned the follow-ups "Tillie's Tomato Surprise" (1915) and "Tillie Wakes Up" (1917), but Chaplin's presence in the original ensured that it would be her most widely seen silent credit among later generations.
Although movies offered another medium for her talents, Dressler kept her options open. She returned to Broadway for director and star duties on "A Mix-up" (1914-15), but went back to just performing on "The Century Girl" (1916-17), which enjoyed a considerably longer run. After appearing in a handful more features, "The Red Cross Nurse" (1918) proved to be Dressler's last for almost a decade. Back on the New York stage, she graced "The Passing Show of 1921" (1920-21) and what turned out to be her final Broadway engagement, "The Dancing Girl" (1923). In the interim, Dressler became a widow and never remarried. She resumed film work with such productions as "Breakfast at Sunrise" (1927), but major technological changes were soon in motion for the industry. The introduction of sound brought about the end of some careers, while Dressler would find her greatest success.
Movie audiences finally became acquainted with her voice in the early musicals "The Vagabond Lover" (1929) and "Chasing Rainbows" (1930), the allure of the latter enhanced by sequences presented in the early two-strip Technicolor process. By that point, Dressler had been signed by MGM and it was in their releases that she found her greatest exposure and most worthwhile cinema roles. After supporting Greta Garbo in the Swedish bombshell's first talkie, the company's adaptation of Eugene O'Neill's "Anna Christie" (1930), Dressler graced several more features that year, most notably "Min and Bill" (1930). Paired with Wallace Beery – whose appearance and comedic skills almost made him her male equivalent – Dressler was able to elicit both laughs and sympathy in her turn as a woman running a low-class dive on the waterfront. During the course of the film, she willingly pays a terrible price to help a young woman she loves like a daughter escape to a better life. While the film occasionally descended into hoary melodrama, Dressler's casting was spot on and earned her the Best Actress Academy Award.
At age 62, Marie Dressler was a bona fide movie star. MGM quickly toplined her in other vehicles that mixed comedy and drama, including "Reducing" (1931), "Prosperity" (1932), and "Emma" (1932), the latter resulting in an Oscar nomination for Best Actress. The incomparable team of Dressler and Beery were back for "Tugboat Annie" (1933) and Dressler was honored with top billing over such leading lights as Jean Harlow and John and Lionel Barrymore in the star-laden classic "Dinner at Eight" (1933), where she impressed as Carlotta Vance, a former stage diva whose career has faded. In the film's final scene, after the shapely, sexy Harlow wonders aloud if "machinery will take the place of every profession, Dressler does not miss a beat with "My dear, that is something you need never worry about." In the wake of these successes, Dressler was named the top box office star of 1933 by the Motion Picture Herald, an amazing feat for a character actress-comedienne. She also earned the distinction of being the first woman ever featured on the cover of TIME magazine. Sadly, it proved to be her final year as an entertainer. Afflicted with cancer, Dressler could no longer perform following "Christopher Bean" (1933) and succumbed to the disease on July 28, 1934. She was posthumously honored with a star on the Hollywood Walk of Fame.
By John Charles
The above TCM overview can also be accessed online here.