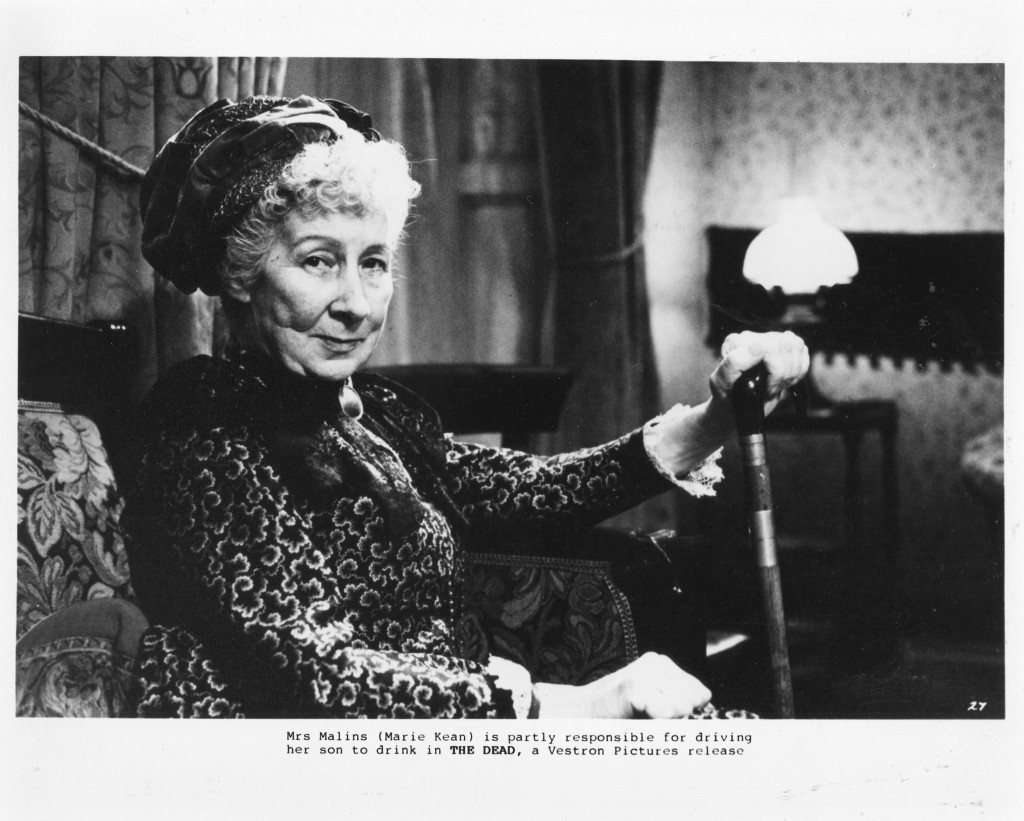 Marie Kean was born in Dublin in 1918. She starred on radio in Ireland for many years as 'Mrs Kennedy' in "The Kennedys of Castlerosse". Her film debut was in 1956 in "Jacqueline". Other movies include "The Girl With Green Eyes" with Rita Tushingham and Peter Finch in 1964, "Barrie Lyndon" in 1975, "The Lonely Passion of Judith Hearne" with Maggie Smith in 1986 and splendid as 'Mrs Mallins' in John Huston's "The Dead" in 1987. She died in 1993.
(1922–1994)
Considered by some to be one of the finest Irish actresses of her time, Marie Kean studied at Loreto College and the Gaiety School of Acting. She enjoyed a long, successful career on the stage and screen. Kean was best known to American audiences for her roles in the films BARRY LYNDON (1975), in which she portrayed Barry's (Ryan O'Neal) mother, and David Lean's Ryan's Daughter (1970).
Marie Kean held STANLEY KUBRICK in the highest esteem and thought nothing of doing a scene 30 times. "I was well used to that working for David Lean and Roman Polanski," she said. In Barry Lyndon, Kean offers a restrained yet impassioned performance as Mrs. Barry, a woman of intense determination. Barry's mother, we learn in the film's opening narration, has devoted her life to the memory of her departed husband, as well as to her son's well-being. A largely passive figure during the first half of the film,Mrs. Barry asserts her influence more pronouncedly after Redmond has married Lady Lyndon (MARISA BERENSON). She discreetly but firmly urges Redmond to obtain a title, so that he will be protected financially should any misfortune befall his wife and benefactor. Later, when Barry and Lady Lyndon are incapacitated by grief after the death of their son, Mrs. Barry seizes the opportunity to make a power play. With Lord Bullingdon (LEON VITALI) already gone from the household, she takes it upon herself to dismiss Reverend Runt (Murray Melvin), thus diminishing the forces that would rally round her daughter-in-law against the neglectful and adulterous Barry. Unwittingly,Mrs. Barry thus invites the vengeful return of Lord Bullingdon and the downfall of her son,"Mr. Redmond Barry. " Still, ever the staunch matriarch, she remains at Barry's side, the one person who has stood by him through all his successes and failures.
Marie Kean joined the Abbey Theatre Company in 1949, an affiliation that she would maintain for the rest of her life. There, from 1949 to 1951, she appeared in productions of Juno and the Paycock,The Plough and the Stars, and The Playboy of the Western World. Later, in London, she worked with Peter Brook's company, as well as the Royal Shakespeare Company. One of her most celebrated stage performances (and her personal favorite) was the role of Winnie in a 1963 production of Samuel Beckett's Happy Days, in which she appears buried up to the neck in sand. In 1971, as part of the Dublin Festival, she appeared in a one-woman show called Soft Morning, City, playing the type of ardent, downtrodden character that had become her specialty. In 1970, London's Stage and Television Todaycalled Kean "one of the most impressive Irish actresses to emerge in recent years . . . an artist of considerable emotional depth and theatrical command. " The following year, John Lambert of the Christian Science Monitor called her "possibly the best living Irish actress. " Her final film role was in John Huston's swan song, The Dead (1987).
For also accessing this article on website on Kubrick – Marie Kean, please click here.
Dictionary of Irish Biography.
Kean, Marie (Ní Catháin, Máire) (1922–93), actress, was born 27 June 1922 in Rush, Co. Dublin, the daughter of John Kean, a ship's captain, and Margaret Kean (née Foley). Her interest in the theatre developed at an early age, when she attended shows given by travelling companies who performed in Rush during the summer months. Inspired by these and an early trip to the Abbey Theatre, Dublin, when she was thirteen, she appeared on the stage locally while still a child. She was educated at Loreto College, North Great George's Street, Dublin, and on leaving school joined the civil service as a clerk in the Department of Agriculture, working there until her marriage in 1941 to William Mulvey (d. 1977). They had one son and one daughter.
After her marriage Kean determined on an acting career and went to study at the Gaiety School of Acting, then under the directorship of Ria Mooney (qv), who became a lifelong friend. She was engaged by the Radio Éireann repertory company, before making her professional stage debut in June 1947 at the Gaiety Theatre, Dublin, as Naomi in Mooney's production of 'Noah'. By 1949 she had joined the Abbey Theatre, appearing under the name 'Máire Ní Catháin'; her lengthy association with the company began in a performance of 'Grand house in the city' by Brinsley McNamara (qv). She went on to establish herself as one of the Abbey's key players, and throughout the 1950s received excellent notices for notable performances as Ginnie Gogan ('The plough and the stars'), the Widow Quin ('The playboy of the western world'), and Anna Livia Plurabelle in Joyce's 'The voice of Shem', roles in which she later performed at the Théâtre des Nations festival in Paris. From 1955 she became well known to Radio Éireann listeners throughout Ireland as Mrs Kennedy in the lunch time soap opera 'The Kennedys of Castlerosse', which ran for over a decade.
Kean left the Abbey in 1961 and moved to England, where initially she toured with an English company in a production of 'The plough and the stars', before making her first London appearance as Anna Livia Plurabelle at the Theatre Royal, Stratford East (July 1962). She followed this with engagements at the Mermaid Theatre (as Mrs Gogan, September 1962) and the Arts Theatre (as Charlotte Russe in Edna O'Brien's 'A cheap bunch of nice flowers', November 1962), and in 1964 first appeared in one of her most celebrated roles, Winnie in 'Happy days' by Samuel Beckett (qv) (Theatre Royal, Stratford East), for which she won several awards. She was also for a time associated with Peter Brook's experimental theatre group, taking the part of Mother in his production of 'The screens' (Jean Genet) at the Donmar Rehearsal Theatre in May 1964. Among her later successes were her portrayals of Daisy Connolly in 'The paper hat' (Globe Theatre, April 1965), Mother in 'I knock at the door' (Gaiety Theatre, Dublin, 1968), an autobiographical play by Sean O'Casey (qv), Maggie Poplin in John B. Keane's (qv) 'Big Maggie', a role that she created (Cork Opera House, January 1969) and for which she won an award, Nora Melody in O'Neill's 'Touch of the poet' (Gardner Centre, Brighton, August 1970), Maurya in 'Riders to the sea' (Abbey Theatre, April 1971), and Marina in 'Uncle Vanya' (Bristol Old Vic, October 1973), and her one-woman show about Dublin, 'Soft morning city', with which, after its premiere at the Dublin Theatre Festival, she toured Britain, the continent, and the USA. During her three seasons with the Royal Shakespeare Company (1976–8) she worked extensively with directors Peter Brook, John Barton, and Trevor Nunn, appearing as the Nurse in 'Romeo and Juliet', the First Witch in 'Macbeth', and Madame Cabet in Brecht's 'The days of the commune'.
On her return to Dublin, Kean re-joined the Abbey, taking part in productions of Brian Friel's 'Philadelphia here I come!' (May 1982), Shaw's (qv) 'Arms and the man' (August 1982), Lennox Robinson's (qv) 'Drama at Inish', for which she won the 1982–3 Harvey's Award for best actress, and 'Da' by Hugh Leonard (June 1983). She also performed in the Olympia's staging of Tom Murphy's adaptation of The informer by Liam O'Flaherty (qv) (1981), and in 1985 she toured Japan in Beckett's solo piece Rockaby.
Kean juggled her theatrical commitments with appearances in television dramas (as Mrs Brickley in the adaptation of Somerville & Ross's 'The Irish R.M.', Mrs O'Casey in the RTÉ television play 'Sean', and productions of 'The plough and the stars' and 'Jane Eyre'), and, from 1952, with film work in Ireland, Britain, and America. Among her best-known films were The girl with green eyes, banned in Ireland on its release in 1964, Ryan's daughter(1970), Barry Lindon (1975), Angel (1982), The lonely passion of Judith Hearne (1987), and The dead (1987). She made her last stage appearance as Mrs Swift in Sebastian Barry's 'Boss Grady's boys' at the Peacock Theatre, Dublin, in 1989. Regarded as a brilliant character actress, her performances epitomised the image of battling Irish womanhood. A shareholder of the Abbey, for two years she represented the players on the board of directors. The last four years of her life were spent in deteriorating health in the Bloomfield nursing home in Donnybrook, Dublin, where she died 29 December 1993.