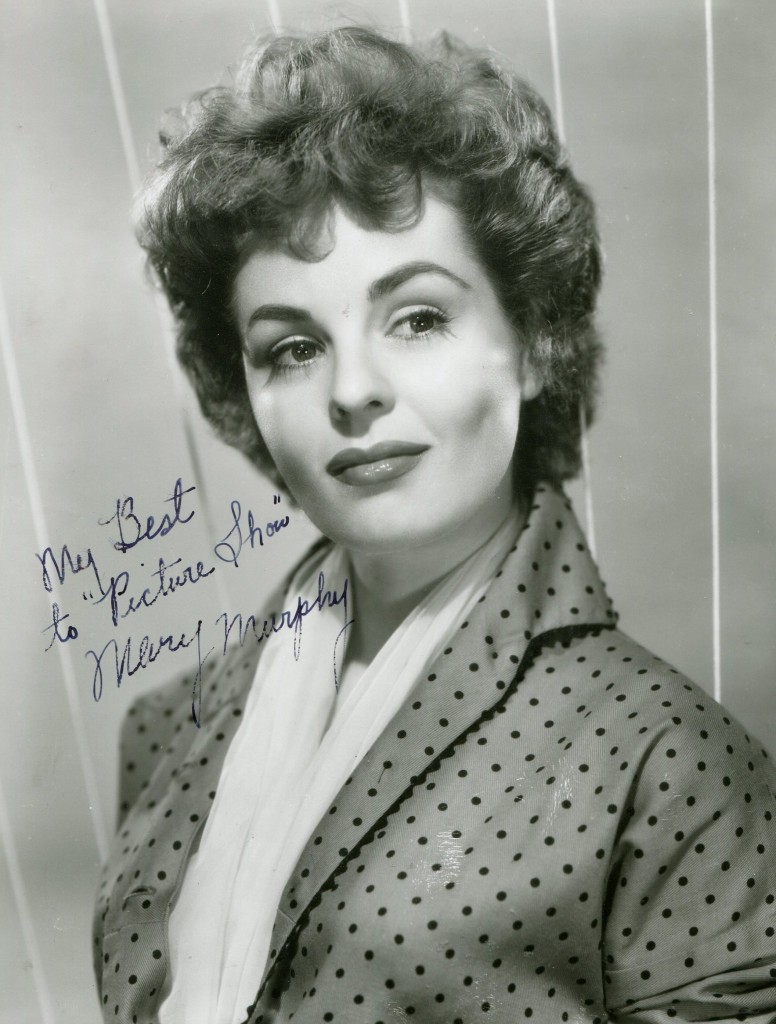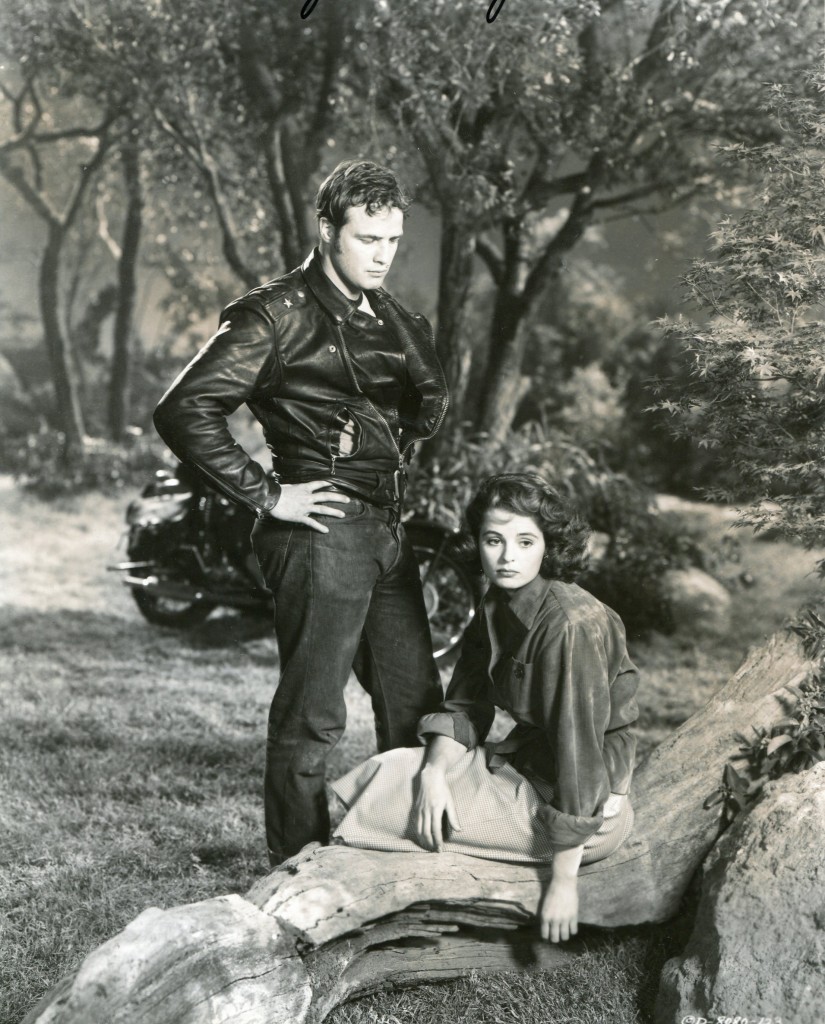 Mary Murphy is probably best remembered for her role opposite Marlon Brando in "The Wild Ones" in 1953. Her cinema peak was in the 1950's where she starred opposite Tony Curtis in "Beachhead", Humphrey Bogart in "The Desperate Hours" and "The Maverick Queen" wth Barbara Stanwyck. She died in 2011 at the age of 80.
Gary Brumburgh's entry:
This actress' two-decade career produced only one single stand-out film role but that one role as the "good girl" who redeems "bad boy" Marlon Brando's tough biker in the cult flick The Wild One (1953) put Mary Murphy at the head of the acting class for one brief shining moment. In others, she proved a lovely distraction amid the male action surrounding her and also, given the right material, displayed obvious talent in both Grade "A" and "B" drama as the feminine co-star or second lead.
The beautiful blue-eyed brunet stunner was born on January 26, 1931, in Washington D.C. but quickly moved with her family six months later to Cleveland, Ohio. Her father, James, a businessman, died there in 1940, and her mother eventually moved Mary and her two brothers and sister (she was the youngest of the four) West to Southern California where Mary went on to attend University High School in the Los Angeles area, graduating in 1949. A one-time employee of Saks Fifth Avenue in Beverly Hills, the fresh-faced beauty was "discovered" at a café and signed by Paramount Studios.
Following insignificant bit/extra work in such movies as the Bob Hope's vehicles The Lemon Drop Kid (1951) and My Favorite Spy (1951), the sci-fi feature When Worlds Collide (1951), and "Best Picture" The Greatest Show on Earth (1952), Mary won the female lead opposite relative newcomer Tommy Morton in the show business drama Main Street to Broadway (1953). The film was ill-received and both stars were rather dwarfed by the huge names that surrounded them — Tallulah Bankhead, Lionel Barrymore, Ethel Barrymore, Shirley Booth, Mary Martin and even Rodgers and Hammerstein. Her second lead in a film was a different story. the legendary The Wild One (1953) opposite Marlon Brando. Mary managed to hold her own in this biker classic but it did not, however, necessarily lead to better films. She continued in the demure ingénue mode in theVincent Price sub-horror The Mad Magician (1954) and the routine western Sitting Bull(1954) which starred future husband Dale Robertson. The Juen 1956 marriage to Robertson was very short-lived; it was annulled by Christmas time.
Mary went on, however, to give earnest leading lady perfs opposite Tony Curtis inBeachhead (1954), Ray Milland's debut as a director, A Man Alone (1955) and Hell's Island (1955) with John Payne. She also appeared to good advantage in The Desperate Hours (1955) but was slightly overshadowed by powerhouse star cast of Humphrey Bogart, Fredric March, Arthur Kennedy, Gig Young and Martha Scott. From then on it was fairly dismal for Mary in such lesser features as The Maverick Queen (1956), The Electronic Monster (1958) and Live Fast, Die Young (1958), a lowbudget "Wild Ones" delinquent crimer as a girl who tries to save her sister from a life of crime.
Mary left the screen for a time but resumed her career in the 60s and early 70s primarily on TV with a number of episodics and mini-movies playing matronly wives and mothers and had a small but noticeable role in the film Junior Bonner (1972). Remarried in 1962, Mary retired completely by the late 70s and turned to environmental causes. She also worked in a Los Angeles art gallery for a time and has been seen on occasion in nostalgia conventions.
– IMDb Mini Biography By: Gary Brumburgh / gr-home@pacbell.net
Brian Baxter's "Guardian" obituary:
Co-starring with Marlon Brando in his prime is a bonus for any actor's filmography. The fame of Mary Murphy, who has died aged 80, was boosted considerably when she played his love interest in The Wild One (1953). Tame by today's standards, it was the film in which the brooding, rebellious, black-leather-clad Brando, as the leader of a motorcycle gang, emerged fully as a sex symbol.
The pretty, clean-cut Murphy, never considered a sex symbol herself, served as an excellent foil to Brando who, when asked what he is rebelling against, replies: "What've you got?" As the sheriff's daughter, she immediately attracts the attention of Brando when he comes in for a beer at the diner where she works. Gradually, the attraction becomes mutual as he rides his large, phallic motorcycle with her clutching his waist, her hair blowing wildly in the wind. Although their romance is doomed, her love for him is redemptive. Spared the dated 1950s slang ("crazy daddy-o"), Murphy perfectly portrays a "square" small-town girl whose suppressed restlessness is stirred by the forbidden encounter.
Murphy was born in Washington DC, spent most of her early childhood in Cleveland, Ohio, and her teens in California. While working as a package wrapper at Saks Fifth Avenue on Wilshire Boulevard in Beverly Hills, without any thoughts of an acting career, the 18-year-old was spotted in a coffee shop by a talent scout for Paramount Pictures.
While the studio put her through acting, singing and dancing classes, Murphy appeared in 11 Paramount films in bits or small parts, starting in The Lemon Drop Kid (1951), starring Bob Hope. "I'll never forget that first picture," Murphy said, "nor the one line of dialogue I had in it. The line was, 'I'm sorry, I haven't got any change.'" She had a few more lines as Laurence Olivier's daughter in William Wyler's Carrie (1952).
It was only after she left Paramount that Murphy began to get leading roles, her first being in MGM's Main Street to Broadway (1953). However, the flimsy central plot, featuring Murphy as an ambitious stage actor in love with an aspiring playwright (Tom Morton), was swamped by the film's gimmick of having almost every star then working on Broadway make "in person" appearances. Nevertheless, she managed to land the role in The Wild One in the same year.
She found the film a learning experience because "Marlon didn't always stay precisely to the script – and that was something I had always done. He'd sort of change the sentence structure of a line, maybe add or edit out a word here or there. That forced me to really listen, because I never knew for sure what he was going to say next."
Now in demand, Murphy went on to star in four films in 1954, none of them particularly challenging. Beachhead, a tale of jungle warfare in which she was a plucky French planter's daughter, making her way with US marine Tony Curtisthrough Japanese-held territory; The Mad Magician, in which she was the villainous Vincent Price's stage assistant; Make Haste to Live, as the daughter of a woman in peril; and Sitting Bull, as the wife of an American major (Dale Robertson) seeking peace with the Sioux. It was during the filming of Sitting Bull that she and her brawny co-star Robertson became romantically involved. They married in 1956, but the marriage was annulled six months later because Murphy claimed her husband did not want children.
Meanwhile, Murphy was kept busy in television, predominantly as a guest star in western series such as Wagon Train and Laramie, and in features, the most prestigious being Wyler's The Desperate Hours (1955), with Humphrey Bogartin gangster mode, threatening a middle-class family. Murphy, still young enough looking at 24 to play the spirited teenage daughter, is the object of desire of Bogart's depraved younger brother (played by Dewey Martin).
Perhaps with The Wild One in mind, she was again cast as a teenager in Live Fast, Die Young (1958), billed as "the sin-steeped story of today's beat generation". Murphy's penultimate film role before retiring was as the bitchy sister-in-law of a rodeo rider (Steve McQueen) in Sam Peckinpah's Junior Bonner (1972).
In 1962 Murphy married Alan Specht, the president of a chain of lighting stores. They divorced in 1967. Their daughter, Stephanie, survives her.
The above "Guardian" obituary can also be accessed here.
• Mary Murphy, actor, born 26 January 1931; died 4 May 2011
• This article was amended on 3 June 2011. The original stated that Murphy became romantically involved with Dale Robertson during the filming of Make Haste to Live. This has been corrected.