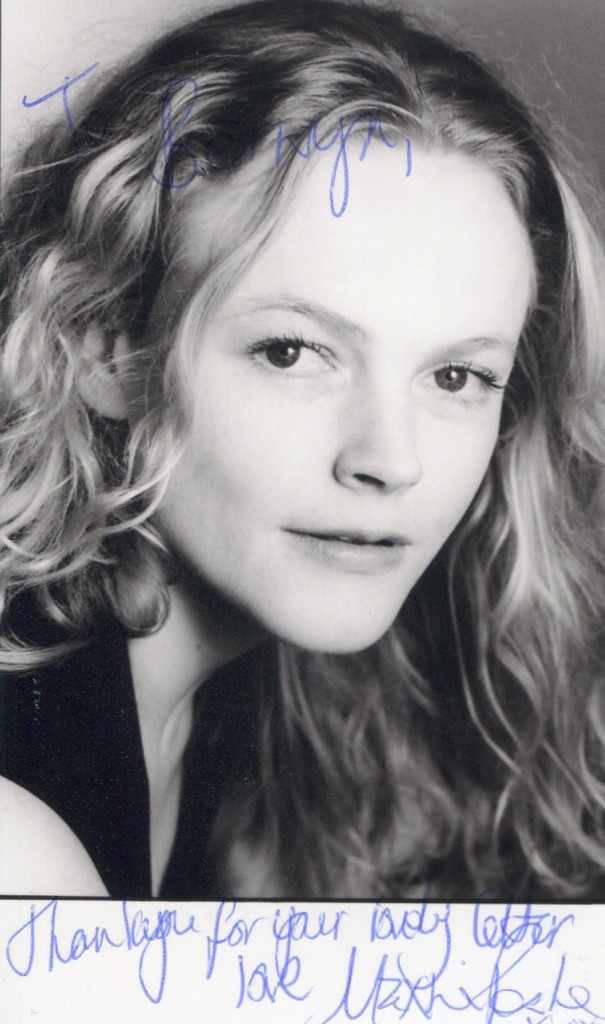 Maxine Peake is one of the best actresses working in Britain to-day. She has starred in several major television series including "Dinnerladies", "The Village" and "Silk". Her movies include "Best Laid Plans" and "Run and Jump". She was born in 1974 in Bolton.
"Independent" interview with Charlotte Philby in 2008:
The house I grew up in… was a semi-detached in Bolton with a nice little back garden leading to a farmer's field, so there were incidents of cows breaking into the garden on a regular basis.
When I was a child I wanted to be…Marti Cane. She was great, one of the first figures on telly who I looked at and thought, "She is cool!"
The moment that changed me for ever… moving to London, aged 21, to take a place at drama school. I hated London. I wondered: "Where are all the cows and dogs?" Luckily, I fell in love with it after a couple of years.
My greatest inspiration… is my granddad, Jim, who'll kill me for saying that. He was a member of the communist party and opened up a world of self education and the possibilities in life flooded before my eyes.
My real-life villain… is unoriginal: George Bush. The man scares the life out of me; his policies, his arrogance, his eyes. I have sleepless nights about the things that he might do to the world.
If I could change one thing about myself… I'd try not to feel like I have to please all the people all of the time. It's impossible and tiring.
At night I dream of… dark things. I have recurring dreams about losing my temper, which become quite violent. I dread to think what that says about me.
What I see when I look in the mirror… is complications. I'm someone who's hard work and am certainly my own worst enemy. Every time I look in the mirror, I let out a small sigh.
My style icon… is, without doubt, Vivienne Westwood. She is so beautiful and inspirational that when I met her once, at the theatre, I was so overwhelmed that I couldn't speak. I hope I grow to be just like her.
My favourite item of clothing… is a pair of old, Victorian-style Agnes B lace-up brown boots. I've had them re-soled over a million times and have to physically stop myself from wearing them to bed.
I wish I'd never worn… anything that I wore in my progressive rock stage, which I embraced whole-heartedly. It might not have been so bad if I weren't living in Bolton, where I stood out like a sore thumb. Once, I was kitted out in a long suede waistcoat and listening to The Gong, and someone shouted at me "love, you missed your stop!"
It's not fashionable but I like… and it's a Northern cliché – my pair of Derby lace-up clogs. They're so comfy and but apparently not everyone appreciates them. People have been known to do a double-take in the street.
You wouldn't know it but I'm very good at… horse-riding. I actually used to compete at show-jumping when I was a youngun.
You may not know it but I'm no good at… concentrating. I get easily distracted and become a bit of a giddy giggler. I'm not good at taking myself seriously and laughing at myself helps ease the pressure.
All my money goes on… CDs, all sorts. I have quite a wide taste, lots of new folk, like The Fall, Patti Smith and The Smiths. A bit of rockabilly is up there, in fact, I've been through every possible phase and even have Casualty left over.
I f I have time to myself… sleep, listen to music and think. It's great having time to just sit back and work through things in my mind, it helps put life into perspective.
I drive/ride… (very badly), a little Ford Ka, the sports version; it has slightly chunkier wheels and is called Derek. We have lots of practice in reversing into walls and other people's cars.
My house/flat is… at the moment, not mine. I'm in the process of buying a sweet house in Salford and am staying with friend and his partner in south east London. It's really lovely, with lots of Hogarth prints on the walls.
My most valuable possession is… my family; they drive me mad but I love them to bits.
My favourite building… is the Working Class Movement Library in Salford; a beautiful Victorian brick building run by an old couple who started collecting left-wing literature and banners, it is the most archive.
Movie heaven… is an afternoon beginning with Morgan and a Suitable Case for Treatment, followed by the Goonies – with a cup of tea and a teacake.
A book that changed me… was really a play, Road by Jim Cartwright. I was about 14, at the age where I'd usually just read something and shrug "yeah, it's alright". The language and imagery in this was so amazing that I wasn't ashamed to admit my joy.
My favourite work of art… is a toss-up between Morrissey and Arthur Dooley's The Stations of the Cross. It's held in a Roman Catholic parish church in Leyland, and I'm not in any way religious, which makes the power of the image more impressive, somehow.
The last album I bought/downloaded… is quite embarrassing, Violin Jazz 1929-1934. When preparing a role I find it useful to listen to music from the era, in order to gage the atmosphere of the period. My latest play is set in the 30's, hence this download.
The person who really makes me laugh… is Ronnie Barker. Of course an amazing comedian, he's also one of the most under-rated actors; one of the finest we've ever had, in my opinion: a genius.
The shop I can't walk past… would have to be the Margaret Howell shop on Wigmore Street. It's perfect for little treats, and I can't resist the 50's-style tailoring.
The best invention ever… has to be the radio, I can't live without. A self-confessed Radio 2 junky, I'm a real sucker for Brian Matthews, on a Saturday morning, followed by Jonathan Ross. My weekend isn't the same without it.
In ten years time, I hope to be… happy and fulfilled by work that I do.
My greatest regret… is selling my BMX to a juck shop, for a fiver, when I was young. The moment I walked out of the shop I had to repress tears, I knew immediately the mistake I'd made.
My life in seven words… fun, lucky, chaotic, simple, challenging, changeable and northern.
Born in Salford on 14 July 1974, Maxine Peake is a stage and television actress. Having trained at Rada, she is best known for her role as mouthy Veronica on Channel 4's Shameless and received critical acclaim for her portrayal of Myra Hindley in See No Evil: The Moors Murders. She will play Tony Hancock's Wife in the forthcoming BBC4 drama Hancock and Joan and stars in The Children's Hour, 5 March – 5 April at the Royal Exchange Theatre, Manchester. She lives with friends in south-east London.
The above "Independent" interview can also be accessed online here.