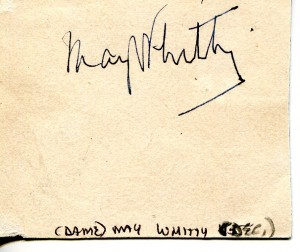 TCM overview:
Dame May Whitty was a delightful character actress of numerous first-class productions of the late 1930s and 1940s. Typically playing a distinguished aunt, mother, grandmother, or dowager, her presence brought an authentic English air to any film ( yes, even more so than Gladys Cooper ). Proud, gentle, kindly, and altogether charming, she was indeed the ideal symbol of British dignity.
Dame May Whitty was born on June 19, 1865 in Liverpool, England, the daughter of a newpaper journalist/editor. Her first encounter with the world of acting was in a stage production of The Mountain Sylph at the court theatre in Liverpool. She was sixteen years old and danced in the chorus. Within a year, she made her London stage debut and quickly became a seasoned performer. By the turn of the century she was well-known on both sides of the Atlantic.
In 1918, she was created a Dame Commander of the British Empire ( being only the third actress to recieve that honor at that time ) for her philantropic services to Britain. Always willing to serve a good cause, she displayed her selfless service again by helping out for the war effort during World War II and appeared in "Forever and a Day" and "Stage Door Canteen", both made to boost morale and the sales of war bonds. Even upon her death, her will requested that rather then giving flowers at her funeral the money should be used to send CARE packages to England.
She was busy across the pond and on Broadway during the 1920s and 30s, and it was in 1932 that she was offered the co-starring role in Emlyn William's new play, "Night Must Fall." Reluctant at first to accept the role of the wheel-chair bound,chocolate-loving old lady who is beguiled by a psychopathic killer, it was to become one of her best performances. The show was a great success in England, and she reprised the role on Broadway and once again in 1937 for the MGM film of the same name opposite Robert Montgomery. At the tender age of 72 she made her Hollywood film debut. Not only was it a magnificent performance, but she was nominated for an Academy Award for it too! And thus began a wonderful career as a supporting actress in many fine productions for MGM and other studios.
She played the medium in "The Thirteenth Chair" ( MGM, 1937 ) and the next year starred in her most memorable role, that of charming old Miss Froy, an espionage agent who mysteriously disappears onboard a train while returning home to England, in Alfred Hitchcock's "The Lady Vanishes". In 1940, Dame May was asked if she thought of retiring, "Quit? Only the aged and infirm quit, and I am neither. So long as I can do my bit, I'll keep right on doing it." 
In the early 1940s, she reached the peak of her film productivity and played in a number of fine films for MGM and other studios…in "Raffles" ( 1940 ) she played the Lady Kitty Melrose who's diamonds are stolen by the renowned Amateur Cracksman; in "Suspicion" ( 1941 ) she played Joan Fontaine's mother, and in "Mrs.Miniver" ( 1942 ) she was Lady Beldon, the perennial winner of the town's annual rose competition, and grandmother to Teresa Wright. For a change from her more usual high-society roles, she played the down-to-earth Dolly ( her real-life husband Ben Webster played her spouse in the film ) in "Lassie Come Home"; she was the elderly villager of Penny Green in "If Winter Comes" ; and in "The White Cliffs of Dover" ( 1944 ) she played the lovable governess Nanny. "Gaslight" saw her returning to her prestigious roles, this time as Ingrid Bergman's garrulous neighbor on Thorton Square. In the thriller "My Name is Julia Ross" she played the wealthy mother who tried to convince secretary Nina Foch that she was her son's wife, and in "Green Dolphin Street" she was the wise Mother Superior to Donna Reed.
In 1947 her husband of 55 years, Ben Webster, passed away. Dame May Whitty made the films "The Sign of the Ram" ( with Susan Peters ) and "The Return of October" that year but had to be replaced by Lucille Watson in "Julia Misbehaves" due to illness. On May 29, 1948 she died at the age of 82. Many of Hollywood's British colony friends attended the funeral including C.Aubrey Smith, Edmund Gwenn, Herbert Marshall, Brian Aherne and Boris Karloff.
Her daughter Margaret was a famous actress herself as well as a notable stage producer and director and in 1969 she wrote an autobiography ( The Same Only Different ) covering both her and her mother's careers.
The above TCM overview can also be accessed online here.