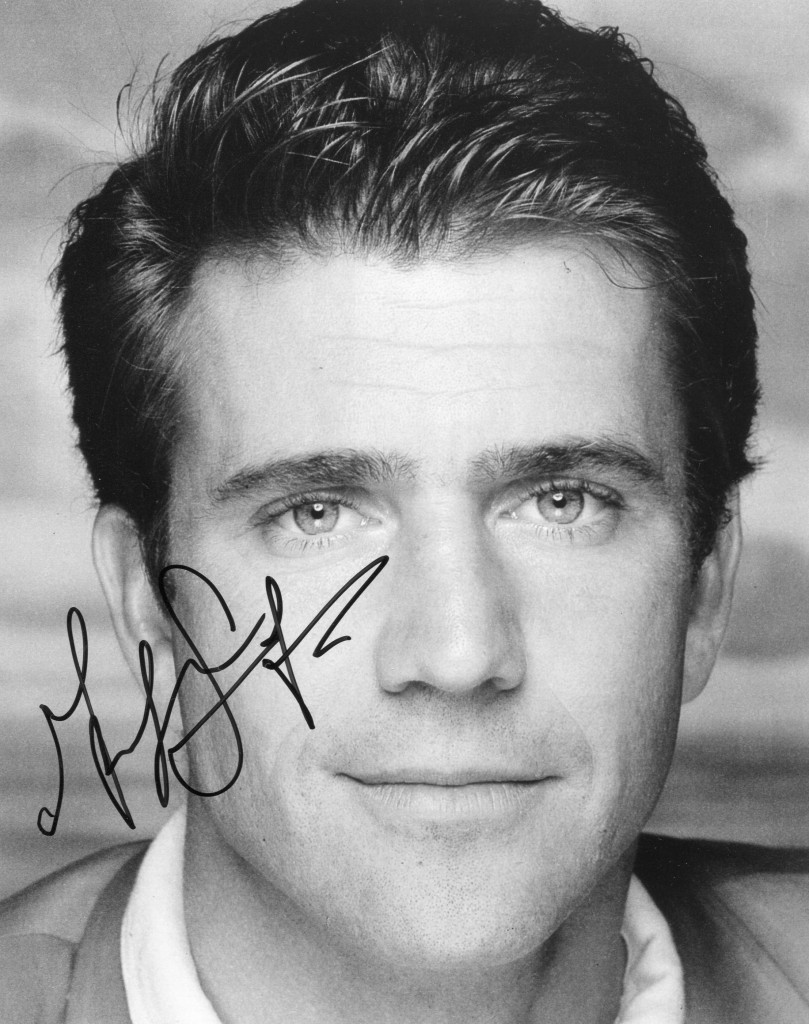 Mel Gibson was born in New York in 1956 but moved with his family to Australia in 1968. He made his movie debut in 1979 in "Tim". The "Mad Max" movies brought him to the attention of Hollywood and he has been a major star/producer/director sine the 1980's. His movies include "Braveheart" and "What Women Want". My favourite movie of his is "The Yearof Living Dangerously". What is your's ?
Extract from TCM Overview:
A gifted and rather complicated performer who became one of the biggest stars in the world, only to be ostracized for racist comments and anger issues, actor-director Mel Gibson rode the wave of his 20-plus years of popularity to become one of the industry's most bankable stars. After finding fame in Australia with only his second film, "Mad Max" (1979), Gibson vaulted onto the international scene with the superior sequel, "The Road Warrior" (1981). Following an excellent performance in "The Year of Living Dangerously" (1982), Gibson staked his claim in Hollywood by starring in "Lethal Weapon" (1987), a highly successful buddy comedy by which all others would be measured. Gibson actively sought to usurp his action hero image with a wider range of roles, including playing the titular "Hamlet" (1990) and a reclusive burn victim in "The Man without a Face" (1993). He transformed himself from action star to Oscar-winning director with the historical epic "Braveheart" .
Born on Jan. 3, 1956 in Peekskill, NY, Gibson was raised by his father, Hutton, a railroad brakeman who was a leading figure in the ultra-conservative Catholic splinter group, The Alliance for Catholic Traditions, and his mother, Ann. After falling from a train and injuring his back, Gibson's father won a workman's compensation suit against New York Central Railroad in 1968 and moved the family to Sydney, Australia soon after. During his high school years, Gibson attended St. Leo's Catholic College, an all-boys school founded by the Congregation of Christian Brothers. He turned to acting around this time and began studying the craft at the National Institute of Dramatic Art alongside future star Judy Davis, with whom he made his stage debut in a 1976 production of "Romeo and Juliet." Also while attending NIDA, he tackled the role of Queen Titania in an experimental version of Shakespeare's "A Midsummer Night's Dream." He soon made his feature debut in "Summer City" (1977), a teen drama about a group of students who leave Sydney for a weekend of surfing, only to find their fun derailed when they become involved in a murder.
Almost from the start, Gibson had the makings of a star, which he put on full display in only his second feature film, "Mad Max" (1979), a post-apocalyptic Western set in the Australian Outback that, while unpolished in parts, featured several stunning action sequences. Gibson played Max Rockatansky, a futuristic policeman who wants to retire and spend time with his family, only to find his world upended when a marauding gang of bikers kill his wife and son. Hell-bent on revenge, Max sets off in a supercharged V8 Interceptor in search of blood. Though initially panned by some critics, "Mad Max" became an international hit, earning over $100 million at the box office. Most importantly, however, the film turned Gibson into an overnight star. Following an about-face performance in the romantic drama, "Tim" (1979), he had an uncredited appearance as a bearded mechanic in the Mad Max-like thriller, "The Chain Reaction" (1980). He returned to starring duties with his next film, "Gallipoli" (1981), a war drama centered on the ill-fated Battle of Gallipoli in Turkey during World War I. The film marked the first of two highly regarded collaborations with fellow Australian, director Peter Weir.
Following up the success of "Mad Max," Gibson reunited with director George Miller for the superior sequel, "Mad Max 2" (1981), known as "The Road Warrior" to American audiences. The heart-pounding action thriller was set several years past the events of the first, where the post-apocalyptic world has fallen into utter chaos as rival gangs battle each other for the rapidly dwindling supplies of gasoline. When he is brought to a fortified encampment surrounding an oil refinery, the nomad Max has every intention of taking as much gasoline as he can carry. But he finds himself with the plight of the well-intentioned inhabitants of the refinery, led by the sympathetic Pappagallo (Mike Preston), which puts Max into a position of leading a mad dash toward the coast through a violent gang of bikers. Stunning in every way, "The Road Warrior" surpassed its predecessor in terms of action, production values, and kinetic stunt sequences that featured several breakneck car chases. Though already a star Down Under, Gibson finally became a known commodity to international audiences, which resulted in the beginnings of a highly successful Hollywood career that would come with its share of trials and tribulations.
Sticking with his adopted home for his next film, Gibson starred in "The Year of Living Dangerously" (1982), an acclaimed political drama directed by Weir that starred the actor as a wire service reporter covering the 1965 coup of President Sukarno of Indonesia. While there, he pursues a romance with a British attaché (Sigourney Weaver) while being held in check by photographer Billy Kwan (played by Oscar winner Linda Hunt). While the lion's share of accolades went to Weir and Hunt, Gibson received his fair share for his passionate performance. After a starring turn in the little-regarded World War II actioner "Attack Force Z" (1982), Gibson made his entry into American filmmaking with three films – "Mrs. Soffel" (1984), "The Bounty" (1984) and "The River" (1984) – that failed to capitalize on the star-making performances on display in "The Road Warrior" and "The Year of Living Dangerously." He returned to Australia to finish out the "Mad Max" series with "Mad Max Beyond Thunderdome" (1985), a cumbersome satire with a bigger budget, less action and a campy Tina Turner as the chain-mailed leader of a desolate frontier city. Though glossier than the previous two films and featuring Turner's hit song "We Don't Need Another Hero," "Thunderdome" failed to match its predecessor's visceral energy.
Taking time off to concentrate on family, Gibson starring in perhaps his biggest hit, "Lethal Weapon" (1987), in which he played his most popular character, Detective Martin Riggs, an explosive and suicidal homicide cop paired with the aging and long-suffering Detective Roger Murtaugh (Danny Glover). Perhaps one of the most successful buddy cop movies of all time, "Lethal Weapon" became a huge box office hit and spawned numerous imitators over the years, as well as three sequels of diminishing quality. It also propelled Gibson into the elite status of Hollywood superstar, as his offbeat and often humorous portrayal of a cop on the edge helped reshape the modern action hero. Sandwiched between the meandering crime drama "Tequila Sunrise" (1988) and the disappointing action comedy "Bird on a Wire" (1990) was the blockbuster sequel, "Lethal Weapon 2" (1989), which again showcased uncanny chemistry between Gibson and Glover while raking in box office dollars to become another runaway hit. Gibson's patented swagger failed to save the dismal action-comedy "Air America" (1990), in which he co-starred with Robert Downey, Jr. as a pilot flying contraband to Laos during the Vietnam War.
In a surprising career move, an aging Gibson decided to play the titular role in an abridged, but otherwise faithful adaptation of Shakespeare's "Hamlet" (1990), which also starred Glenn Close as Queen Gertrude, Alan Bates as King Claudius and Helena Bonham Carter as the doomed Ophelia. While the film was problematic, particularly due to director Franco Zeffirelli's committing the cardinal sin of blending scenes together, Gibson offered a ranged and finely rendered portrait of the Melancholy Dane. The film also marked the first project produced by his newly minted company, Icon Productions. Gibson continued in a more sentimental vein with the sudsy romantic fantasy "Forever Young" (1992), before scoring another huge hit with the mediocre "Lethal Weapon 3" (1993), which again highlighted a cloying Joe Pesci as the fast-talking Leo Getz from the first sequel. Meanwhile, Gibson made his directorial debut with "The Man Without a Face" (1993), a touching drama in which he hid his good looks behind the heavy makeup of a reclusive burn victim who mentors a troubled adolescent boy (Nick Stahl) determined to pass the entrance exam to an exclusive military academy. Both conventional and occasionally pedestrian, the understated film failed to foretell what was to come from the new director.
Gibson returned to his rowdy commercial ways with "Maverick" (1994), a remake of the Western-comedy television series from the 1960s, which turned the great onscreen chemistry between himself and co-stars James Garner and Jodie Foster into more box office success. He vaulted his career to far reaching new heights when he returned to the director's chair for "Braveheart" (1995), a project far bigger than any with which he had been previously involved in any capacity. Gibson starred as the real-life Sir William Wallace, a 13th-century Scottish nobleman who led a ragtag band of fellow Scots to fight for their freedom from the tyranny of British rule. Featuring both exceedingly violent and bloody battles scenes, and moments of touching sentiment, "Braveheart" was a return for Hollywood to epic filmmaking. "Braveheart" earned a healthy chunk of international box office while renewing interest in Scottish history.. Most importantly, however, Gibson's second film as director earned 10 Academy Award nominations and won five, including statues for Best Picture and Best Director.
Later that same year, Gibson made his first entry into feature animation, providing the voice for John Smith in Disney's "Pocahontas" (1995). He continued to earn top box office dollars with his next few films, which included playing a vengeance-minded father trying to rescue his kidnapped son (Brawley Nolte) in Ron Howard's "Ransom" (1996) and a New York City cab driver whose belief in U.N. black helicopters and the New World order leads to an all-too-real run-in with the CIA in Richard Donner's "Conspiracy Theory" (1997). The latter thriller marked his fifth overall collaboration with Donner, which proved to be a surprising commercial dud compared to their previous work, especially with Julia Roberts starring opposite Gibson. The actor-director pair rebounded with "Lethal Weapon 4" (1998), the fourth installment to the creatively flagging franchise that nonetheless reaffirmed the bankability of the Riggs-Murtaugh team in terms of box office haul. Joining forces with "Conspiracy Theory" scribe Brian Helgeland for his directing debut, Gibson starred in a loose reworking of Donald Westlake's "Payback" (1999), playing a vengeful thief looking to repay his partners for double-crossing him during a heist. Despite possessing the makings of a potentially compelling thriller, "Payback" failed to capitalize on Gibson's dark turn into anti-hero territory.
Always looking to take on a fresh perspective with his onscreen persona, Gibson starred in "What Women Want" (2000), a romantic comedy in which he portrayed an über-alpha male and advertising executive who learns to overcome his chauvinism by falling for a rival executive (Helen Hunt). Though not a particularly inspiring film, "What Women Want" was a huge hit at the box office, taking in almost $200 million domestically. While his star power failed to make Wim Wenders' "The Million Dollar Hotel" (2000) a mainstream success, Gibson was compelling as a strange FBI agent sporting a neck brace who investigates the apparent suicide of the son of a U.S. Senator (Tim Roth) at a seedy Los Angeles hotel. Gibson next joined tent pole specialists Dean Devlin and Roland Emmerich for the Revolutionary War drama, "The Patriot" (2000). Essentially a Western with some "Braveheart" touches, "The Patriot" cast him as a retired soldier still spooked by his memories of the French and Indian War, who clings fast to his pacifism until his son (Heath Ledger) falls into enemy hands, triggering his course of revenge.
After voicing Rocky the Rooster in the animated "Chicken Run" (2000), a feathered reimagining of "The Great Escape" (1963), Gibson appeared in the poorly-received, flag-waving war drama, "We Were Soldiers" (2002). He followed with a turn as a country farmer and reverend who, along with his family (Joaquin Ph nix, Rory Culkin and Abigail Breslin), fend off alien invaders in M. Night Shyamalan's impossible to swallow, but ultimately successful "Signs" (2002). The actor was almost unrecognizable behind a wig of thinning hair and bulbous prosthetics in the film adaptation of Dennis Potter's acclaimed BBC television serial, "The Singing Detective" (2003). While the film failed to burn up the box office, Gibson, who also produced the film, earned personal kudos for employing old "Air America" co-star Robert Downey, Jr., to play the lead, despite the troubled actor's many difficulties with drug arrests at that time. Meanwhile, "The Singing Detective" marked the beginning of a long acting hiatus for Gibson, who felt at the time that he was becoming burned out on his image. He also ran into his own public legal trouble that almost spelled a certain end to his career, though he wound up weathering the storm. In the meantime, Gibson embarked on two directing projects that delivered their own share of criticism.
Gibson ignited a wildfire of public controversy with his third directorial effort "The Passion of the Christ" (2004), a hard-hitting, highly bloody depiction of the Gospels in which Gibson – a hardcore Catholic who was inspired to make the film after struggling with his own personal demons – wanted to illustrate the severe suffering and selfless sacrifice of Jesus Christ (Jim Caviezel). Studios were reluctant to back the project, not only for its explicit religious views, but because Gibson wanted to film the movie in the original Aramaic spoken at the time of Christ.
Meanwhile, critics were polarized by the film, with many citing the violence and gore as excessive, while others praised Gibson's unflinching portrayal. With interest in the controversial film at a fever pitch when it opened, "The Passion of the Christ" debuted to box office blockbuster-sized grosses, thanks to the legions of true believers who boarded church buses and flocked to theaters in droves. "The Passion of the Christ" became a runaway sensation and perhaps the most profitable independent film of all time, taking in over $370 million in domestic box office and putting the director into the enviable position being able to make anything he wanted for his next project. Some hoped that he would return to "Braveheart" territory, but Gibson instead chose to direct "Apocalypto" (2006), a sprawling and rather bizarre-looking film set in the ancient Maya civilization that focused on a young man's perilous journey into a world ruled by fear and oppression, where a harrowing end awaits him. Details about the story remained under tight wraps, though it became known that Gibson shot the entire film in the obscure Mayan language, again risking the alienation of American theaterg rs impatient with reading subtitles. Gibson also shot the film with unknown actors, adding further complications to an already tricky release for Disney.
Then after a seven-year absence, Gibson finally returned to acting with a leading role in the film adaptation of the BBC miniseries, "Edge of Darkness," in which he played a Boston homicide detective trying to uncover the truth behind his daughter's murder, leading to a government cover-up spearheaded by a shadowy operative (Ray Winstone).