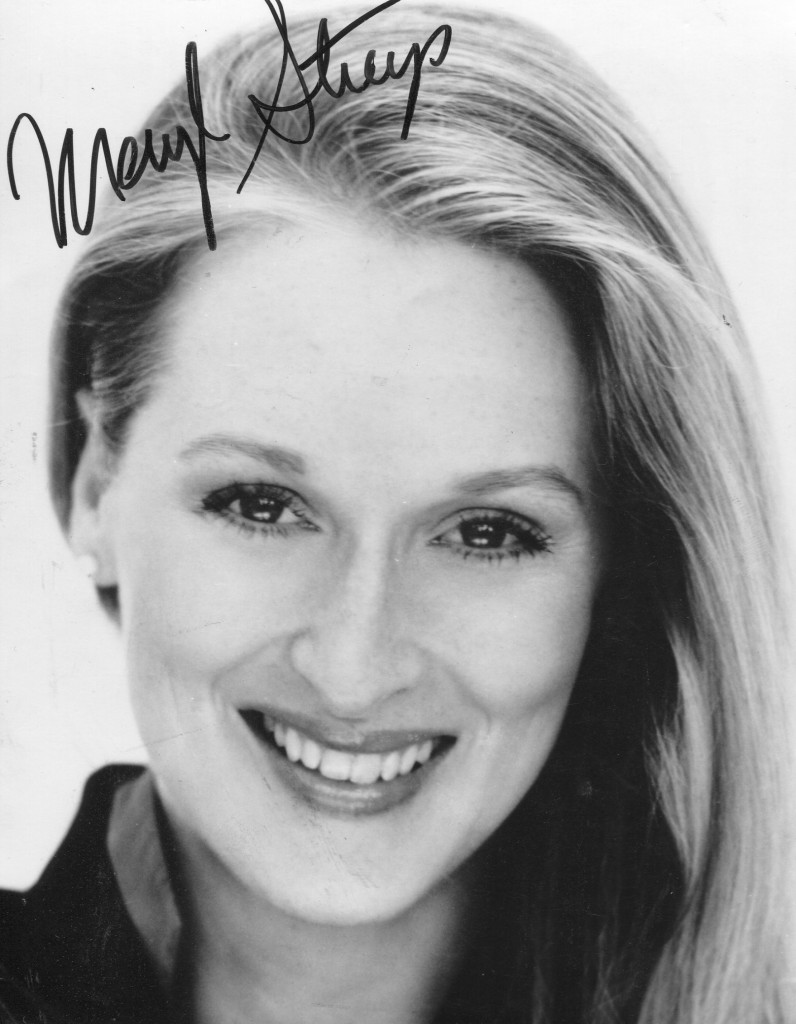 It is terrific to see Meryl Streep in her 60's in major leading roles. She has starred in leading roles since the 1970's. She was born in 1949 in New Jersey. She began her career on the NY stage and acted with Joseph Papps Theatre. Her film debut was in 1977 in "Julia" with Jane Fonda and Vanessa Redgrave. Her films include "The Deer Hunter" in 1978 with Robert De Niro and Christopher Walken, "Kramer Verus Kramer" with Dustin Hoffman, "Manhattan" with Woody Allen, "The French Lieutenant's Woman" with Jeremy Irons, "Ironweed" with Jack Nicholson,"Silkwood", "Out of Africa" with Robert Redford, "Mamma Mia" with Pierce Brosnan and "The Iron Lady".
TCM overview:
Meryl Streep began her acting career with a level of worship typically reserved for seasoned veterans. From her early work in "The Deer Hunter" (1978) and "Kramer vs. Kramer" (1979), it quickly became apparent to the sharpest of critics – even the most casual of moviegoers – that the chameleon-like Streep was an unparalleled master of character, accents and genres. The benchmark was set for every working actress with Streep's work as a Polish Nazi camp survivor, damaged by the unthinkable decision she was once forced to make in her Oscar-winning performance in "Sophie's Choice" (1982). Through "Silkwood" (1983), "Out of Africa" (1985) and "A Cry in the Dark" (1988) Streep continued to set a standard few could hope to achieve, primarily with her mastery of accents that included Polish, Danish and Australian, among others. After her peak in the early 1980s, the multi-Oscar winner spent the subsequent decades maintaining her brilliance, showcasing yet another of her talents – singing competently – in "Postcards from the Edge" (1990) and "Mamma Mia" (2008), capturing the aching desire of an aging woman in "The Bridges of Madison County" (1995), and proving she could draw laughter as well as tears in "The Devil Wears Prada (2006). Simply put, Streep could do it all, and generations of actresses coming up behind her often cited her work as the reason they pursued the craft in the first place.
Mary Louise Streep was born on June 22, 1949 in Summit, NJ and raised in Bernardsville, the oldest sibling ahead of two older brothers, Harry and Dana. Her mother was a commercial artist; her father, an executive at a pharmaceutical company. Streep was extremely serious about music as a child, taking opera singing lessons from renowned coach, Estelle Liebling. By high school, shedding her braces and bespectacled appearance, she willed herself into a dynamic, blonde-haired social butterfly, cheerleading and swimming on the Bernards High School squads and ultimately becoming its homecoming queen. Her mother devised the shortened version of her name, and "Meryl" was christened. Streep also took acting classes in school, which became the dominant interest, leading her to Vassar College and an exchange program for one semester of playwriting and set design at Dartmouth. After earning her acting degree at Vassar in 1971, she headed to the prestigious Yale School of Drama, where her classmates and friends included actress Sigourney Weaver and playwright Wendy Wasserstein. Streep performed in over 40 plays, including "The Father" with Rip Torn, before obtaining her master's degree in 1975.
Right out of Vassar, Streep had hit the New York stage and made her professional stage debut with "The Playboy of Seville" in 1971, with her Broadway debut coming years later at Lincoln Center in 1975, just out of Yale with "Trelawney of the Wells," directed by Joseph Papp as part of the New York Shakespeare Festival. Streep would return over the coming few years to the festival to appear in several plays, including Shakespeare works like "Henry V," "Measure for Measure" and "The Taming of the Shrew," but in 1976, earned a Tony Award nomination for Tennessee Williams' "27 Wagons Full of Cotton," which she had doubled up alongside Arthur Miller's "A Memory of Two Mondays." Streep edged into both television and film by 1977, earning the media's top honors after only a couple of projects under her belt. She burst onto television screens with CBS' "The Deadliest Season" (1977) as the wife of a hockey player accused of murdering another player during game play. That year, she also made waves in her feature film debut, "Julia," starring as the high society friend of Jane Fonda's Lillian Hellman. Streep was considered for the title character, a WWII resistance member, but her lack of recognition led director Fred Zinnemann to cast Vanessa Redgrave instead.
Streep remained in the World War II period, starring opposite James Woods as Inga, a well-to-do German woman attempting to save her Jewish husband from the Nazi concentration camps in the epic NBC miniseries "Holocaust" (1978), for which she won a leading actress Emmy. Streep's capacity for playing characters of exceptional depth already seemed vast as she closed the year in another big screen period piece, giving a tour de force performance as Linda, the wife of a Vietnam War soldier forced to cope with the war's devastating effects and toll on her husband in Michael Cimino's "The Deer Hunter" (1978). Streep had entered into her first serious romance with the film's co-star, John Cazale, but was soon living in a hospital room, forced to watch bedside as he slowly succumbed to bone cancer. Six months later, she met a Yale-bred sculptor named Donald Gummer, who was asked by Streep's brother, Harry to do some work on her Manhattan loft. The two became roommates and then fell in love, marrying in September of 1978.
After Tony and Emmy wins and just shy of her 30th birthday, Streep solidified her early reign over stage and screen with a supporting actress Oscar nomination for the five-time Oscar-winning "Deer Hunter." Streep's nod came on the heels of a small, but pivotal role opposite Woody Allen in his sweetly comical "Manhattan" (1979), with her character Jill, as Allen's former wife, now living with a woman and writing a tell-all book about their love life. Heading into a new chapter of career and life, she was cultivating an audience of fans eager to watch the rising young star's increasingly staggering command of craft. She wrapped up the decade with Robert Benton's adaptation of "Kramer vs. Kramer" (1979). Streep won raves opposite Dustin Hoffman, as Joanna Kramer, an unhappy woman who leaves her husband and son, only to return to claim the child in a messy divorce case. Streep's real life was quite the opposite, as she and Gummer blissfully welcomed a son, Henry, into the fold, with the couple vacating New York to raise their family in northern Connecticut.
At turns sympathetic and icy, Streep's role in "Kramer" won her an Academy Award in 1980, and the film made winners out of Hoffman, Benton and a nominee out of eight-year-old Justin Henry. Her reputation for immersing herself in character and accents served her well as she donned an impeccable English accent to play both a modern actress and a destitute Victorian woman engaged in parallel love affairs in the Harold Pinter-adapted movie-in-a-movie, "The French Lieutenant's Woman" (1981), bringing her back for a third Oscar nomination. Then came the part by which all others would be measured. Easing flawlessly into a Polish accent with "Sophie's Choice" (1982), Streep played Sophie Zawistowski, a Brooklyn-based concentration camp survivor living with her schizophrenic lover whose past, as told to their neighbor, reveals her torment from an unthinkable, life-changing decision. Streep's seamless technique made for one of cinema's finest and most heartbreaking performances, garnering her a well-earned second Oscar in 1983, a prize rivaled only by that year's birth of her first daughter, Mary Willa.
She continued to seek out characters with dramatic urgency, and Streep's instincts proved to be rock solid, as evidenced in "Silkwood" (1983), an account of the doomed, feisty real-life factory whistleblower Karen Silkwood, which netted her another Oscar nomination. Streep lightened things up with the sentimental drama "Falling in Love" (1984), re-teaming with Robert De Niro in a tale of attraction between two modern-day married people, before returning to her trademark sweeping films with Sydney Pollack's "Out of Africa" (1985). In the grand epic, she gave yet another Oscar-nominated turn as Karen Blixen, a Danish plantation owner embarking on a love affair with a hunter, Denys Finch Hatton (Robert Redford), amidst an unhappy politically motivated marriage. Following "Africa," Streep and Gummer took time out to add to their family with a second daughter, Grace.
Looking to reach outside the dramatic confines of her career thus far, Streep inserted a touch of humor into her work with Nora Ephron's fictionalized account of her failed marriage to Washington reporter Carl Bernstein, trading both loving glances and daggers with Hollywood's requisite rogue charmer, Jack Nicholson, in "Heartburn" (1986). She and Nicholson played a more desperate pair in their follow-up together, "Ironweed" (1987), a former singer and major league ball player living drink-fueled homeless existences in depression-era America, which brought them both Oscar nominations in 1988. Expertly donning an Australian accent, she also went on to add yet another nomination to her impressive count with that year's "A Cry in the Dark" (1988), which focused on the country's infamous Lindy Chamberlain case. In the film, the black-wigged Streep played the pariah Chamberlain, who was accused of coldly murdering her baby despite her insistence that it was eaten by a dingo during a camping trip.
Amazingly, "Silkwood," "Out of Africa," "Ironweed" and "A Cry in the Dark" brought her an astounding four Oscar nominations in only five years, for a total of eight. Whatever the roles required and in whichever time or place they required her to be, Streep seemed capable of always finding the center. Still, when it came to comedy, despite inching closer, the weight of her dramatic work was often a liability toward her entry into other genres she was eager to tackle. As the 1980s came to a close, Streep started off her forties intent on indulging those interests. She got off to a rocky start with the ill-fitting "She-Devil" (1989), a dismal comedy vehicle for budding TV star Roseanne Barr which cast Streep as an icy, pulp romance novelist stalked by Barr for the crime of husband theft. Streep found a more suitable vessel channeling novelist/screenwriter Carrie Fisher's loosely-based life with real-life mom, actress Debbie Fisher, in Mike Nichols' adaptation of her book "Postcards from the Edge" (1990). In the critical hit, Streep's actress and recovering addict Suzanne Vale tries to rebuild a bridge to the world by moving in with her alcoholic former actress mother, deftly portrayed by Shirley MacLaine, who managed to steal the scenes from her younger co-star, except when Streep was called on to sing. Not only did she have peerless acting ability, it turned out that had she also possessed surprisingly good pipes, bringing down the house with the film's finale number, "I'm Checking Out."
By the time another Oscar nomination came around for "Postcards," an almost glowing Streep had found her comic groove, signing on to help veteran comic filmmaker Albert Brooks find love in the white-robed hereafter with the charming fantasy "Defending Your Life" (1991). She and Gummer had recently relocated to Brentwood, CA for her work, where Streep gave birth to one more daughter, Louisa. She took one more pass at outrageous humor with "Death Becomes Her" (1992). After finishing up with the Robert Zemeckis comedy, a macabre outing about dueling, immortal Hollywood vixens, she tried her hand at action movies with 1994's "The River Wild," starring as a matriarch forced into protector mode on a dangerous rafting excursion. Streep also gave animation voiceovers a try that year, lending her voice to the role of Bart Simpson's brief church-defying girlfriend on Fox's "The Simpsons" (1989- ).
In 1995, Streep was back in Connecticut and returned to the hallmark dramas of her early days, appearing with Clint Eastwood in his adaptation of the popular Robert Waller novel "The Bridges of Madison County" (1995), a flashback story of a daydreaming, Iowa-based, Italian-born housewife Francesca and her brief, passionate love affair with the photographer sent to take pictures of her town's famed bridges. Eastwood and Streep displayed a palpable chemistry, with the actor-director putting Streep's Academy Award-nominated role center stage. She then reunited with De Niro and along with co-stars Hume Cronyn, Diane Keaton and Leonardo DiCaprio, opened the door to "Marvin's Room" (1996), playing Lee, a single mother of two, attempting to reconcile with her estranged Leukemia-ridden sister while looking out for their sickly father, Marvin. After a long absence from television, she racked up an Emmy nomination for ABC's " First Do No Harm" (1997), a telefilm focusing on the true story of Lori Reimuller, who took on the stubborn healthcare and medical industry in order to get her epileptic son an alternative method of treatment.
Approaching 50 years of age, Streep still had a luminosity that shined through even as she took on the role of the sick patient herself, the cancer-stricken matriarch Kate Gulden of "One True Thing" (1998), based on Anna Quindlen's book. The film gave Streep her eleventh Oscar nomination in 1999. Before the end of that year, she was back on screens in "Music of the Heart" (1999), earning her 12th Oscar nomination. Madonna eventually landed the role Streep badly wanted – that of Eva Peron in "Evita" (1996) – but this time, Streep replaced Madonna in "Music" and its account of the real Roberta Guaspari, an inspirational Harlem music teacher responsible for initiating a violin program for underprivileged students. Streep's exacting preparation methods led her to practice the violin for six hours a day for two straight months. In 2001, Streep who had only intermittently returned to the stage since taking up films, appeared as Arkadina alongside her son Henry in Chekov's "The Seagull" at both New York's Delacorte and Public Theater, her first appearance since workshopping Wendy Wasserstein's "An American Daughter" in Seattle back in 1996.
Over the years, Streep actively drew meaning to her life beyond the screen. She was as tireless with her charitable campaigns for children and adults as she was with acting and her family life. The actress often lent her name and time to assisting the efforts of organizations working on the issues of AIDS research, arts and literacy issues, poverty and human rights among others. Not one to merely grandstand, however, Streep co-founded an organization of her own in Connecticut called Mothers & Others in 1989 which educated parents about the dangerous of pesticides in foods. The organization led a fight against the use of Alar, a pesticide used on various common foods such as apples and helped spearhead several government mandates, including the 1996 Food Quality Protection Act regulating pesticides on food before ceasing to exist in 2001.
The holiday season of 2002 brought two unique films for Streep. She was playing Clarissa Vaughan, a woman unraveling in the "Mrs. Dalloway"-inspired world of Michael Cunningham's "The Hours" at the same time she could be seen playing Susan Orlean, the real author of The Orchid Thief, in "Adaptation," a film comically documenting idiosyncratic screenwriter Charlie Kaufman's nightmarish real-life attempts to adapt Orlean's book about orchid poaching. With her 13th Oscar nomination arriving in 2003 for "Adaptation," she also netted her a second Emmy Award by disappearing into the roles of a ghost, a mother and an old, male rabbi in Mike Nichols' miniseries version of Tony Kushner's play about the AIDS crisis, HBO's "Angels in America" (2003).
The breathing room in Streep's later career stage was evident, and with much more room to branch out, she seemed more vivacious than ever. In the era of Hollywood remakes, Streep took charge in "The Manchurian Candidate" (2004) as the cunning and ruthless Eleanor Shaw, a woman of political influence masterminding her meek, war veteran son's vice-presidential nomination. Under the disguise of heavy makeup, she took to a small role in the dark children's fable "Lemony Snicket: A Series of Unfortunate Events" (2004), for which she provided some comic relief as Josephine Anwhistle, a grammar-conscious, obsessively protective aunt of two orphans. "Lemony Snicket" was met with a mixed reception, but Streep fared slightly better in the comedy "Prime" (2005), as a meddling Jewish therapist trying to navigate her son's interfaith romance with a woman who just happens to be her patient.
Streep's prominence as an ensemble player was further displayed in Robert Altman's meditative swan song, "A Prairie Home Companion" (2006), a funny and somber account of the fictitious last show of Garrison Keillor's long-running radio program. As Yolanda, one of the country-flavored Johnson Sisters along with co-star Lily Tomlin, Streep acted and served up her robust singing voice yet again. At the same time, Yolanda was as warm as Miranda Priestly, the career-driven fashion editor of "The Devil Wears Prada" (2006), was cold. Her record 14th Oscar nomination showed Streep could even be good by being bad. With a Golden Globe Award for the role as well, she now laid claim to a record six Globe wins. In 2007, Streep also celebrated her first onscreen teaming with her oldest daughter, "Mamie" Gummer in "Evening," with Gummer subbing for a young Streep as the 1950s Rhode Island bride Lila Wittenborn of Susan Minot's adapted novel.
Through 2008, she had lined up a variety of projects that would see her slide easily from period pieces like the drama "Doubt" to a musical based on the music of ABBA, "Mamma Mia!" – both of which would garner her Golden Globe nominations for Best Actress in their respective genres. But it was her portrayal of the stern headmistress Sister Aloysius in "Doubt" that earned the decorated actress yet another Academy Award nomination for Best Actress, which was followed by a surprise win for Outstanding Female Actress at the 15th Annual Screen Actors Guild Awards. Streep had yet another banner year in 2009, starting with her dead-on portrayal of cooking maven and popular television personality, Julia Child, in Nora Ephron's winning romantic comedy, "Julie & Julia." For her portrayal of the famous chef, she earned a Golden Globe for Best Actress in a Musical or Comedy as well as an Oscar nod for Best Actress. After providing the voice for the animated Mrs. Fox in "Fantastic Mr. Fox" (2009), directed by Wes Anderson, she delivered another winning performance in the romantic comedy, "It's Complicated" (2009). Streep was a well-adjusted divorceé who finds herself in a state of complicated affairs with her ex-husband (Alec Baldwin) and his much-younger wife (Lake Bell). The role earned Streep a second Golden Globe nomination that year in the same category.
She went on to earn considerable acclaim for her leading role in the biopic "The Iron Lady" (2011), in which she delivered an essence-capturing performance of former British Prime Minister Margaret Thatcher. Despite some misgivings from Thatcher's real-life family about her portrayal, the role earned Streep widespread critical acclaim at home and in England, and nabbed her a Golden Globe and an Oscar for Best Actress. Fresh off her latest Oscar win, Streep clearly had a bit of fun when she guest starred on the second season of the cable comedy "Web Therapy" (Showtime, 2011- ) as the founder of a sexual orientation camp endeavoring to help pioneering "web therapist" Fiona Wallice's (Lisa Kudrow) husband with his sexual confusion. Predictably, the results were both painfully awkward and uproariously funny. For her next film project, she played one-half of a middle-aged couple looking to revitalize their marriage, both in and out of the bedroom, in "Hope Springs" (2012). Streep's perfectly realized performance alongside Tommy Lee Jones in romantic comedy earned her yet another in a long line of Golden Globe nominations for Best Actress
The above TCM overview can also be accessed online here.