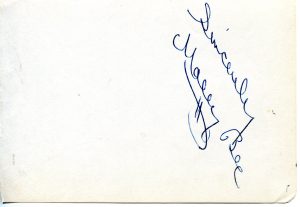 Molly Bee's obituary in "The Los Angeles Times" in 2009.
Molly Bee, a country singer popular in the 1950s and 1960s who was a teenage star on television's "Hometown Jamboree" and "The Tennessee Ernie Ford Show," has died. She was 69.
FOR THE RECORD: Molly Bee obituary: The obituary of country singer Molly Bee in the Feb. 11 California section said the show "Hometown Jamboree" aired on KTLA-TV Channel 5 from the late 1940s to 1960. "Hometown Jamboree" aired on Channel 13, then KLAC-TV, from 1949 through 1954 and KTLA from 1955 to 1956. The article also said she spent her early years in Beltbuckle, Tenn. The town is Bell Buckle.
---
Bee, who lived in Carlsbad, Calif., died Saturday of complications related to a stroke at Tri-City Medical Center in Oceanside, said Michael Allen, her son.   At 10, she sang "Lovesick Blues" for country singer Rex Allen and soon debuted on his radio show. Within two years, she was a regular on "Hometown Jamboree," a Los Angeles-based show run by Cliffie Stone, who helped popularize country music in California.   First broadcast on radio, "Jamboree" aired on KTLA-TV Channel 5 from the late 1940s to 1960. The show gave a big break to many young singers, including Tommy Sands, who became a teen idol and dated Bee in the 1950s.   "She had a great voice and a wonderful stage personality," Sands told The Times on Monday. "She was a sweet person, just terrific."   When she was 13, Bee signed with Capitol Records and had her first major recording success with "I Saw Mommy Kissing Santa Claus" in 1952.   The next year, she recorded a duet with Ford, "Don't Start Courtin' in a Hot Rod Ford." In 1954, Bee left the children's TV program "The Pinky Lee Show" to join Ford's daytime variety show.
Before their performance of "Dim Lights Thick Smoke," Ford teased her about the pigtails she once wore and praised her "silver bell voice." He then coaxed her to yodel, a skill she had honed on the Beltbuckle, Tenn., farm where she spent her early years.
Born Mollie Gene Beachboard on Aug. 18, 1939, in Oklahoma City, she moved to Tucson in the 1940s and to Los Angeles when she was 11. She graduated from Hollywood Professional High School.   As her career took off, Bee appeared on a number of TV variety shows and had more hit singles, including "Young Romance," "Don't Look Back" and "5 Points of a Star."   In the 1960s, she turned toward acting, appearing in several stage musicals and films but once said she was "too shy" to embrace acting. Her films included "Chartroose Caboose" (1960) and "The Young Swingers" (1963).   Bee regularly headlined in the 1960s at major Las Vegas showrooms and briefly toured with Bob Hope's USO troupe. She struggled with drug addiction and took several years away from performing to rebuild her life, biographical sources said.   "I've done it all and lived to tell about it," Bee once said. "Mine has been like six lifetimes rolled into one."
Married at least five times, she called herself "the Zsa Zsa Gabor of the country music set." Her marriage to country singer Ira Allen lasted 10 years.   Through her children, she found equilibrium, she said in 1975 in Country Song Roundup magazine. Bee reconnected with Stone, made two more albums and often toured with her two daughters in tow.   Eventually, she moved to Oceanside with her family in 1986 and regularly performed in the early 1990s at a local restaurant and nightclub she ran called Molly Bee's.   Most recently, she used the name Molly Muncy offstage.
In addition to her son Michael of Napa, Calif., Bee is survived by daughters Lia Genn of Winchester, Calif., and Bobbi Carey of Oceanside; brother Robert Beachboard of Escondido; and four grandchildren.
The above "Los Angeles Times" obituary can also be accessed online here.
A celebration of Bee's life will be held at 3 p.m. Monday at El Camino Memorial Chapel, 340 Melrose Ave., Encinitas.
Instead of flowers, the family suggests donating to St. Jude Children's Research Hospital,www.stjude.org.