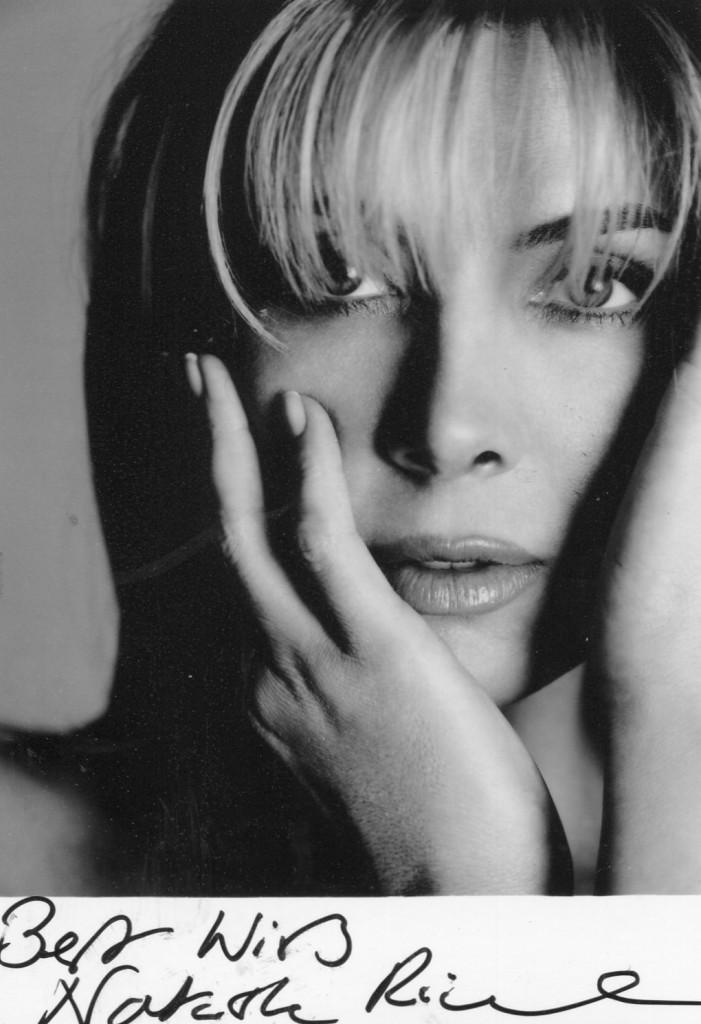 "Guardian" obituary by Tim Pulleine:
It was surely in the stars that Natasha Richardson, who has died aged 45 after suffering head injuries in a skiing accident near Montreal, would become a member of the theatrical profession. The daughter of the actorVanessa Redgrave and the director-producer Tony Richardson, she was among the third generation of a family steeped in the performing arts, her maternal grandparents being the actors Sir Michael Redgrave and Rachel Kempson.
But while she remained close to her family, it was at the professional distance of her choosing: she settled in New York, took US citizenship, deployed a flawless American accent as necessary, and enjoyed her finest cinematic moment as the kidnapped California media heiress Patty Hearst.
Natasha's career in film started at the age of four, when she and her younger sister, Joely, figured as extras in their father's film The Charge of the Light Brigade. Joely also went on to a successful acting career, as did their cousin Jemma, daughter of the actor Corin Redgrave, in recent years an admired King Lear.
Born in London, Natasha studied at the Lycée Français and St Paul's girls school, Hammersmith. Her parents divorced when she was three. Her mother was much involved in campaigning for the Workers Revolutionary party and fundraising for refugees, and to see their father the two girls went to France and California. Natasha felt strongly loved and supported by both parents, but grew up fast: when she came to have her own children, she was keen for them to have a rather more orderly upbringing.
A determined teenager, she decided to take a hold on her future by leaving St Paul's at 16, so that she could take her A-levels in one year rather than two. When she auditioned at the Central School of Speech and Drama, London, she kept quiet about being a Redgrave.
However, she soon gained a reputation in her own right in the theatre, in particular from a 1985 staging of Chekhov's The Seagull alongside her mother.
Natasha's first film role was in the low-budget Every Picture Tells a Story (1984), and two years later she reached a wider audience in the guise of Mary Shelley as perceived by Ken Russell in his extravagant Gothic. This was a gruelling experience in which she was at one point required to be covered from head to foot in spinach as a practical substitute for primeval slime. On location, made up with huge dark circles under her eyes, she cheerfully confided to me: "I'd probably look a lot worse if I had really been through all this."
Her next screen appearance was in distinct contrast, as the wife of a rural Yorkshire clergyman in A Month in the Country (1987), an adaptation of JL Carr's novel. Although the film was set in the 1920s, Richardson imported an almost pre-Raphaelite quality of the ethereal.
Ordeal, however, was again the keynote of her next film, which marked her arrival in international cinema with the title role in Paul Schrader's Patty Hearst (1988). This was a dramatisation of near-expressionist intensity of how William Randolph Hearst's granddaughter was kidnapped by, and then became an adherent of, the Symbionese Liberation Army. The film inevitably rested to a considerable degree on the quality of its central performance: this was a tour de force, making it all the sadder that its harrowing quality denied the film acceptance by a wide audience.
In Shadow Makers (1989), Richardson took the less central but elegiac role of the suicidal lover of the US nuclear physicist and father of the atom bomb Robert Oppenheimer. Then she was reunited with Schrader for a film in a very different register, The Comfort of Strangers (1990). Derived from Ian McEwan's novel and set in Venice, it is a chilly chamber drama, with Richardson conveying suitable presence as one half of an English couple caught up in a strange erotic imbroglio.
This film, and the screen version of Margaret Atwood's The Handmaid's Tale (1990), may have had an art-house stamp, but in the US, where she went to live in the early 1990s, Richardson was seen by a larger television audience. This came about through two acclaimed 1993 TV films, in roles of a matchingly febrile kind, as the victimised heroine of Tennessee Williams's Suddenly Last Summer and as Zelda Fitzgerald, disturbed wife of the novelist F Scott Fitzgerald, in Zelda.
From her early 20s, Richardson had been the partner of Robert Fox, a theatre and film producer 11 years older than her, and she took charge of his three children. Fox also came from a theatre family, as the younger brother of Edward and James. They married in 1990.
The following year, her father Tony died of an HIV-related illness, and Natasha invited the Irish actor Liam Neeson to co-star with her in a much-lauded Broadway revival of Eugene O'Neill's Anna Christie. In 1994, Richardson and Fox were divorced, and Neeson, also 11 years her senior, became her second husband. That year, too, they appeared together on screen in the psychological melodrama Nell.
In 1995, she ventured into the more lighthearted, and commercially safer, reaches of family comedy by acting in the Disney remake of The Parent Trap, achieving the feat of not being upstaged in what is essentially a vehicle for a juvenile performer, with Lindsay Lohan in the role that in 1961 had been taken by Hayley Mills. Richardson revisited the territory of glossy comedy to engaging effect with Jennifer Lopez in Maid in Manhattan (2002).
By this time, Richardson had already expended considerable effort on trying to get Asylum, Patrick McGrath's novel about events in a psychiatric hospital modelled on Broadmoor in the 1950s, translated to the cinema screen. When the project was finally realised, in 2005, it provided her with the sexually charged role of a neglected psychiatrist's wife who starts an affair with one of her husband's patients, incarcerated for beheading his former wife.
The same year saw The White Countess, the final collaboration by producer Ismail Merchant and director James Ivory – Merchant died during production – exchanging the British in India for displaced Russian aristocrats in the Shanghai of 1936. Richardson took the title role of Countess Sofiya Belinskaya, still glamorous despite her straitened circumstances. For only the second time in her career, she joined her mother and aunt Lynn, with Ralph Fiennes playing a US diplomat in an oblique screenplay by Kazuo Ishiguro.
Despite a strong lineup of female stars including Richardson, with the central figure played by Claire Danes in youth and Vanessa Redgrave 50 years later, Evening (2007) made little impact. Richardson's last film appearance came as the English headteacher with the task of instilling a sense of proper, old-world discipline into exiled American schoolgirl Emma Roberts in the teen comedy Wild Child (2008).
Stage work continued to be important to Richardson. Her repertoire of strong characters continued with Ibsen's obsessive Ellida Wangel, The Lady from the Sea, reopening the Almeida Theatre, north London, in 2003, and on Broadway with Blanche DuBois in Tennessee Williams's A Streetcar Named Desire two years later. Her range was considerable: in 1998, she won a Tony award for her playing of Sally Bowles in a new Broadway production of the musical Cabaret, and at the time of her death was preparing to co-star with her mother in a Broadway revival of Stephen Sondheim's A Little Night Music.
While that link persisted – Richardson's first childhood appearance in The Charge of the Light Brigade had been as Vanessa's bridesmaid – there is every reason to suppose that she would have continued to demonstrate her versatility in the years ahead.
She is survived by her husband Liam Neeson, their two sons, Micheál and Daniel, her mother Vanessa and the other acting Redgraves of their two generations.
Natasha Jane Richardson, actor, born 11 May 1963; died 18 March 2009
• This article was amended on Saturday 28 March 2009. In the obituary of Natasha Richardson above we said she gained a reputation in the theatre from a performance alongside her mother and aunt in Chekhov's Three Sisters in 1985. She appeared with her mother in Chekhov's The Seagull that year. Vanessa and Lynn Redgrave appeared with their niece Jemma Redgrave in Three Sisters in 1990. This has been corrected.
The above "Guardian" obituary can also be accessed online here.