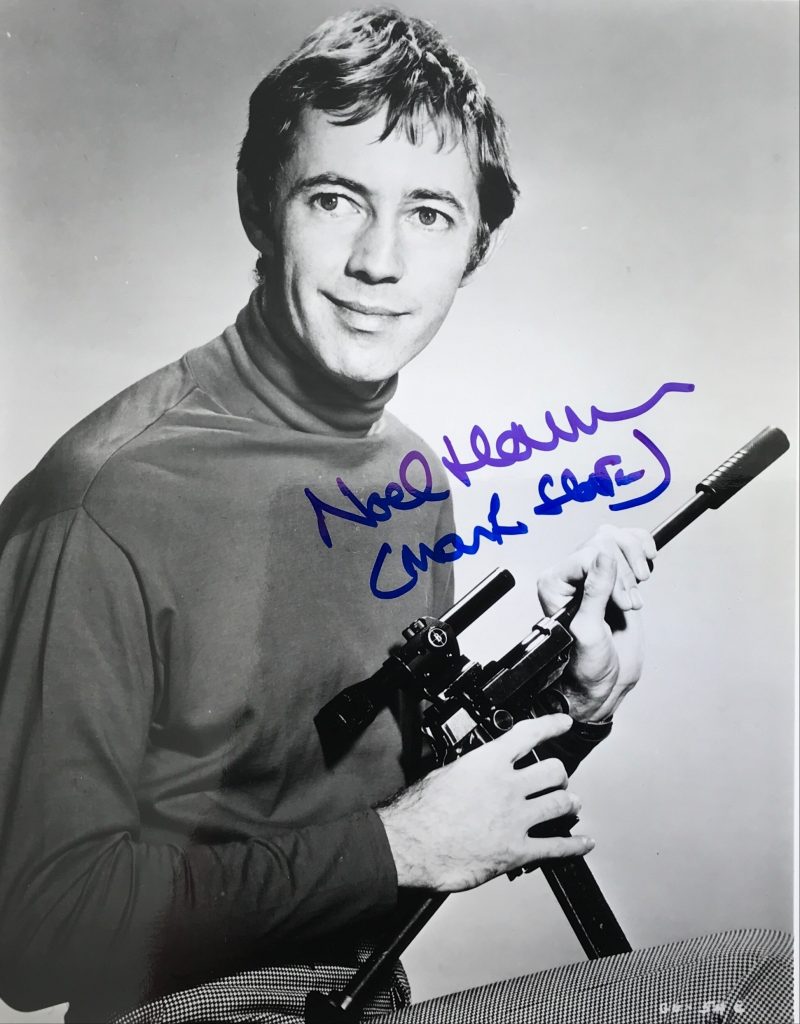 Noel Harrison was born in London in 1934 and is the son of actor Rex Harrison. He began his show business career as a singer. He went to the U.S. in 1965 and the year after he starred with Stefanie Powers in the TV series "The Girl from U.N.C.L.E.". He starred with Hayley Mills and Oliver Reed in the movie "Take A Girl Like You". He had a hit with the song "The Windmills of Your Mind" from "The Thomas Crown Affair" which starred Steve McQueen.
Adam Sweeting's obituary in "The Guardian":
Noel Harrison, who has died aged 79 following a heart attack, was the son of the actor Sir Rex Harrison and followed his famous father into show business. He pursued a varied career on stage and in film and television, but it was as a musician that he achieved his moment in the spotlight. In 1968 he recorded the song The Windmills of Your Mind for the soundtrack of the Steve McQueen/Faye Dunaway film The Thomas Crown Affair and it became a top 10 hit in the UK the following year.
"Recording Windmills wasn't a very significant moment," he recalled. "It was just a job that I got paid $500 for, no big deal. The composer, Michel Legrand, came to my home and helped me learn it, then we went into the studio and recorded it, and I thought no more about it." It went on to win an Oscar for best original song. (Coincidentally, Talk to the Animals, the song sung by Rex Harrison in Doctor Dolittle, had won the Oscar the previous year.)
"People love [Windmills]," said Noel, "and it's great to have a classic like that on my books." His pleasure was marred only slightly by the fact that he could not perform it at the Oscar ceremony because he was in Britain filming Take a Girl Like You (1970).
Noel was born in London to Rex Harrison and his first wife, Collette Thomas; they divorced when he was eight. He attended private schools, including Radley college, Oxfordshire, and when he was 16 his mother invited him to live with her in Klosters, Switzerland. He jumped at the chance, which allowed him to develop his gifts as a skier. He became a member of the British ski team and competed at the Winter Olympics in Norway in 1952 and Italy in 1956.
After completing his national service in the army, Harrison concentrated on learning the guitar and in his 20s made a living travelling around Europe playing in bars and clubs. In 1958 he was given a slot on the BBC TV programme Tonight, on which he would sing calypso-style songs about current news events.
In 1965 he left for the US with his first wife, Sara, working on both coasts as a nightclub entertainer. He scored a minor hit with his version of the Charles Aznavour song A Young Girl (of Sixteen), which also featured on his first studio album, Noel Harrison, released in 1966. Then he landed a leading role in the TV series The Girl from U.N.C.L.E., playing Mark Slate opposite Stefanie Powers as April Dancer, though the show lasted for only one season.
Harrison's high profile earned him a recording deal with Reprise, for whom he made three albums, Collage (1967), Santa Monica Pier (1968) and The Great Electric Experiment is Over (1969), and notched another minor hit with Leonard Cohen's song Suzanne. He also toured with Sonny & Cher and the Beach Boys. However, while his career flourished, his marriage was disintegrating, and Sara returned to Britain with their three children. In 1972 Harrison, beguiled by the back-to-the-land spirit of the era, left Los Angeles for Nova Scotia, Canada, with his second wife, Maggie. There they built their own house and lived on home-grown fruit and vegetables.
He now earned a living from hosting a music show on CBC, Take Time, and took several stage roles in touring musicals including Camelot, The Sound of Music and Man of La Mancha. He even played Henry Higgins in My Fair Lady, which had been an Oscar-winning film role for his father. "I went to see my dad in New York and I said 'I really need the money, so how do you feel about it?' He said 'Oh why not? Everybody else is doing it.'" In the 80s he also staged a one-man musical, Adieu Jacques, based on the songs of Jacques Brel.
He ventured into screenwriting, penning episodes of two "erotic" TV series, Emmanuelle, Queen of the Galaxy and The Adventures of Justine, before returning to Britain in 2003 with his third wife, Lori. They originally planned a short visit to his stepdaughter, Zoe, who was running a cafe in Ashburton, Devon, but liked it so much they decided to stay. Harrison played gigs in village halls across Devon and in 2011 performed at the Glastonbury festival. He released two new albums, Hold Back Time (2003) and From the Sublime to the Ridiculous (2010), and his three Reprise albums were reissued in 2011.
He is survived by Lori and five children from his first two marriages, which both ended in divorce.
• Noel Harrison, actor, musician and writer, born 29 January 1934; died 19 October 2013
The above "Guardian" obituary can also be accessed online here.