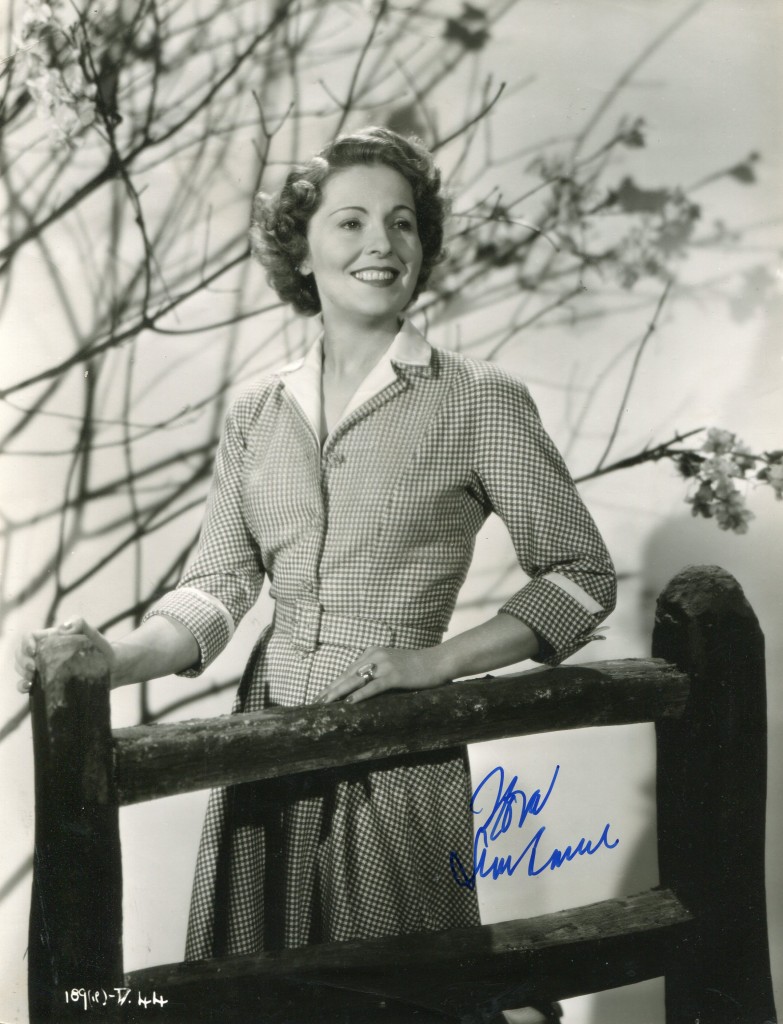 Nora Swinburne was born in 1902 in Bath. She studied drama at RADA and made her stage debut in London 1914 in "Paddy Pools". Her films include "Branded" in 1920, "The Man in Gray" in 1943, "Fanny By Gaslight", "Jassy" and "Anne of the Thousand Days" in 1969. She was married to actor Esmond Knight. She died in 2000 at the age of 97.
Eric Shorter's "Guardian" obituary:
Whatever she did on the West End stage – and her career spanned more than 60 years – the actress Nora Swinburne, who has died aged 97, did with grace and poise. Here was a profile of striking beauty: a touch haughty, perhaps, but with a hint of that silent command to which playgoers and filmgoers were content to be subject in the heyday of light comedy. She was also intelligent enough to enliven the most routine dramaturgy – and between the wars it could indeed be mechanical.
How many other actresses knew how to twirl three rows of pearls as expertly and expressively as to make James Agate doubt, in Daphne du Maurier's The Years Between (1947), whether – in her supposed widowhood as a woman of parliamentary ambition – Swinburne would care "twopence whether working-class houses are provided with baths or not?" Who could more effectively lighten a dark scene of marital strife, or keep the home fires burning more brightly, even down to the handling of the drawing-room tongs (when, by rare chance, no servant was there to do it)?
Nearly all of Swinburne's plays were set amid the middle or upper-middle classes, with her caressing voice to smooth many a troubled male brow, or her beguiling feminity to bestow consolation on an anxious husband. If she did not dominate all the stage drawing-rooms of the period, her gracious presence brought dignity and a dry wit to scores of forgotten farces.
Is it ill-mannered now to wonder why she seemed so often, and for so long, to have played the same kind of ladylike part? To wonder, in a word, why she never developed into a more powerful actress? The short answer may be that Swinburne's attractive art flourished in an era when drawing-room comedy, however silly, pleased. Audiences could be sure of seeing, without envy or disdain, their social betters leading sometimes lurid lives of graceful and secure splendour, so unlike the lives of most spectators. It was a distraction from reality.
So, for the stage-struck daughter of a west country toy manufacturer, who trained at the Royal Academy of Dramatic Art and, at 14, got her first West End chance in something called Paddly Pools, the spirit of the age was on her side. When the troops who survived the trenches came home on leave, they crowded those theatres playing revues and musical comedy. By then, the young Elinore Johnson (she soon changed her name) was part of Clive Currie's Young Players learning the ropes.
Swinburne would appear in up to three West End plays every season. And even when the demand for floozies and flappers in such trivial-sounding shows as This And That, Yes, It's You I Want, Lovers' Leap, and Married For Money began to dwindle in the 1940s, her theatrical presence was such that no playgoer felt able to miss it. Even the sternest critics said she never bored them, however boring her part.
The upshot was two or three more decades on stage, including two stints with the '69 Theatre, Manchester, playing Violet in TS Eliot's The Family Reunion (1973) and Julia Shuttleworth in The Cocktail Party (1975). Then she retired.
Meanwhile, since 1919, there had been a less intense career both in silent cinema and the talkies. Her films ranged from Branded (1920) to Up The Chastity Belt (1971). Quartet (1948), drawn from Maugham short stories, was perhaps the best. But Swinburne's heart was always in the theatre. Between the wars, she sailed twice to Broadway; and in 1938 went successfully into management with Peter Blackmore's Lot's Wife, in which she played the title role.
In Turgenev's A Month In The Country (1943), Swinburne took over the role of Nathalia Petrovna from Valerie Taylor, and from Diana Wynyard in Lillian Hellman's Watch On The Rhine. Later stage credits included Mrs Arbuthnot in Wilde's A Woman Of No Importance (1953), Peter Coke's Fool's Paradise (1959), in which she co-starred with Cicely Courtneidge, and Donald Howarth's All Good Children (1964). Her television roles included Aunt Hester in the Forsyte Saga (1967).
There was a walkover look about much of her acting. But when it looks easy it seldom is. In the name part of Maugham's Caroline (Arts Theatre, 1949), for example, Swinburne played the siren, as Harold Hobson remarked, "gently and charmingly". It was a familiar role for her to be "an object of desire".
Nora Swinburne was thrice married and twice divorced; her first husband was the actor Francis Lister; her second was Edward Ashley-Cooper; and her third was the actor Esmond Knight, who died in 1987.
She leaves her son Francis, from her first marriage.
Nora Swinburne, actress, born July 24 1902; died May 1 2000
Gary Brumburgh'sentry:
nown for her genteel ways and stately beauty in tea service drama, British actress Nora Swinburne was born Elinore Johnson on July 24, 1902, in Bath, England. Performing on stage as both actress and dancer from the age of 10, her father, Henry Swinburne Johnson, manufactured toys for a living. She was a member of Clive Currie's Young Players in 1914 and appeared in shows during that year. Educated at Rosholme College, she trained for the arts at the Royal Academy of Dramatic Art. Building up her stage reputation with such pieces as "Suzette" (1917), "Yes, Uncle!" (1918), "Scandal" (1919), and the title role in "Tilly of Bloomsbury" (1921), her attractiveness proved quite suitable for films, entering silent pictures in 1920. She appeared in a handful of sophisticated fare throughout the early part of the decade such as Branded (1920), The Fortune of Christina McNab (1921), Hornet's Nest (1923), and A Girl of London (1925). Divorced from actorFrancis Lister, she was married to actor Edward Ashley at the time she met Esmond Knight while appearing in the play "Wise Tomorrow" in 1937. Actually, both actors were married at the time, but they engaged in a long, discreet affair until both were free. They finally married in the late 1940s and enjoyed a long union together. They would appear in several plays over the years from "Autumn Crocus" (1939) to "The Cocktail Party" (1974). Ms. Swinburne enjoyed great theatrical success playing the role of Dinah Lot in the play "Lot's Wife" (1938), which she subsequently reproduced under her own management, and later replaced Diana Wynyard in the memorable war drama "Watch on the Rhine" in 1943. By the advent of sound, Ms. Swinburne had been related to opulent supports in films, usually appearing as ladylike mothers or socialite types in plush Gainsborough dramas. Some of her later films would include Perfect Understanding(1933), The Citadel (1938), The Man in Grey (1943), Man of Evil (1944), Jassy (1947),Christopher Columbus (1949), Quartet (1948), The River (1951) (with husband Knight),Quo Vadis (1951) (as Pomponia), Helen of Troy (1956) (as Hecuba), Decision at Midnight(1963) (again with Knight), Interlude (1968) and Anne of the Thousand Days (1969). An avid gardener by nature, Ms. Swinburne would die of old age in 2000, thirteen years after husband Knight.
– IMDb Mini Biography By: Gary Brumburgh / gr-home@pacbell.net