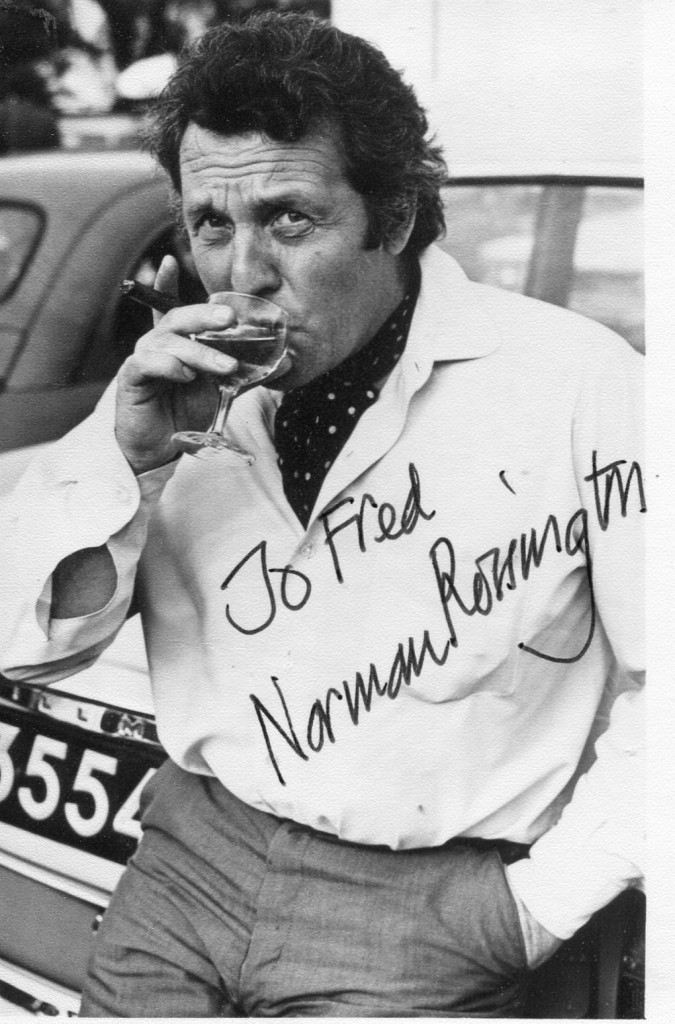 Norman Rossington was a gifted character actor who was born in 1928 in Liverpool. He has the distinction of having featured in "Help" in 1965 with The Beatles and in 1967 in "Double Trouble" with Elvis Presley which he made in Hollywood. He also made "Tobruk" in the U,S. He played Albert Finney's loyal friend in "Saturday Night and Sunday Morning". He died in 1999.
Tom Vallance's obituary in "The Independent":
USUALLY PLAYING a cheerful, down-to-earth, if slightly suspect working-class lad, the comic actor Norman Rossington was a veteran of dozens of films and television shows, though his face was more familiar than his name ("It's more important for me to be recognised in my profession," he once said).
The stocky, curly-haired actor first achieved prominence as one of the motley bunch of idle privates in ITV's The Army Game, and went on to feature in three "Carry Ons" and such movies as A Night to Remember and Lawrence of Arabia. A master of working-class accents from cockney to his native Liverpudlian, he spent much of his career portraying servicemen of the lower ranks, but also appeared with the Old Vic, the National Theatre (with Laurence Olivier) and the Royal Shakespeare Company, and only last year was on the West End stage playing the father of Belle, the beauty of Beauty and the Beast. He could also claim to be the only actor to have appeared in films with both Elvis Presley and the Beatles.
The son of a publican, he was born in 1928 in Liverpool, and left school at 14 to work on the docks as a messenger boy. After becoming an apprentice carpenter, he studied French and building at night school and trained to be a draughtsman, but at 19 a visit to a church social with his friend Kenneth Cope (also later to become an actor) changed the course of his life.
He took part in a sketch just for fun, was invited to join the local drama group, and took to his new interest with such enthusiasm that he was soon training for the professional stage at the Bristol Old Vic, making his stage debut at the Theatre Royal in Bristol, where his work ranged from Shakespeare to the musical Salad Days. In 1954 he played Snout in a production of A Midsummer Night's Dream that toured America, and in 1955 made his screen debut with a small part in a weak vehicle for the comic Ronald Shiner, Keep It Clean. However, work was not consistent and for a time he worked as a chef in police station canteens.
He had his first major success with the television series The Army Game (1957), ITV's biggest comedy hit in the early years of commercial television. This Bilko-like series featured a bunch of conniving and lazy soldiers, with Michael Medwin as their ringleader, William Hartnell their tough sergeant, and Rossington as Private "Cupcake" Cook, always eating and opening food parcels from his family in Liverpool. The show ran for five years and in 1959 Rossington and four other cast members performed a shortened version of it before the Queen Mother at the Royal Variety Show.
In 1958 The Army Game was filmed as I Only Arsked, the title coming from the catchphrase of the gormless "Popeye" (Bernard Bresslaw). In this box- office hit the group, initially dismayed when posted to the Middle East, find a secret passage to the king's harem, put down a revolution and find an oil well. In the same year Rossington had a small role in Roy Baker's fine account of the Titanic disaster A Night to Remember.
He was cast once again as an army recruit in the first of the "Carry On" series, Carry On Sergeant, getting laughs as a private who keeps failing to pass out. (Kenneth Williams, in his diaries, referred to Rossington as "a good fellow".) He later featured in Carry On Nurse (1959) as Norm, constantly running errands up and down the corridor, and Carry On Regardless (1960) as the referee of a boxing match in which Charles Hawtrey is one of the contestants.
Norman Hudis, writer of those early "Carry Ons", was to script several of the actor's television series, including Our House (1960) which found Rossington part of an ill-assorted group of people (including Hattie Jacques, Joan Sims and Charles Hawtrey) who buy a ramshackle house. Other notable television appearances included parts in Johnny Speight's controversial series about discrimination, Curry and Chips (1969), in which he was a bigoted shop steward, Dennis Potter's six-part Casanova (1971), starring Frank Finlay, a striking portrayal of mid-19th century explorer Samuel Baker in The Search for the Nile (1971), and countless comedy shows with such stars as Beryl Reid, Bob Monkhouse and Spike Milligan.
On the cinema screen he was the stolid chum of rebellious Albert Finney in Karel Reisz's key film of the British "New Wave", Saturday Night and Sunday Morning (1960), and was in the military again for two 1962 epics, The Longest Day and Lawrence of Arabia. He had one of his best-remembered roles in the first and best of the films starring the Beatles, Richard Lester's A Hard Day's Night (1964), in which as Norm, the group's manager, he provided a gentle parody of Brian Epstein.
Two years later he appeared with the decade's other pop sensation Elvis Presley in Double Trouble. One of Presley's poorest films, it featured Rossington and Chips Rafferty as two inept crooks who switch suitcases with Presley and his girlfriend. He journeyed to Hollywood for this, and for the war film Tobruk (1966) with Rock Hudson, but turned down offers that would have kept him there. He had one of his favourite roles as Sergeant- Major Corbett in The Charge of the Light Brigade (1968), and more recent films included The Krays (1990) and Let Him Have It (1991).
Rossington's stage work included Brecht on Brecht with Lotte Lenya at the Royal Court, Shaw's Saint Joan with Olivier's embryo National Theatre company at Chichester in 1963, and the role of Doolittle in a revival of the musical My Fair Lady. He convincingly switched to an American accent for two musical roles – as the gambler Nathan Detroit in the National Theatre revival of Guys and Dolls (1985) with Lulu as his long-suffering sweetheart Adelaide, and as the circus promoter Charlie Davenport in the 1992 revival of Annie Get Your Gun.
In 1997 he sang again in the spectacular musical Beauty and the Beast, but had to leave the show last November after a fall on stage which preceded a six-month battle with cancer.
Norman Rossington, actor: born Liverpool 24 December 1928; twice married; died Manchester 21 May 1999.
The above "Independent" obituary can be also accessed online here.
ry Brumburgh's entry:
Spade-jawed British character actor Norman Rossington was born in Liverpool, so it shouldn't be considered THAT ironic that he would end up appearing in The Beatles' debut film smash, A Hard Day's Night (1964), as "Norm", the Fab Four's chagrined road manager. The son of a publican, he never finished high school, leaving at age 14 and living a rather wanderlust adolescent life as messenger, office boy, carpenter apprentice, etc. Later, he went to night school and studied industrial design in order to become a draughtsman. Interest in acting happened by accident and, eventually, Rossington joined a local theatre group. He trained seriously at the Bristol Old Vic and began appearing in both straight plays ("A Midsummer Night's Dream") and musicals ("Salad Days") by the mid-50s. Within a few years, he had extended his visability to films and TV, setting up his rather bumbling persona as "Private Cupcake" on the TV comedy series, The Army Game (1957). Along with roles in a few of the zany "Carry On…" slapstick films, Rossington established himself firmly as a comedy performer with I Only Arsked! (1958),Crooks Anonymous (1962) and Nurse on Wheels (1963), representing a few of his farcical credits. Yet his finest creation was arguably in the "kitchen sink" drama, Saturday Night and Sunday Morning (1960), as Albert Finney's sensible, down-to-earth, blue-collar pal. Though he never attained outright stardom, Rossington became a reliable, familiar mug with minor roles in such epic British and U.S. films as Saint Joan (1957), The Longest Day(1962), Lawrence of Arabia (1962), Those Magnificent Men in Their Flying Machines or How I Flew from London to Paris in 25 hours 11 minutes (1965), The Charge of the Light Brigade (1968) and Young Winston (1972), not to mention the equally epic TV miniseries, I, Claudius (1976) and Masada (1981). Rossington's greatest impression would lie in musical theatre, especially in his later career. Such spirited roles in "Peter Pan" (as "Starkey"), "My Fair Lady" (as "Alfred Doolittle"), "Annie Get Your Gun" (as "Charlie Davenport"), "Pickwick: The Musical" (as "Tony Weller"), "Guys and Dolls" (as "Nathan Detroit") and, lastly, as Beauty's father in "Beauty and the Beast", made him an endearing favorite in the West End. Cancer claimed him at age 70 in 1999.
– IMDb Mini Biography By: Gary Brumburgh / gr-home@pacbell.net