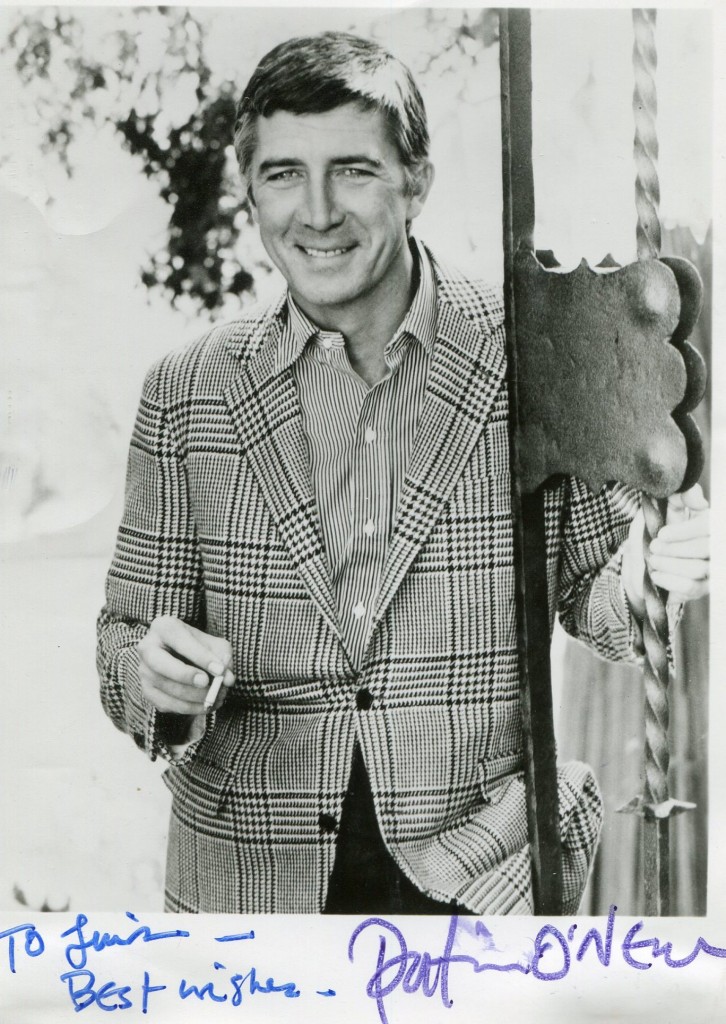 Patrick O'Neal was born in 1927 in Florida. He had an extensive television career. His few movies include "The Black Shield of Falworth" in 1954, "From the Terrace" with Paul Newman and Ina Balin in 1960 and "The Cardinal" with Tom Tryon in 1963. He died in New York City in 1996.
Gary Brumburgh's entry:
Dark, dashing and coldly handsome with intense, penetrating eyes, Patrick O'Neal was known for walking that fine line between elegant heroics and elegant villainy during his five-decade career. Born in 1927 in Ocala, Florida, and of Irish descent, he served toward the end of WWII with the United States Army Air Corp and, in his late teens, was assigned to direct training shorts for the Signal Corps. A graduate of the University of Florida at Gainesville, he subsequently moved to New York and continued his dramatic studies at the Actor's Studio and Neighborhood Playhouse.
O'Neal made an initial impact in the early 1950s when he replaced Tony Randall in the hit Broadway comedy "Oh, Men! Oh, Women!". Following a strong role in "The Far Country" (1961), he gave a superlative portrayal of the defrocked Reverend Shannon opposite Bette Davis and Margaret Leighton in Tennessee Williams' "The Night of the Iguana" later that year. Unfortunately for him, Richard Burton collared the role in its 1963 transition to film, The Night of the Iguana (1964). The attention nevertheless earned O'Neal both lead and support roles on camera, but most of those performances would be routine and, for the most part, overlooked. A capable player used regularly in 1960s films and 1970s television, he was usually cast as either a rugged trooper in the action adventures King Rat (1965) and Assignment to Kill (1968); a careerist sycophant in the naval spectacle In Harm's Way (1965); or as a flashy murderer in such gruesome yarns asChamber of Horrors (1966), probably his best known film. In later years, it was almost strictly television movies and guest spots. His wife and brother owned several restaurants with him. He died in 1994 from respiratory failure while battling tuberculosis.
– IMDb Mini Biography By: Gary Brumburgh / gr-home@pacbell.net
New York Times obituary in 1994.
Patrick O'Neal, an actor who appeared on stage, on television and in more than a dozen films, died on Friday at St. Vincent's Hospital in Manhattan. He was 66 and lived in Greenwich Village.
The immediate cause was respiratory failure, and he had tuberculosis and cancer, said his wife, Cynthia.
At his death, Mr. O'Neal was a co-owner, with his wife and his brother, Michael, of O'Neal's, a restaurant at 49 West 64th Street in Manhattan, which was named the Ginger Man until 1993. He and his brother were also co-owners of the Landmark Tavern on 11th Avenue at 46th Street.
In 1963 Mr. O'Neal played the lead role, Sebastian Balfe Dangerfield, in "The Ginger Man," a play by J. P. Donleavy based on his novel of the same title, at the Orpheum Theater Off Broadway.
One critic praised his acting in that production as likely to entrance theatergoers who had met Dangerfield in the novel and found him "enchanting and amusing for all his waywardness, his cruelty and his insincerity."
Mr. O'Neal went on to use the name when he co-founded the Ginger Man in 1964. It prospered, drawing patrons from the Lincoln Center area and farther afield. It was the first of a half-dozen restaurants, mostly in Manhattan, that he came to co-own over the years. They included another place in the Lincoln Center area, O'Neal's Baloon at 63d Street and Columbus Avenue. Defrocked in a Williams Play
Mr. O'Neal's other stage roles included the defrocked cleric in Tennessee Williams's "Night of the Iguana," a role he first played in a short form of the drama in Spoleto, Italy, in 1959 and went on to play in other productions on Broadway and elsewhere.
Among his films were "In Harm's Way" (1965), "A Fine Madness" (1966), "The Kremlin Letter" (1970), "King Rat" (1965), "The Way We Were" (1973) and "The Stepford Wives" (1975). He also acted in many television shows and series, from the 1950's through the 1980's.
Mr. O'Neal was born and grew up in Ocala, Fla. He received a bachelor's degree from the University of Florida and went on to study acting in New York, with Sanford Meisner at the Neighborhood Playhouse, and with Lee Strasberg at the Actors Studio.
In addition to his wife of 38 years, the former Cynthia Baxter, and his brother, of Manhattan, he is survived by two sons, Maximilian, of Manhattan and Fitzjohn, of Redondo Beach, Calif