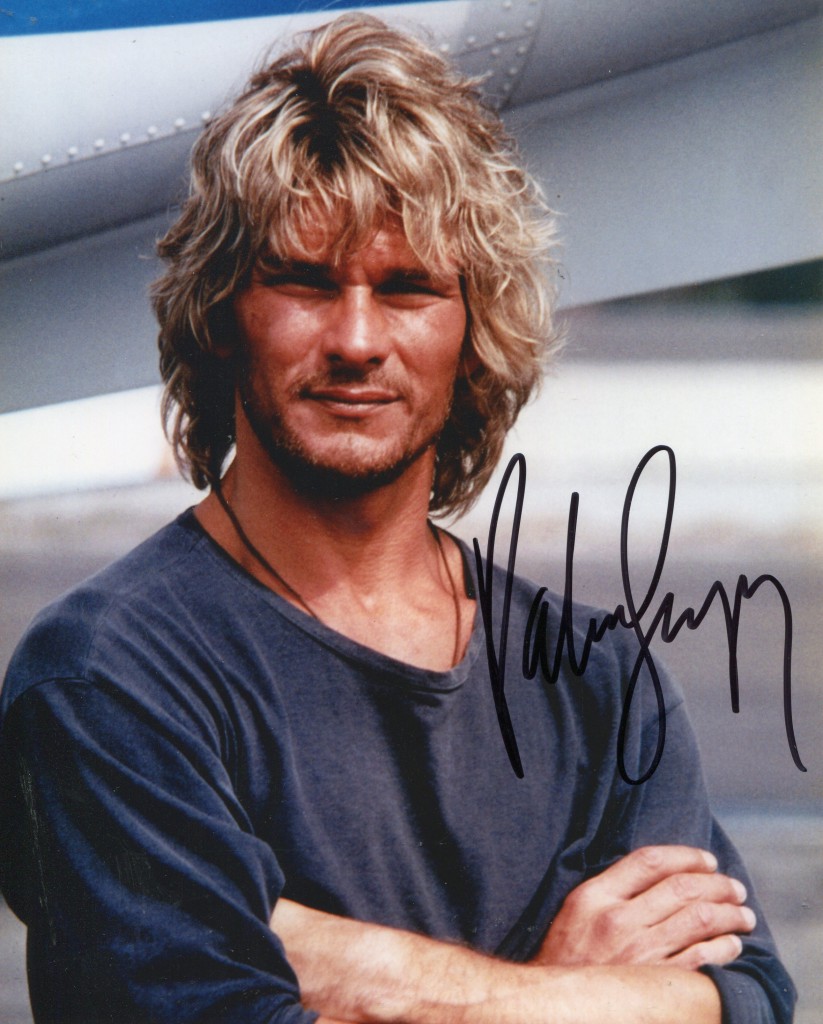 Patrick Swayze starred in many excellent adventure thrillers such as "Point Break" and "Road House".   He also starred in two of the most popular romantic movies of all time, "Dirty Dancing" in 1987 and "Ghost" in 1990.    Sadly he died in 2009 at the age of 57.
Peter Bradshaw's "Guardian" obituary:
Patrick Swayze, who has died of pancreatic cancer aged 57, was a leading man with rugged, unpretty looks and a lean dancer's physique, who enjoyed staggering success in Reagan-Bush-era America thanks to two classic movie roles. In Dirty Dancing (1987), he was Johnny Castle, a summer-camp dance teacher from the wrong side of the tracks who falls in love with one of his pupils, Frances "Baby" Houseman, a teenage girl from a posh, uptight family, whose world is rocked by Johnny's steamy dance moves. At the end of the movie, Johnny strides into the dance hall to find that she has been forced to sit demurely with her parents at a table well away from the action. "Nobody puts Baby in a corner!" he declares, and whisks her centre-stage for some spectacular choreography. The image of the blonde princess emotionally liberated by the bad boy with the heart of gold was adored by movie audiences: it was irresistibly similar to that of Diana, Princess of Wales, dancing with John Travolta at the White House two years before.
Three years later, in Ghost (1990), Swayze was Sam Wheat, a yuppie banker deeply in love with his ceramic-artist fiancee Molly, played by Demi Moore. Sam is killed by a mugger in the movie's sensational opening scene, but returns as a ghost to watch over the love of his life. It became America's favourite date movie, with a much-loved, much-parodied scene in which a half-naked Sam embraces Molly from behind as she caresses an oozing brown pot upwards into shape, to the accompaniment of the Righteous Brothers singing Unchained Melody. This film, too, partook a little of the changing zeitgeist: Swayze's gentle phantom yuppie showed an America interested in a more vulnerable, caring leading man as an antidote to the triumphalist 1980s.
After these movies, Swayze never quite progressed to the A-list, though he did well as the charismatic surfer-dude in Kathryn Bigelow's 1991 action-thriller Point Break, opposite Keanu Reeves. A workmanlike career unfolded, without letting Swayze's personality cohere into a clear star-identity. Nevertheless, he reportedly turned down an offer of $7m to appear in a Dirty Dancing sequel and, when criticised for his choice of film roles, said that he was "fed up with that Hollywood blockbuster mentality".
Typecasting, and a battle with alcoholism, hampered any rise to the top. He was the decent American expatriate in Calcutta in Roland Joffé's City of Joy (1992), and the wacky drag artist in Beeban Kidron's To Wong Foo, Thanks for Everything! Julie Newmar (1995). As an ex-con, Jack Crews, in Black Dog (1998), he had to drive a truck full of illicit weapons across country.
It wasn't until his scene-stealing turn in Richard Kelly's cult-classic psychological nightmare Donnie Darko (2001), in which he played the sinister motivational speaker Jim Cunningham, that Swayze's career found a new act. His looks were now those of a character actor, and a new generation of moviegoers responded to his muscular presence and direct address to the camera.
Swayze was born in Houston, Texas. His mother, Patsy, was a choreographer with the Houston Jazz and Ballet Company, and she drove Patrick hard as a boy towards a career in dance – and specifically in ballet, not an easy choice for a young Texan male. Swayze became a sports star in high school and got an athletics scholarship to Houston's San Jacinto College.
After graduating, he moved to New York City, where he became the principal dancer at the Eliot Feld ballet company, but recurrent injuries compelled a strategic move into the theatre. On Broadway, he tore up the stage as Danny Zuko in Grease, which attracted the notice of Hollywood, so he moved to Los Angeles.
His big break came courtesy of Francis Ford Coppola, who allowed Swayze to develop his greaser persona in the teen drama The Outsiders (1983), the movie that also launched Tom Cruise and Rob Lowe. His breakthrough in Dirty Dancing played perfectly to Swayze's strengths: dancing, masculinity, sweaty sensuality. It became one of the first films to find a vast audience in the booming new home-video market. After Ghost, People magazine voted him one of the "sexiest people alive".
After that, things took a turn for the worse. His personal life was troubled: deeply affected by his father's death from a heart attack and his sister's suicide in 1994, Swayze repeatedly relapsed into alcoholism. He broke both legs in a horse-riding stunt in 1996 filming the HBO movie Letters from a Killer, which caused career stagnation and depression. There was further controversy when Swayze made an emergency landing in Arizona in 2000 in his twin-engine Cessna, and appeared to attempt to remove a stash of beer and wine from the plane.
After his comeback in Donnie Darko, Swayze presented a calmer, more relaxed face to the world. His likeable, easygoing personality struck a chord with London stage audiences when he played Nathan Detroit in the West End revival of Guys and Dolls in 2006. He also played opposite Kristin Scott Thomas and Rowan Atkinson in the British comedy Keeping Mum (2005).
In 2008, soon after he had filmed a pilot for a television show, The Beast, in which he was to star as an FBI agent, Swayze was diagnosed with pancreatic cancer. He underwent chemotherapy and drug treatment while shooting the subsequent series, which was shown on US television earlier this year. His last film was Powder Blue (2009).
He is survived by his wife, the actor and dancer Lisa Niemi, his childhood sweetheart from Houston, whom he married in 1975. He described her as "the smartest chick I'd ever met" and cited her as the inspiration for the song She's Like the Wind, which he co-wrote and which featured on the Dirty Dancing soundtrack.
• Patrick Wayne Swayze, dancer, actor and singer, born 18 August 1952; died 14 September 2009
The above "Guardian" obituary can also be accessed online here.