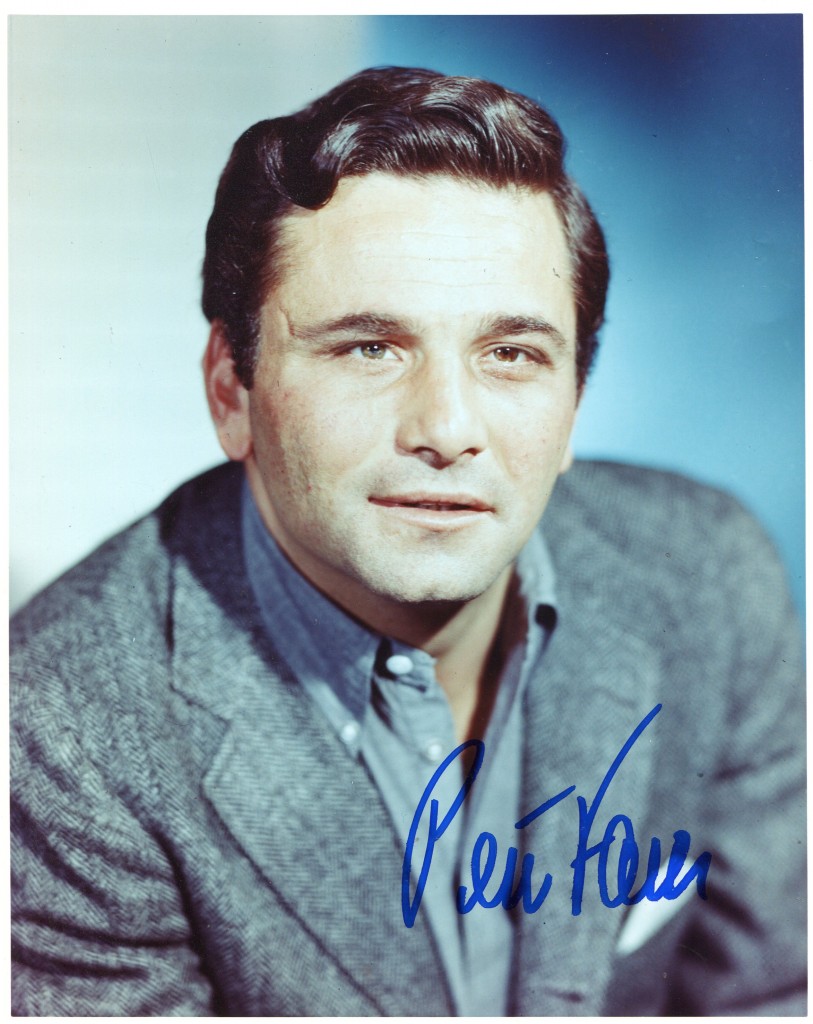 Peter Falk is of course well known for his performance as Lt Columbo in the long running detective series "Colombo" which ran from 19761 until 1978 and then again from 1989 until 2003. He has though many other great acting credits to his name including an Oscar nominated performance as a gangster in "Murder Inc" in 1960. His other movies include "Pocket Full of Miracles". "The Great Race" and "Murder By Death" with Maggie Smith, Alec Guinness, Peter Sellers and Eileen Brennan. He died in 2011 at the age of 83.
Brian Baxter's "Guardian" obituary:
Show-business history records that the American actor Peter Falk, who has died aged 83, made his stage debut the year before he left high school, presciently cast as a detective. Despite the 17-year-old's fleeting success, he had no thoughts of pursuing acting as a career – if only because tough kids from the Bronx considered it an unsuitable job for a man. Just 24 years later, Falk made his first television appearance as the scruffy detective, Columbo, not only becoming the highest paid actor on television – commanding $500,000 an episode during the 1970s – but also the most famous.
Inevitably the lieutenant dedicated to unravelling the villainy of the wealthy and glamorous dominated his career, although – unlike some actors – he escaped the straitjacket, or in his case shabby raincoat, of typecasting. In addition to stage work, he made numerous film and television appearances, notably for John Cassavetes in Husbands (1970) and A Woman Under the Influence (1974). There were also war films such as Anzio (1968), comedies including The Great Race (1965) and dramas ranging from Jean Genet's The Balcony (1963) to David Mamet's Lakeboat (2000).
Falk was the only child of Michael and Madeleine Falk, east European Jews who had emigrated to America, settling first on New York's East side, then moving to the Bronx, where Peter was born – two years before the stock-market crash heralded the depression. At the age of three, a tumour was diagnosed behind his right eye and, in an emergency operation, both the tumour and the eye were removed. The resultant disability made for a precarious school life, compensated for by his defiant humour, sporting prowess and subversive behaviour.
Unable to serve in the navy because of his eyesight, he enlisted in the merchant marines, working as a cook. After graduating in political science from the New School of Social Research, New York City, he gained a master's degree in public administration from Syracuse University, in upstate New York. He travelled in Europe before taking his first regular job, as an efficiency expert in Hartford for the Connecticut budget bureau. By his late 20s, he knew that he had to escape financial administration.
Despite earlier misgivings, he had enjoyed acting in college productions, and, while working, enrolled with the actor-teacher Eva Le Gallienne, who in 1955 urged him to quit his job and return to New York City. With intriguing looks and a strong personality, but little training, he took her advice.
A disastrous debut in an off-Broadway production of Molière's Don Juan was followed a few months later by a happier experience as the bartender in Eugene O'Neill's The Iceman Cometh (1956), with Jason Robards. Over the next two years he acted in many plays including St Joan and The Lady's Not for Burning, paying the rent by appearing in TV series such as Have Gun Will Travel, Wagon Train and The Untouchables.
His big-screen debut came in Nicholas Ray's ecological adventure Wind Across the Everglades (1958), but with his city accent and nervy, method-oriented style he soon specialised in playing hoodlums in films including Pretty Boy Floyd (1959) and Murder Inc (1960), the latter attracting great attention for his powerful performance as a vicious killer. It earned him an Oscar nomination as best supporting actor, and he became the first person to be nominated for an Emmy within the same year, after playing a heroin addict in the television drama The Law and Mr Jones.
In 1961, Frank Capra remade his classic Lady for a Day as A Pocketful of Miracles. Now in colour and drenched in syrup, the movie gained Falk a second Oscar nomination. The following year, he received an Emmy for his performance as a truck driver in The Price of Tomatoes. Although he had come to acting late, within a few years he established himself as a significant presence.
He felt confident enough to marry his girlfriend from college days, Alyce Mayo, and took steady work in films, playing a psychiatrist in Pressure Point (1962) and the police chief in The Balcony (1963). He was on the periphery of Sinatra's rat pack in Robin and the Seven Hoods (1964) and for TV co-starred in Brigadoon (1966). He joined his friend Jack Lemmon when the actor decided to produce Murray Schisgal's play Luv for the screen. Sadly, the transfer resulted in a dismal movie farce. This and a couple of other duds led to a lull in Falk's career, until he heard that Bing Crosby had turned down the part of a detective in a scheduled television show. At the age of 40, Falk landed the part, making his debut as Columbo in the pilot episode, Prescription Murder. When a series was proposed he declined, preferring to work with Cassavetes on Husbands and to return to the stage in Neil Simon's The Prisoner of Second Avenue.
By this time he and Alyce had adopted two daughters, Jacqueline and Catherine, so the security of a television series took on new appeal. Falk signed with NBC, initially for six episodes. He even provided the clothing for the Los Angeles homicide investigator from his own wardrobe, including the infamous raincoat. Later he observed that the dogged, working-class detective sprang from his own personality: "He's obsessive, relentless, meticulous about his work and definitely not a good dresser."
Falk became deeply involved with the production, whose format was distinctive in that the murder was shown at the outset, making the mystery for the viewer not a matter of identity, but of explanation. He contributed ideas and directed two episodes, Blueprint for Murder and Etude in Black. Between 1971 and 1978 he starred in 40 episodes, becoming a multimillionaire in the process.
In what time was left, he joined Cassavetes and his wife Gena Rowlands in financing A Woman Under the Influence as an independent movie. Falk's supportive role as a manual worker coping with the problems of his emotionally scarred wife, played by Rowlands, revealed his talent as a character actor. There were few such substantial roles for a while, and he was another detective – indebted to Humphrey Bogart – in the star-studded flop Murder By Death (1976). He played opposite Cassavetes in the thriller Mikey and Nicky (also 1976) and then took a cameo role in his friend's superb Opening Night (1977).
Falk had reached an important crossroads in his life and career. The Columbo series was coming to an end, and in 1976 he and Alyce agreed to an amicable divorce. He found himself enjoying golf and his greatest pleasure – drawing and sketching – as much as his career. Although increasingly reclusive, in 1977 he married the actor Shera Danese and embarked on further films, including the lively caper The Brink's Job (1978), based on a robbery in Boston in 1950, and the commercial hit The In-Laws (1979), co-starring Alan Arkin. A sequel, Big Trouble (1985), directed by Cassavetes, failed to repeat that success, the director proving himself unsuited to banal comedy material.
Falk's movie career became increasingly busy and varied. He was the storyteller-grandfather in the whimsical The Princess Bride, and took the lead in an enjoyable remake of a Claude Lelouch film retitled Happy New Year (both 1987). He returned to the stage in David Mamet's challenging Glengarry Glen Ross (1986) and Moss Hart's Light Up the Sky (1987).
However, he was deeply affected by the premature death of Cassavetes in 1989, and a need to immerse himself in work coincided with an offer to resume playing his most memorable creation. Falk was offered huge financial inducements, plus creative control of the new series as executive producer. He began the new run with Columbo Goes to the Guillotine (1989), and more than 20 feature-length TV movies followed until Murder With Too Many Notes (2000).
His movie career ran in tandem, often in character roles or, memorably, playing himself – in Wim Wenders's Wings of Desire (1987) and Robert Altman's The Player (1992) – plus documentaries about Frank Capra and Cassavetes. Occasionally Falk took on more demanding roles, playing a grandfather over three decades in the sentimental Roommates (1995), and appeared in many television movies, including A Storm in Summer (2000), directed by the veteran Robert Wise.
More interestingly, he joined a starry cast as the Pierman in Mamet's Lakeboat. Then in 2001 came Made, a crime movie, and a character role in the comedy Corky Romano, followed by another television movie, A Town Without Christmas. The next year saw him in the Walter Hill boxing drama Undisputed, and as Waldo in Three Days of Rain, based on several Anton Chekhov stories.
He expressed no regrets concerning his career or his dedication to Columbo, though reflected somewhat ruefully, "no one was put on this earth to be so well known by two billion strangers". That modest disclaimer of his success and fame did not deter him from playing the shabby detective just one more time in the 2003 episode, Columbo Likes the Nightlife. The same year he stayed with television as the star of a feel-good movie, Wilder Days, cast as the grandfather. This was quickly followed by his role as the angel Max in Finding John Christmas and a year later, for the same team, he was in Christmas Angel. He mined that cosy vein further in Checking Out (2005), and a year later published his memoir Just One More Thing, with a title taken from his famous line in Columbo.
His health and his career declined in the following years, after his appearance as one of four grumpy men in a weak comedy, Three Days to Vegas (2007). He was finally seen in small roles in Next (also 2007) and the independent movie American Cowslip (2009). In 2008 he was injured in a car crash and the same year was hospitalised for a hip operation.
Falk was subsequently diagnosed as suffering from dementia as the consequence of Alzheimer's disease, and Shera took over his affairs; she and his daughters survive him. Not long before he fell ill, he denied that his raincoat had been donated to a museum, saying that it was still part of his wardrobe.
• Peter Michael Falk, actor, born 16 September 1927; died 23 June 2011
The above "Guardian" obituary can also be accessed online here.