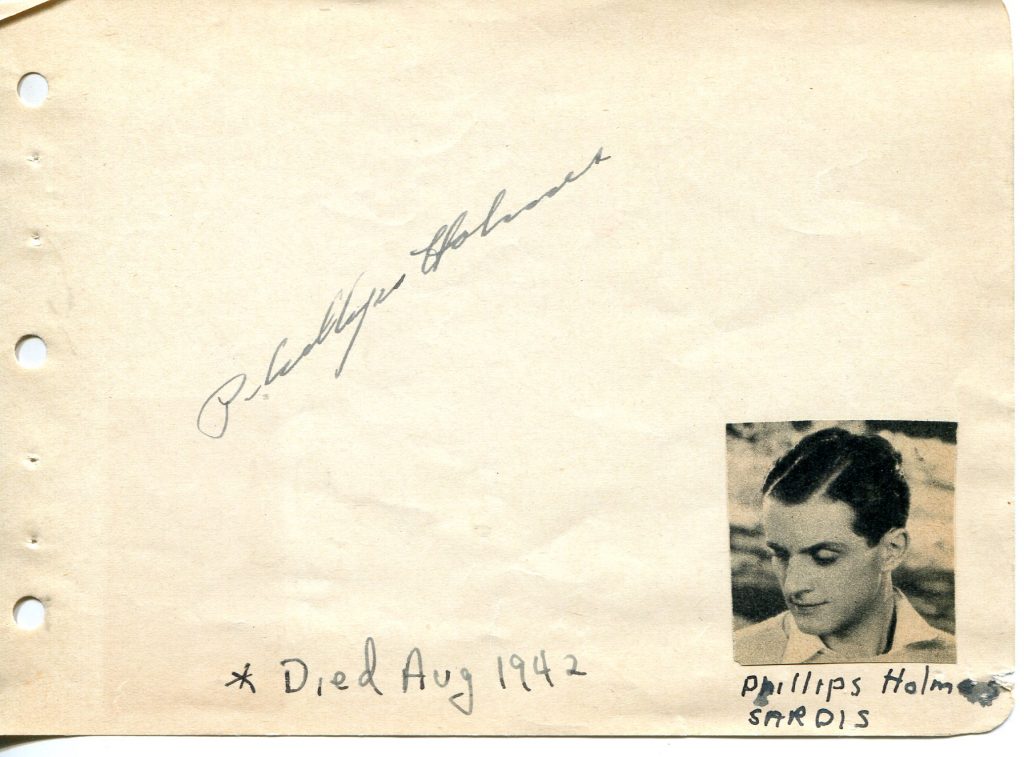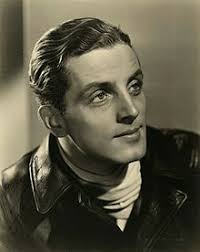 IMDB entry:
A future in movies for this fair-haired, fresh-faced young adult of the 1930s was by no means certain at the time of his untimely death in a mid-air plane collision. Hints of the All-American leading man promise Phillips Holmes managed to convey during the early to mid decade, particularly in the film adaptation of Theodore Dreiser 's novel An American Tragedy (1931), had faded significantly. In the meantime he was maintaining with stage work and had just graduated from Air Ground School as an aircraftsman when he suddenly died at age 35 on August 12, 1942.
Phillips, his sister Madeline and their youngest brother, Ralph Holmes (pronounced "Rafe," who later became an actor as well) came from ripe acting stock. Character actorTaylor Holmes was a well-established character player in vaudeville and on the stage and screen. He and actress wife Edna Phillips met during a production of "Hamlet" and first-born Phillips' odd first name was bestowed upon him courtesy of his Canadian-born mother. The children were often shunted about to live with various relatives while their parents were on the road. Phillips attended many different schools growing up and graduated from Newman Prep School in New Jersey. He traveled to Europe for his college education, attending Cambridge University in England and (later) Grenoble University in France. His natural ability at athletics led to solid respect as a member of the rowing team during his college years. He eventually returned to the US and decided upon Princeton.
An inherent interest in acting (Princeton's The Triangle Club) led to his stage debut in the Princeton Triangle Show "Napoleon Passes" at the Metropolitan Opera House in 1927. While at college he, by luck and via certain connections, also managed to make his film debut with Varsity (1928) and was offered a Paramount contract as a result. After a number of false starts, bit parts, bad pictures and a major bout with nervous exhaustion, Phillips began to score some early first impressions with juvenile leads in the films The Return of Sherlock Holmes (1929), Pointed Heels (1929), the Gary Cooper starrer Only the Brave (1930) and, more notably, The Devil's Holiday (1930) and Stolen Heaven(1931), both opposite established star Nancy Carroll.
It all led to the role of his career in Dreiser's An American Tragedy (1931) the ill-fated story of a wanderlust young man who falls hard for a beautiful socialite (Frances Dee) while trying to find a way to extricate himself from the clutches of a drab, maudlin girl from the wrong side of the tracks he had met earlier and impregnated (Sylvia Sidney). In the same part that would later establish Montgomery Clift as a archetypal tortured romantic in A Place in the Sun (1951), Holmes equipped himself admirably in a difficult role and was seemingly on his way to Hollywood stardom.
Firmly on the Paramount roster list, the handsome blue-eyed blond co-starred as both vulnerable, weak-willed gents and feistier men in comedy and melodrama, includingBroken Lullaby (1932) and Two Kinds of Women (1932). He then signed with MGM and appeared in more of the same standard filming — Night Court (1932), The Secret of Madame Blanche (1933) and Men Must Fight (1933). A huge chance for major attention turned bleak after being heavily promoted in the film Nana (1934) opposite beauteous Russian import Anna Sten. Touted as the "next Garbo", the movie tanked badly with his performance cited as bland and wooden, and the equally stiff Ms. Sten lost all hope for stardom. Phillips provided a bit more dash and élan in Caravan (1934) opposite Loretta Young but it was not enough to turn his career around. From then on he freelanced both here and abroad in mostly "B" fodder that included the "Our Gang" feature-length misfireGeneral Spanky (1936) and the British programmers The Dominant Sex (1937) and (his swan song) Housemaster (1938), both with "tea rose" beauty Diana Churchill.
Phillps had to make do on stage at this point with his participation in such plays as "The Petrified Forest", "Golden Boy", "The Male Animal" and "The Philadelphia Story". Along with his career decline, he suffered upsets in his personal life. A fractured romance with scandalized millionaire chanteuse Libby Holman led to her marrying brother Ralph on the rebound. That 1939 marriage fell apart within a few years and Ralph would subsequently commit suicide in his NY apartment from a barbiturate overdose in 1945, three years after Phillips' death.
With WWII now a harsh reality, both brothers enlisted in the Royal Canadian Air Force toward the end of 1941. While Ralph became a pilot officer, Phillips attended the Air Ground School at Winnipeg. Following graduation, he and six of his aircraftsmen classmates were transferred but the plane carrying the men en route to their new destination (Ottawa) collided with another in Ontario killing all aboard.
– IMDb Mini Biography By: Gary Brumburgh / gr-home@pacbell.net
The above IMDB entry can also be accessed online here.