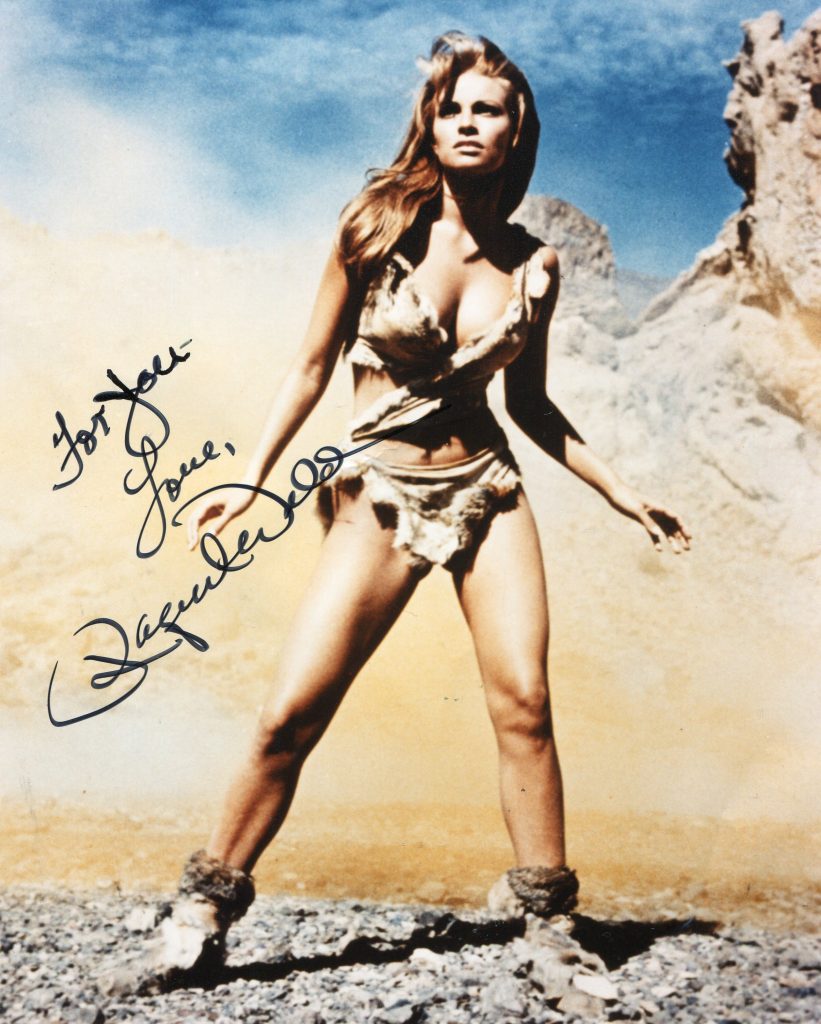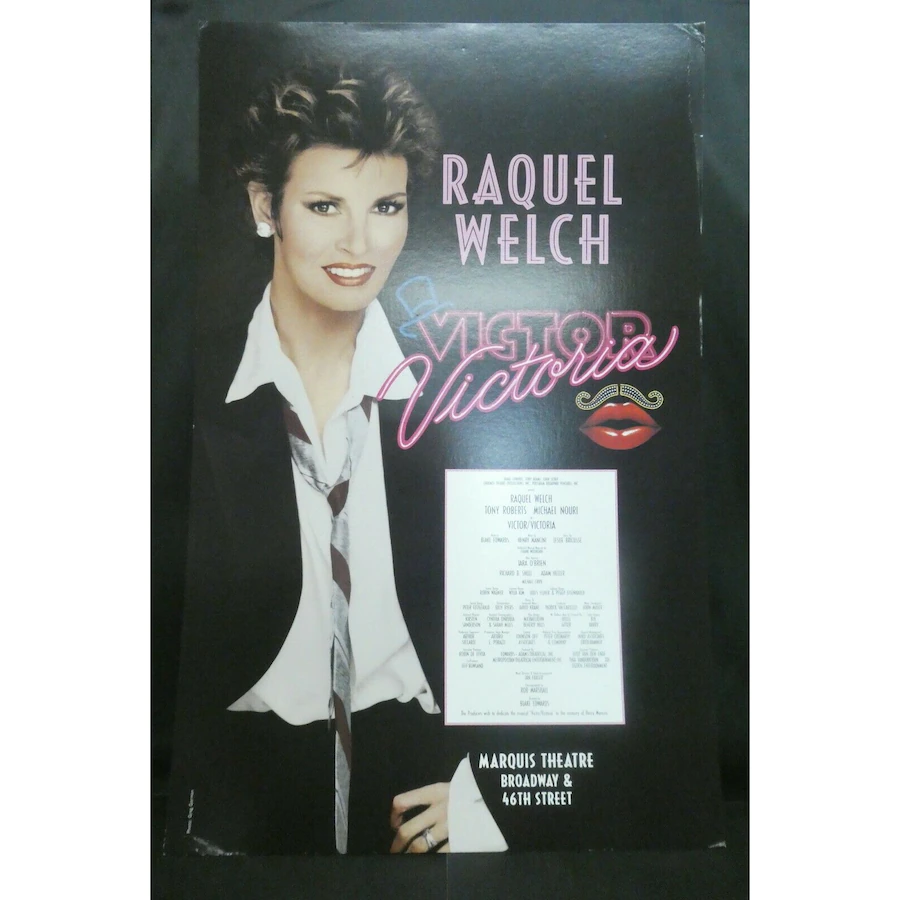 Raquel Welch was born in 1940 in Chicago. She had a small role in the 1964 Elvis Presley movie "Roustabout". Welch came to attention as a new star in 1966 in "One Million Years B.C."She posed iconically in an animal skin bikini for the British-release "One Million Years B.C" in 1966. She later starred in "Bedazzled" in 1967, "Bandolero", "Lady in Cement" with Frank Sinatra and the title role in "Myra Breckinridge" in 1970.
Gary Brumburgh's entry:
A new reigning 1960s international sex symbol took to the cinematic throne as soon as Raquel Welch emerged from the sea in her purposely depleted, furry prehistoric bikini. Tantalizingly wet with her garb clinging to all the right amazonian places, One Million Years B.C. (1966), if nothing else, captured the hearts and libidos of modern men (not to mention their teenage sons) while producing THE most definitive and best-selling pin-up poster of that time. After a major dry spell following the death of Marilyn Monroe in 1962, the auburn-maned Ms. Welch effortlessly assumed Marilyn's place and forever wiped away the notion that enduring sex goddesses came only in one form — bottled blonds.
She was born Jo Raquel Tejada on September 5, 1940 in Chicago, Illinois, the first of three children born to Bolivian Armando Carlos Tejada Urquizo, an aerospace engineer, and his Irish-American wife Josephine Sarah Hall, who was the daughter of American architect Emery Stanford Hall (1869-1939) and his wife Clara Louise Adams. The family moved to San Diego, California (her father was transferred) when Raquel was only two. Taking dance lessons as a youngster, she grew up to be quite a knockout and nailed a number of teen beauty titles ("Miss Photogenic," "Miss La Jolla," "Miss Contour," "Miss Fairest of the Fair" and "Miss San Diego"). With her sights set on theater arts, she studied at San Diego State College on a scholarship starting in 1958 and married her first husband, high school sweetheart James Welch, the following year. They had two childrenDamon Welch (born 1959) and Tahnee Welch (born 1961). Tahnee went on to take advantage of her own stunning looks as an actress, most notably a prime featured role inCocoon (1985).
Off campus Raquel became a local TV weather girl in San Diego and eventually quit college. Following the end of her marriage in 1961 (she and Welch didn't divorced until 1965), she packed up her two children and moved to Dallas, Texas, where she modeled for Neiman-Marcus and worked as a barmaid for a time. Regrouping, she returned to California, migrated to Los Angeles, and made the rounds of film/TV auditions. Providing minor but sexy set decoration on the small screen (Bewitched (1964), McHale's Navy(1962) and The Virginian (1962)) as well as the large (Elvis Presley's Roustabout (1964) and Doris Day's Do Not Disturb (1965)). Caught in the midst of the "beach party" craze, it's not surprising to find out that her first prime film role was A Swingin' Summer (1965), which concentrated more on musical guests The Righteous Brothers and Gary Lewis & The Playboys than on Raquel's outstanding contributions. But 20th Century Fox certainly took notice and signed her up.
With her very first film under contract (actually, she was on loan out to Britain's Hammer Studios at the time), she took on the remake of One Million B.C. (1940) in the Carole Landis role and the rest is history. Raquel remained an international celebrity in her first few years of stardom. In England, she was quite revealing as the deadly sin representing "lust" for the comedy team of Peter Cook and Dudley Moore in their vehicle Bedazzled(1967), and as the title secret agent in the sexy spy spoof Fathom (1967). In Italy, she gained some exposure in primarily mediocre vehicles opposite such heartthrobs asMarcello Mastroianni. Back in the U.S., however, she caused quite a stir in her ground-breaking sex scenes with black athlete Jim Brown in the "spaghetti western" 100 Rifles(1969), and as the transgendered title role in the unfathomable Myra Breckinridge(1970).
Try as she might in such films as Kansas City Bomber (1972) and The Wild Party (1975), which drew some good reviews for her, her sexy typecast gave her little room to breathe. With determination, however, she partly offset this with modest supporting roles in larger ensemble pieces. She showed definite spark and won a Golden Globe for the swashbuckler The Three Musketeers (1973), and appeared to good advantage in the mystery thriller The Last of Sheila (1973). She planned on making a comeback in Cannery Row (1982), even agreeing to appear topless (which she had never done before), but was suddenly fired during production without notice. She sued MGM for breach of contract and ultimately won a $15 million settlement, but it didn't help her film career and only helped to label her as trouble on a set. TV movies became a positive milieu for Raquel as she developed sound vehicles for herself such as The Legend of Walks Far Woman (1982) and Right to Die (1987). She also found a lucrative avenue pitching beauty products in infomercials and developing exercise videos à la Jane Fonda.
Raquel took advantage of her modest singing and dancing abilities by performing in splashy Las Vegas showrooms and starring in such plausible stage vehicles as "Woman of the Year" and "Victor/Victoria." Still a dazzler broaching age 70, Raquel continues to show up here and there and still can turn heads. She has even spoofed her own diva image on occasion, most memorably on "Seinfeld". More recently she has co-starred in the Hispanic-oriented TV series American Family (2002) and in the short-lived comedyWelcome to the Captain (2008), and appeared in the movies Tortilla Soup (2001), Legally Blonde (2001) and Forget About It (2006).
– IMDb Mini Biography By: Gary Brumburgh / gr-home@pacbell.net
New York Times obituary:
Born: September 5th, 1940.
Died: February 15th, 2023.
Raquel Welch, who has died at the age of 82, became first big American sex symbol of the 1960s, an image the voluptuous movie star maintained for more than a half-century in show business.
Welch's Hollywood success began as much with a poster as with the film it publicised. Starring in One Million Years BC (1966) as a Pleistocene-era cave woman, she posed in a rocky prehistoric landscape, wearing a tattered doeskin bikini, and grabbed the spotlight by the throat with her defiant, alert-to-everything, take-no-prisoners stance and her dancer's body. She was 26. It had been four years since Marilyn Monroe's death, and the industry needed a goddess.
Camille Paglia, the feminist critic, described the poster photograph as "the indelible image of a woman as queen of nature." Welch, she went on, was "a lioness – fierce, passionate and dangerously physical."
When Playboy in 1998 named the 100 sexiest woman stars of the 20th century, Welch came in third – right after Monroe and Jayne Mansfield. Brigitte Bardot was fourth.
Despite a career based largely on sex appeal, Welch repeatedly refused to appear nude on screen. "Personally, I always hated feeling so exposed and vulnerable" in love scenes, she wrote in her memoir, noting that even when she appeared in a prestigious Merchant Ivory film (The Wild Party, 1975), the filmmakers, those acclaimed arbiters of art-house taste, pressured her to do a nude bedroom scene, to no avail.
"I've definitely used my body and sex appeal to advantage in my work, but always within limits," she said. But, she added, "I reserve some things for my private life, and they are not for sale."
Jo-Raquel Tejada was born in Chicago on Sept. 5, 1940, the oldest of three children of Armando Carlos Tejada, a Bolivian-born aeronautical engineer, and Josephine Sarah (Hall) Tejada, an American of English descent. They had met as students at the University of Illinois.
When Raquel was two, the family moved to southern California for her father's work in the war effort. At seven, encouraged by her mother, she enrolled at San Diego Junior Theater, where her only early disappointment was being cast in her first play as a boy. She began ballet classes the same year and continued to study dance for a decade.
After graduating from La Jolla High School in San Diego, where her nickname was Rocky, she received a scholarship – thanks to success in local beauty pageants – to study theatre at San Diego State College. But she dropped out at 19 to marry her high school boyfriend, James Wesley Welch. Because of her local celebrity, she landed a job as the "weather girl" on KFMB, a San Diego television station.
The birth of her two children complicated her career plans, but she soon left her husband – "the most painful decision of my entire life," she called it – and moved to Los Angeles to pursue acting. (They divorced in 1964.)
She had hoped to move to New York instead, she recalled. But the trip would have been prohibitively expensive, and, anyway, she didn't own a winter coat.
It was not long before Raquel Welch had a contract with a big studio, 20th Century Fox. She had early hopes of making her big-screen debut in a James Bond movie; producer Albert R. Broccoli wanted her for Thunderball. But that dream was quashed when she was cast in Fantastic Voyage (1966), a science fiction film about scientists reduced to microscopic size to travel inside a diseased human body. Then came One Million Years BC, and that did it.
"There's a certain thing about that white-hot moment of first fame that is just pure pain," Welch said in an interview in 2001. "It's just not comfortable. I felt like I was supposed to be perfect. And because everybody was looking at me so hard, I felt there was so much to prove."
She appeared in some two dozen films over the next decade, perhaps most notably Myra Breckinridge (1970), based on Gore Vidal's campy novel, in which she played a glamorous transgender woman, and The Last of Sheila (1973), a semi-campy murder mystery with a luxury-yacht setting and a script by Stephen Sondheim.
Some of her most memorable roles were small ones. In Bedazzled (1967), Stanley Donen's Faustian fantasy with Peter Cook and Dudley Moore, she played Lust, one of the Seven Deadly Sins; in The Magic Christian (1969), with Peter Sellers and Ringo Starr, her character's name was Mistress of the Whip.
Welch had love scenes with former football star Jim Brown in "100 Rifles" (1969), a western set in Mexico. She followed "The Three Musketeers" with its 1974 sequel, but those films never led to the sophisticated comedy opportunities she had hoped for. (She did, however, have a memorable chance to display her comedic side years later, when she played herself in a 1997 episode of "Seinfeld.")
After "Mother, Jugs and Speed" (1976), a farce about ambulance drivers (which also starred Bill Cosby and Harvey Keitel), her screen acting was limited mostly to television guest appearances.
But she had already discovered the joys of stage work. Inspired after seeing Frank Sinatra's nightclub act, Welch made her club debut, singing and dancing, at the Las Vegas Hilton in 1973. Eight years later she made her Broadway debut, hired as a two-week vacation replacement for Lauren Bacall in the hit musical Woman of the Year. Her reviews were so admiring (Mel Gussow's in The New York Times ended by writing, "One hopes that Miss Welch will soon find a musical of her own") that she returned the next year for a six-month stint in the role.
"The first minute I stepped out on that stage and the people began applauding," she told the New york Times later, "I just knew I'd beaten every bad rap that people had hung on me." She returned to Broadway in 1997, replacing Julie Andrews for seven weeks in Victor/Victoria.
In 1987, Welch published The Raquel Welch Total Beauty and Fitness Program, which included exercises based on the principles of hatha yoga. She released a companion video with the same title.
Few thought of Welch as a Latina actress, but she embraced that identity late in her career, starring as a melodramatic Mexican-American aunt on American Family, a PBS series (2002). She learned to speak Spanish in her 60s; her father had not allowed the language to be spoken at home when she was growing up.
Her last film was How to Be a Latin Lover (2017), a comic drama about an ageing gigolo, played by Eugenio Derbez. She played his new target – a disarming, too-glamorous-to-be-true grandmother. Her final television appearances were on Date My Dad (2017), a Canadian American series, in a recurring role as the leading man's Mexican mother-in-law.
In her late 70s, Welch was still followed by photographers, and reporters were still commenting on her appearance. In 2001, she answered questions about fashion and style in an interview with the Los Angeles Times.
"Style has to have substance," she said. "It has to have fire." Praising synergy, instinct, imagination and attitude over trendiness and fashion-magazine dictates, she concluded, "It's about being yourself on purpose."
Welch was married and divorced four times. After James Wesley Welch, her husbands were Patrick Curtis (1969-72), a producer; André Weinfeld (1980-90), a French director and producer; and Richard Palmer (1999-2008), a restaurateur.