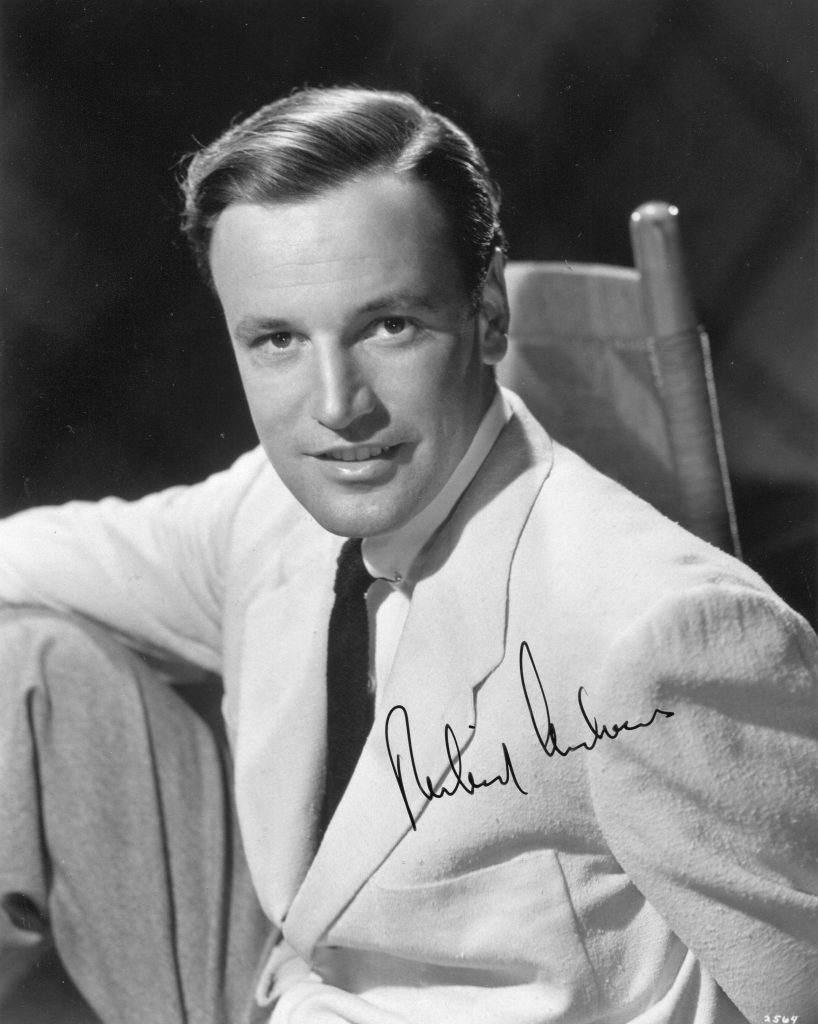 Richard Anderson was born in 1926 in New Jersey. He made his movie debut in 1950 in "The Magnificent Yankee". In the 1950's he starred in "Forbidden Planet" and "The Long Hot Summer". In the 1970's he starred in the hit TV series "The Six Million Dollar Man" and "The Bionic Woman".
TCM overview:
A staple on episodic television since the early 1960s, actor and producer Richard Anderson hit his stride in the mid-1970s as the authoritative if sartorially challenged Oscar Goldman, boss to both "The Six Million Dollar Man" (ABC, 1974-78) and "The Bionic Woman" (ABC, 1976-77; NBC, 1977-78). The role was among the high points in a long career that encompassed such varied films as the sci-fi classic "Forbidden Planet" (1956), Stanley Kubrick's "Paths of Glory" (1957) and the Paul Newman classic "The Long Hot Summer" (1958), as well as countless television shows and movies. His bionic-related projects, however, retained a fan base for decades after their departure from the airwaves, ensuring him an enduring popularity among television viewers – particularly for the 1970s-born generation – for years to come.
Born in Long Branch, NJ on Aug. 8, 1926, Richard Norman Anderson relocated to Los Angeles at the age of 10 with his parents, Harry and Olga Anderson, and his brother, Robert. Legendary screen actor Gary Cooper had inspired him at an early age, and influenced his decision to become an actor. School productions provided his first performance outlet, but World War II interrupted. Like millions of young men at that time, Anderson served a stint in the U.S. Army. After his discharge, he returned to Los Angeles to study at the Actors' Laboratory, which preceded a season of summer stock in nearby Laguna Beach and Santa Barbara.
By the late 1940s, Anderson was making appearances in features. The 1947 adaptation of John Steinbeck's "The Pearl" was among his first screen roles, as was an uncredited turn as a wounded airman in "Twelve O'Clock High" (1949). After displaying his talents on a screen test-style TV series called "Lights! Camera! Action!" (NBC, 1950), he was offered a screen test and a contract at MGM. He chose a scene from the Gary Cooper picture "The Cowboy and the Lady" (1938) for his audition, and from all accounts, nailed it. By 1951, he was appearing in no less than 10 films a year; largely in minor or supporting roles. Among his most notable turns during this period was as the ill-fated friend of Stewart Granger's "Scaramouche" (1952), whose death sets in motion a plan of revenge against Mel Ferrer's cruel Marquis. Anderson also met an untimely end at the hands – or claws – of the "Id" monster in the science fiction classic, "Forbidden Planet" (1956), but survived the hype surrounding "The Search for Bridey Murphy" (1956), a low-budget attempt to cash in on a popular book about reincarnation.
In 1957, Anderson asked to be released from his contract. It proved to be the right move for the up-and-comer, as he began landing parts in major features like Stanley Kubrick's "Paths of Glory" (1957), for which he played the French prosecuting officer; Martin Ritt's "The Long, Hot Summer" (1958), in which he was cast as Joanne Woodward's weak-willed boyfriend, and "Compulsion" (1959), starring as the brother of accused murderer Dean Stockwell. There were also a few B-pictures like "Curse of the Faceless Man" (1958), which afforded him a rare lead in its tale of a Pompeii victim that returns to life. Anderson's television output also increased during this period. He had a recurring role on the Disney series "Zorro" (ABC, 1957-59), appearing as a suitor to the masked hero's love interest, and in 1961, landed his first regular role on a series as a small town lawyer on "Bus Stop" (ABC, 1961-62). That show's producer, Roy Huggins, would remember Anderson two years later for his drama "The Fugitive" (ABC, 1963-67), and cast him in several roles throughout its tenure on TV, including that of Richard Kimball's (David Janssen) brother-in-law, Leonard Taft, in the two-part series finale. Anderson also played homicide investigator Lt. Steve Drumm, who took over for Ray Collins' Lt. Arthur Tragg on the courtroom staple, "Perry Mason" (CBS, 1957-1966).
Whether he wanted it to or not, television eventually came to dominate Anderson's resume, though there were still plenty of features in the 1960s, including John Frankenheimer's alarming "Seconds" (1966), where he played one of the plastic surgeons who turn an aged Rock Hudson into an Adonis, and "Tora! Tora! Tora!" (1970), in which his Captain John Earle makes the fatal mistake of ignoring early signs of the Japanese attack on Pearl Harbor during World War II. Anderson's natural gravitas made him a sought-after spokesman for various companies and organizations for several decades. In the 1970s and 1980s, Anderson was the "Shell Answer Man," the corporate spokesperson for the Shell Oil Company in a series of television commercials. Later, he was the face of the Kiplinger Newsletter and spokesperson for the National Fragile X Foundation, which benefitted gene research to combat mental impairment in children.
Anderson was exceptionally busy in the years leading up to his most memorable role – there were numerous TV movies, including a turn as a centuries-old physician with a homicidal bent in "The Night Strangler" (ABC, 1973) – the sequel to the phenomenally popular "Night Stalker" (ABC, 1972) – and a recurring role as a police chief in the Burt Reynolds detective series, "Dan August" (ABC, 1970-71). In 1972, Martin Caidin's science fiction-espionage novel,Cyborg, was adapted into a TV movie for ABC called "The Six Million Dollar Man." The role of Oscar Goldman, adviser to astronaut-turned-bionic-super agent Steve Austin (Lee Majors) was originally played by Darren McGavin, but following the success of the TV movie, Anderson was brought into play the role in two subsequent ABC TV features – 1973's "Wine, Women and War" and "Solid Gold Kidnapping" – and eventually, the "Six Million Dollar Man" TV series. Anderson's Goldman was both boss and friend to Austin, who on more than one occasion risked life and bionic limb to rescue his OSI (Office of Scientific Intelligence) chief. And it was Anderson's voice that intoned the famous phrase recycled by pop culture enthusiasts for decades after: "Gentlemen, we can rebuild him. We have the technology."
In 1975, a "Six Million Dollar Man" spin-off was built around the character of Jaime Sommers, Steve Austin's girlfriend, who is given bionic abilities after suffering a terrible parachuting accident. Sommers later becomes an OSI agent like her boyfriend, and Anderson's Oscar Goldman became her advisor as well on the equally popular series, "The Bionic Woman." The double duty made him one of the few actors in television history to play the same role on two different television series for two separate networks. Both series were sizable hits during their relatively brief network runs, leaving the actor part of a much-loved childhood memory for a generation of children who grew up in the early 1970s amassing "Six Million Dollar Man" lunchboxes, toys, T-shirts and bedspreads – all of them embossed not only with Majors' likeness, but Anderson's as well. He would go on to reprise the role in three TV movie reunions – "The Return of the Six Million Dollar Man and the Bionic Woman" (NBC, 1987), "Bionic Showdown: The Six Million Dollar Man and the Bionic Woman" (NBC, 1989) – which featured Sandra Bullock in one of her earliest screen appearances – and the supremely campy "Bionic Ever After?" (CBS, 1994), which saw Goldman giving Jaime away at her wedding to Steve Austin. Anderson also served as co-producer on the last two projects.
Following the end of the bionic series' television runs, Anderson returned to regular appearances in TV movies and on episodic programs. Among the highlights were the highly regarded suspense thriller, "Murder by Natural Causes" (CBS, 1979), and a turn as President Lyndon B. Johnson in "Hoover vs. the Kennedys: The Second Civil War" (1987). He also returned to series work on several occasions, including the very Oscar Goldman-like Henry Towler, who oversees photographer Jennifer O'Neill and the late model-turned-actor Jon-Erik Hexum's international capers on "Cover Up" (CBS, 1984-86), and a recurring stint as conservative senator Buck Fallmont on "Dynasty" (ABC, 1981-89). In the 1990s, Anderson's distinctive voice could be heard in a wide variety of projects, including the narration for "Kung Fu: The Legend Continues" (TNT, 1993-97).
The above TCM overview can also be accessed online
here.