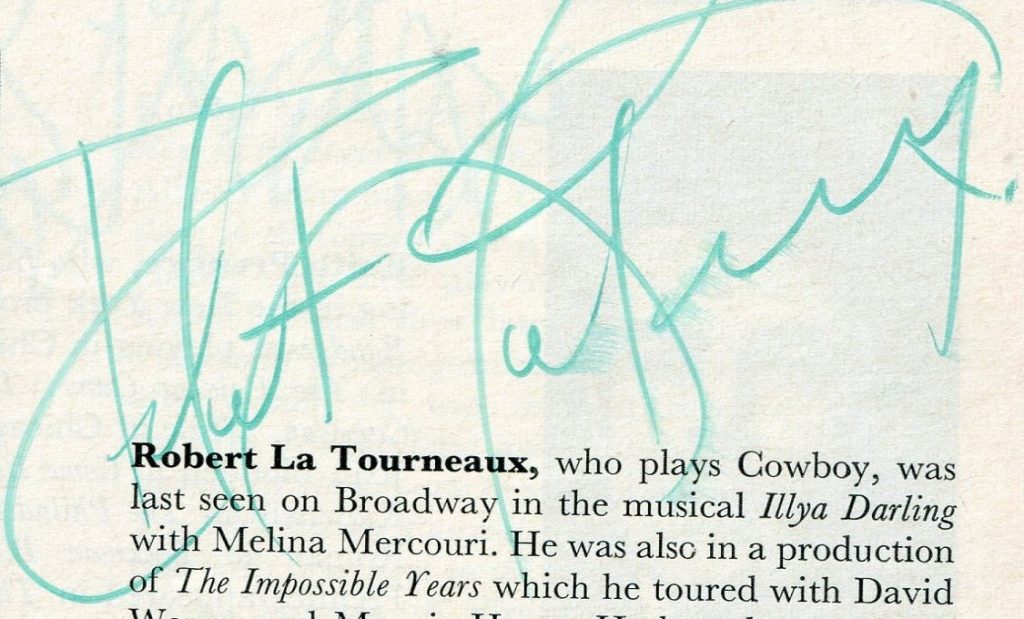 Robert la Tourneaux was born in 1945. He starred in the stage and film productions of "The Boys in the Band". He died in 1990.
"New York Times" article:
Speaking of the later life of the characters in his "Boys in the Band," the playwright Mart Crowley speculated that "some of them would have got lost in the night or died. Probably of AIDS." [ "A Play of Words About a Play," Oct. 31 ] . Indeed, of the original cast of nine actors, four are known to have died of AIDS. Most recently, there was Kenneth Nelson, who died last month at age 63. Frederick Combs died in 1992 at age 57. Leonard Frey, who was 49, died in 1988. And Robert La Tourneaux died two years earlier at 44.
In "The Boys in the Band" Nelson played Michael, the writer at whose East Side duplex the birthday party was given for Harold (Frey), and Harold's birthday present was Cowboy (La Tourneaux), a lanky hustler; finally, one of the party guests was played by Combs.
The post-"Band" lives and careers of these actors could not have been more different. For the last two decades of his life, Nelson, a singer-actor from North Carolina, lived in Britain, where he was seen regularly on the stage. He appeared on the West End in "42d Street," "Showboat," "Annie" and "Colette."
Combs had an eventful career in the theater, as an actor, director and playwright. Besides appearing in Franco Zeffirelli's "Lady of the Camelias," he was in several productions of the New York Shakespeare Festival. His play "The Children's Mass" was produced at the Theater de Lys in 1973.
Opting for film work, Frey had roles in "Tell Me That You Love Me, Junie Moon," "Where the Buffalo Roam," "Tattoo" and other movies, most notably "Fiddler on the Roof," for which his performance as Motel, the tailor, brought him an Oscar nomination as best supporting actor.
But only the worst of luck came to La Tourneaux. In an interview several years after the 1970 release of the film version of "The Boys in the Band," he claimed that all doors in Hollywood had remained closed to him. "I was too closely identified with homosexuality, with 'Boys in the Band,' " he said. "I was typecast as a gay hustler, and it was an image I couldn't shake." The only movie roles he managed to land were bits in a few low-budget pictures made in Europe.
Late in 1978, La Tourneaux was working in a male porno theater in Manhattan, doing a one-man cabaret act between showings of X-rated films. He said he still believed he could beat the "curse" of his famous gay role and work "straight." But that didn't happen. Stricken with AIDS in October 1984, he died on June 3, 1986. It had been 18 years and two months since he had first set foot on stage at Theater Four — handsome and hopeful — in "The Boys in the Band." DAVID RAGAN New York The writer is the author of "Who's Who in Hollywood," a history of motion picture actors.
The above "New York Times" article can also be accessed online h
ere.