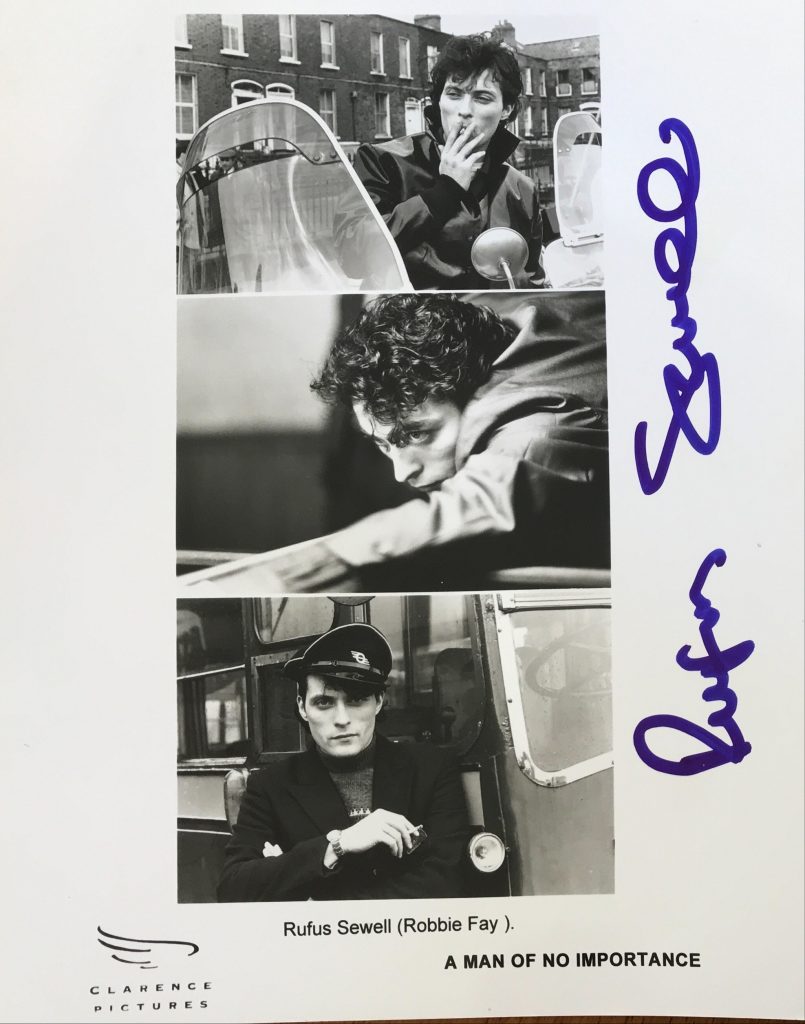 TCM overview:
A mainstay in British costume dramas and historic biopics, actor Rufus Sewell was active on London stages before landing his screen breakthrough in the British television adaptation of George Eliot's "Middlemarch" in 1995. From there, the actor was tapped to ride many a horse and deliver many a velvet-clad smoldering look in a string of well-received films including "A Knight's Tale" (2001) and "The Illusionist" (2006). While Sewell successfully transitioned to American productions, he remained typecast in period pieces as villainous rulers, brooding noblemen and romantic leads. Eventually the actor's protestations led him to prove his versatility in the critically-acclaimed Tom Stoppard play "Rock 'n' Roll" and the American television series "Eleventh Hour" (CBS, 2008-09), where he proved a very suitable choice to play a handsome criminal investigator whose preferred method of transportation was a car and who was never called upon to engage in a sword fight. The series' demise would, at least temporarily, return Sewell to period dramas, although the charismatic actor would manage to keep at least one foot firmly planted in the modern day for his many projects to come.
Rufus Sewell was born on Oct. 29, 1967, in Southwest London. His mother, Jo, was a Welsh artist and his Australian father, William, was an illustrator and animator known for his work on The Beatle's animated feature "Yellow Submarine" (1968). Sewell was raised by his mother after his parents' divorce when he was five. When he was ten his father passed away unexpectedly. By his own account Sewell was "quite rebellious at school, under threat of constant expulsion, and his activities included the requisite drinking and drug use as well as shoplifting. But with the encouragement of a school drama teacher, the shiftless teen applied to London's Central School of Speech and Drama, where he finally found his passion and focus. He trained for three years and began making a name for himself on regional stages in fare such as the historic epic "Royal Hunt of the Sun" and Shakespeare's "As You Like It." He made inroads in film and television with a feature acting debut as a Scottish junkie opposite Patsy Kensit in "Twenty-One" (1991) and a featured part in the British TV production "The Last Romantics" (1991).
For his entrée to London's West End in 1992, he played a Czech hustler involved with an older woman (Jane Asher) in "Making It Better," earning a Most Promising Newcomer Award from the London Critic's Circle for his stage work. The following year, when Sewell originated the role of Byronic tutor Septimus Hodge in Tom Stoppard's cerebral "Arcadia," he was honored with a nomination for an Olivier Award. Sewell hit the mainstream radar in 1994 with a featured role in the British TV adaptation of "Middlemarch," a miniseries based on George Eliot's 1830s-set drama which was wildly popular in the U.K. and sparked a renewed interest in Victorian fiction. Rather than be typecast in costume dramas, though, he aggressively sought the more contemporary role of a Dublin bus driver in "A Man of No Importance" (1994), an underrated comedy starring Albert Finney as a closeted gay man in the 1960s. Sewell spurned the opportunity to recreate his London stage triumph in the American premiere of "Arcadia" on Broadway, though he did debut on the New York stage that year as a prodigal Irish son hired to serve as an interpreter in a revival of Brian Friel's "Translations."
Back on the big screen in "Carrington" (1995), Sewell portrayed painter Mark Gertler and romanced the title character (Emma Thompson) in this drama set among the legendary Bloomsbury circle of bohemian artists. He proved effective as a lusty laborer in the well-received TV movie "Cold Comfort Farm" (BBC, 1995) and as a scheming manservant in an adaptation of Joseph Conrad's "Victory" (1997) alongside Willem Dafoe and Sam Neill. His romantic persona was once again put to strong use as a poet who falls in love with a courtesan (Catherine McCormack) in the lavish period drama "Dangerous Beauty " (1998). In the futuristic "Dark City" (1998) – a film critic Roger Ebert cited as the year's best – the actor delivered a well-received turn as an amnesiac suspected of murder. The British romance "Martha, Meet Frank, Daniel & Laurence" (1998) allowed Sewell to tap his comic side as an out-of-work actor competing with two of his friends for the same woman. Along the same lines was his turn-of-the-century thespian with a reputation as a lothario in "Illuminata" (1998).
Sewell returned to the London stage in the title role of "Macbeth" in 1999, and began to make an impression on international audiences with his role as Ali Baba in the sumptuous ABC miniseries "Arabian Nights" (2000). American audiences had been introduced to Sewell in BBC exports like "Middlemarch," but now Hollywood had begun to show an interest in this tall, handsome and very bankable leading man. Unfortunately, his first major American outing was playing a former child actor- turned-Satanic cult leader in the less than engaging suspense thriller "Bless the Child" (2000). In "A Knight's Tale" (2001), however, an American-produced blockbuster set in Medieval England, Sewell made an excellent if villainous impression alongside Heath Ledger in the successful comedy/action/drama hybrid. Save for a supporting role in the extreme sports feature "Extreme Ops" 2003), Sewell remained a fixture in costume dramas like the USA Network's all star miniseries "Helen of Troy" (2003) and the A&E miniseries "The Last King" (2004), where he essayed the role of Britain's King Charles II, the 17th-century monarch whose stormy personal life and turbulent reign played out against the backdrop of the Great Fire of London and the Black Plague.
Showcasing his villainous panache again, Sewell appeared opposite Antonio Banderas and Catherine Zeta Jones in "The Legend of Zorro" (2005), an underwhelming sequel that met with tepid reviews and proved a financial failure. An adaptation of the Wagner opera "Tristan and Isolde" (2005) also failed to deliver on its promise of a sweeping, middle ages romance, though Sewell scored as Petruchio in a modern day take on "The Taming of the Shrew" (2005) for BBC1's "Shakespeare Re-Told" miniseries. He earned a BAFTA television nomination for his performance and, in a delightful change of pace, starred in a Wes Craven-directed segment of "Paris Je T'Aime" (2006), as a lover jilted at the famed Pere Lachaise cemetery who finds emotional support from the ghost of author Oscar Wilde. A supporting role in the highly acclaimed "The Illusionist" (2006), where Sewell played a turn-of-the-century Viennese prince vying for the affections of an upper-class bachelorette (Jessica Biel) against a scheming magician (Edward Norton) raised Sewell's profile, and he rounded out his busiest screen year yet with supporting roles in his first contemporary romantic comedy, "The Holiday" (2006) and Michael Apted's historic chronicle of the British slave trade, "Amazing Grace" (2006).
In addition to Sewell's collection of film releases in 2006, he also returned to the boards in Tom Stoppard's "Rock 'n' Roll," a critical and commercial success that garnered him Best Actor wins at the Evening Standard Awards, The Critics' Circle Awards and The Olivier Awards. Across the pond, Sewell gave a strong supporting performance as Alexander Hamilton, the first United States Secretary of the Treasury, in "John Adams" (HBO), a historic miniseries centered around America's second president and one of the most honored television events of the year with 23 Emmy nods. The following year, Sewell landed his first starring role in a television series when he was cast in "Eleventh Hour" (CBS, 2008-09), an American adaptation of the British television series about an investigator who specializes in scientific crimes. Described as a cross between "The X-Files" (Fox, 1993-2002) and "CSI" (CBS, 2000- ), the stylish, highly-anticipated series was produced by Jerry Bruckheimer and the lead actor hoped it would bring an end to his typecasting in period dramas. Unfortunately, the show never found its audience and was canceled after its first season. It was no surprise that Sewell's next production would be yet another period piece; this time the cable miniseries based on Ken Follett's sweeping novel "The Pillars of the Earth" (2010), in which he portrayed Tom Builder, a poor aspiring architect with dreams of building a cathedral in 12th century England. Sewell followed with a turn in the Johnny Depp/Angelina Jolie thriller "The Tourist" (2010), then took on the title role in "Aurelio Zen" (PBS, 2011), a mystery miniseries set in modern-day Italy.
The above TCM overview can also be accessed online
here.