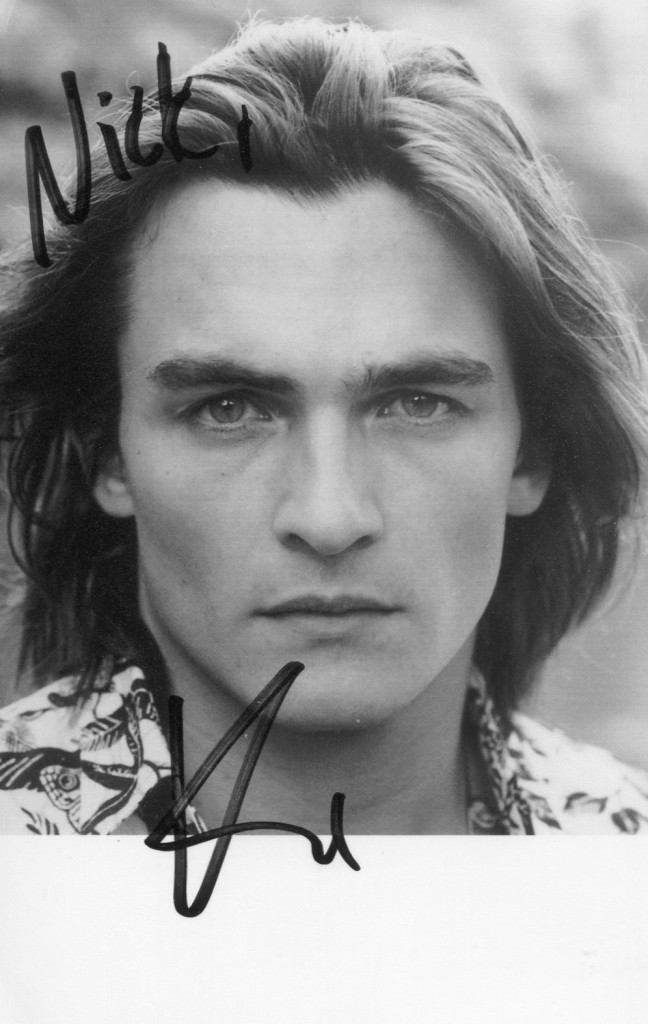 Rupert Friend. TCM Overview.
Rupert Friend was born in 1981 in Oxfordshire. He made his film debut with Joan Plowright in "Mrs Palfrey at the Claremont" in 2005. Other movies include "Pride and Prejudice", "The Moon and the Stars" and "5 Days of War".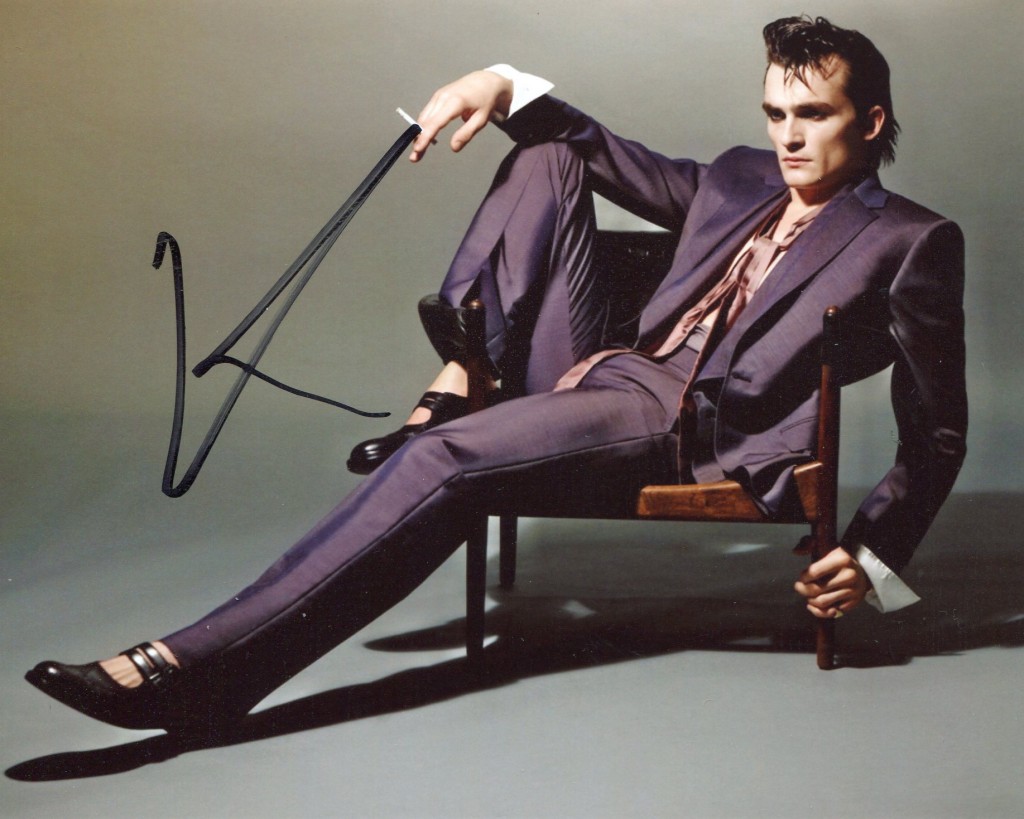 TCM Overview:
Armed with an ability to play both the refined gentlemen and the uncultured street thug with equal believability, British actor Rupert Friend quickly built up an impressive résumé within a few short years. Following his small, but memorable feature film debut opposite a debauched Johnny Depp in the historical drama "The Libertine" (2004), the actor attracted more attention with a supporting turn in a well-received adaptation of "Pride & Prejudice" (2005). The dashing young performer also caught the eye of the film's leading lady, Keira Knightley, who Friend would date for the next five years. As an actor, he took risks with often unconventional roles in such projects as the heartbreaking Holocaust drama "The Boy in the Striped Pyjamas" (2008) and the sexually-charged, tragic love story "Cheri" (2009), opposite Michelle Pfeiffer. A starring turn as a man who overcomes childhood horrors and a life of crime to become a successful author in the British biopic "The Kid" (2010) preceded his breakout role on American television as CIA analyst Peter Quinn on the acclaimed action-drama "Homeland" (Showtime, 2011- ), alongside series star Claire Danes. From the beginning of his diverse career, Friend consistently demonstrated a willingness to take on challenging roles – a work ethic that soon delivered critical and popular success for the promising young actor.
Rupert Friend was born on Oct. 1, 1981 in Oxfordshire, England and was raised in Stonesfield, Oxfordshire. His father was a business owner and his mother worked for an organization which specialized in immigration, asylum, and human rights. Friend attended The Marlborough School in Woodstock, as well as the Cherwell School and d'Overbroeck's College in Oxford. Although he grew up in a house without a VCR, the acting bug bit him when he first saw "Indiana Jones and the Last Crusade" (1989) at a local theater. Soon determined to develop his acting skills, he enrolled at the prestigious Webber Douglas Academy of Dramatic Arts in London, a university whose other famous alumni included Hugh Bonneville, Matthew Goode, Julian Fellowes and Minnie Driver.
Friend's professional acting career took off quickly when he landed a supporting role in the film "The Libertine" (2004) opposite Johnny Depp and John Malkovich. In the movie, he played Billy Downs, the handsome lover of John Wilmot, the 2nd Earl of Rochester (Depp). Friend's performance in the historical drama did not go unrecognized; in 2005, he garnered a Most Promising Newcomer nomination at the British Independent Film Awards and a Best International Newcomer nomination at the Ischia Global Film Festival in 2006. Friend followed up with a minor role in first-time director Joe Wright's youthful adaptation of Jane Austin's beloved 19th-century tale of life, love and gentrified marriage, "Pride & Prejudice" (2005). Though the film performed well at box offices internationally and garnered a quartet of Oscar nominations, the more lasting windfall for the actor would be the budding romance between Friend and star Keira Knightley that blossomed on set. The relationship with the high-wattage actress would put Friend on the front pages of U.K. tabloids for the majority of the couple's five-year-relationship.
With his first starring role, Friend earned high praise for his performance opposite Dame Joan Plowright in the heartwarming drama "Mrs. Palfrey at The Claremont" (2005), which found a young writer and an elderly woman striking up an unexpected, but mutually beneficial relationship, despite their vast age difference. Possessing the self-assuredness of a far more seasoned performer, the young actor was quickly gaining a reputation as one to watch. In increasingly high demand, Friend appeared in slew of films soon after, among them the period romantic drama "The Moon and the Stars" (2007), the urban action-drama "Outlaw" (2007) and the Roman Empire adventure tale "The Last Legion" (2007), the latter of which paired Friend with such acting luminaries as Colin Firth and Sir Ben Kingsley. In a risky move so early in his career, Friend accepted a supporting role as a vicious SS officer in an adaptation of John Boyne's controversial Holocaust novel "The Boy in the Striped Pyjamas" (2008). In the film – which followed the unexpected friendship between the young son (Asa Butterfield) of an concentration camp commandant (David Thewlis) and a Jewish boy (Jack Scanlon) imprisoned at the death camp – Friend delivered a fearlessly despicable performance as the preening young Lt. Kotler.
For his first stateside production, Friend worked alongside rapidly rising talent Jessica Chastain in the indie coming-of-age drama "Jolene" (2008). Back in more familiar territory, he portrayed Prince Albert, the man who would court and marry the heir to the British Crown (Emily Blunt) in the lavish historical drama "The Young Victoria" (2009). That same year, Friend earned high marks for his starring turn in director Stephen Frear's sensuous dramedy "Cheri" (2009). Cast as a spoiled young man whose lengthy May-December romance with an aging courtesan (Michelle Pfeiffer) both liberates and destroys him, Friend once again showed impressive acting ability alongside a far more experienced screen veteran. Knightley joined her talented boyfriend on screen once again for a small appearance in "The Continuing and Lamentable Saga of the Suicide Brothers" (2009), a short fantasy film written by Friend and Tom Mison, a chum from his days at Webber Douglas. Unfortunately, the collaboration would mark one of the final mutual appearances for the couple, either on or off-screen, after which Friend and Knightley called it quits the following year, citing the pressure of constant media attention as a primary cause.
Down but not out, Friend threw himself into his work for his next role, the title character of the gritty biographical drama "The Kid" (2010). For his role as British author Kevin Lewis, Friend trained vigorously with professional boxers to convincingly play the young man who escaped a violent, abusive childhood in South London to make a better life for himself and his family. That same year, he also starred in the romantic drama "Lullaby for Pi" (2010) as a washed up jazz singer who develops a strange relationship with a mysterious female artist (Clemence Poesy) who has locked herself up in his hotel bathroom. Also in 2010, Friend made his stage debut as Mitchell in the U.K. premiere of "The Little Dog Laughed," playing a closeted Hollywood actor whose devious agent arranges a "beard" marriage in an effort to save his client's burgeoning career.
Returning to screens, Friend next starred as a war journalist attempting to bring the horrors of the 2008 Russo-Georgian conflict to the attention of an apathetic world public in director Renny Harlin's overlooked action-drama "5 Days of War" (2011). He took on a much smaller role in "Renee" (2012), a biopic chronicling a young girl's (Kat Dennings) struggle with addiction and self-abuse on the road to recovery and, eventually, serving as the inspiration for a charitable organization. It was, however, on American cable television that Friend made his greatest inroads with U.S. audiences that same year. Beginning with the hit show's second season, the British actor ditched his accent and joined the cast of the anti-terrorism thriller "Homeland" (Showtime, 2011- ) as a young CIA analyst thrust into the middle of an ongoing illicit investigation into the activities of a decorated war hero (Damian Lewis) suspected by a troubled agency operative (Claire Danes) of being a sleeper terrorist. Friend's witty and cocky portrayal of Peter Quinn earned him high marks alongside his Emmy-winning co-stars and quickly established him as a fan-favorite on the popular new series.
The above TCM overview can also be accessed online here.
To view "Interview" Magazine article on Rupert Friend, please click here.