Sabrina obituary in "The Independent" in 2017.
Cheshire teenager Norma Sykes came to London in 1953, determined to become a successful model. Before long her image was on the cover of Blighty, a men's magazine that offered cartoons and short fiction, along with its photographs of scantily clad women.
Liverpool comedian Arthur Askey invited her into BBC television series Before Your Very Eyes. The "dumb blonde" was a cliché of 1950s popular culture and Askey decided that Sykes would be the literal personification of this stereotype. In June 1954 Askey was ending a run of the farce The Love Match at the Palace Theatre in London, where the next attraction would be the Broadway hit Sabrina Fair – this inspired Sykes to ditch the name Norma. On 18 February 1955, billed as the "a glamorous new playmate for Big-Hearted Arthur", Sykes shimmered into the Britain's living rooms to become an overnight sensation. Within a month she had accumulated more than 500 press cuttings.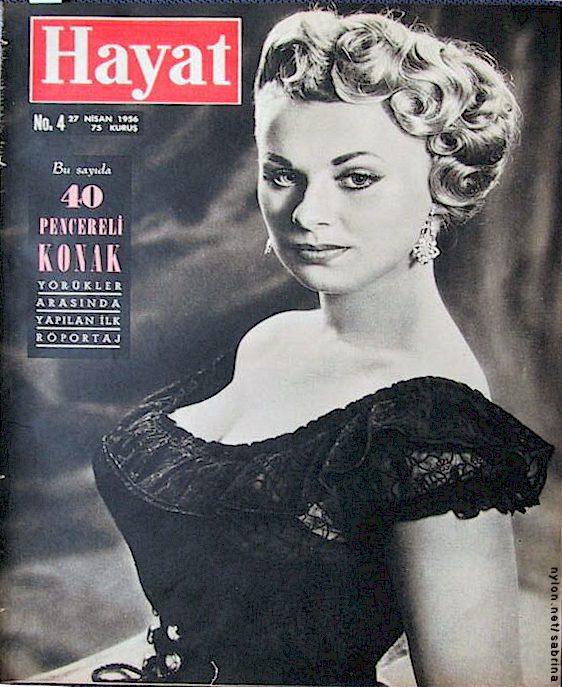 She invested her BBC salary in elocution and singing lessons, while a variety tour was arranged to meet the overwhelming demand to see "television's newest personality" in the flesh. Monday 4 July at the Chiswick Empire should have been "independence from Askey" day for her, but her inexperience showed. Four changes of costume – pink, blue, black, silver – ensured that she was seen to advantage but when it came to singing "Do It Again" she was inaudible.
Nevertheless, business was solid at the provincial theatres where she appeared. In Manchester the emergency services were summoned to control the crowds. That October, cinemagoers were introduced to Sabrina, film actress, in Stock Car. Playing Trixie, the decorative companion of a minor villain, this was a chance for her voice to be heard, literally. However, before the picture was released her character was revoiced in a coarse East End accent that was not her own.
Sabrina returned to Before Your Very Eyes, where she continued to distract male guests like bodybuilder Joe Robinson, and she was also seen to effect as the hostess in Hughie Green's quiz show Double Your Money. In March 1956, Askey invited her to his daughter Anthea's wedding. When Sabrina emerged from her taxi, a dozen photographers zoomed in on the famous cleavage, temporarily ignoring star guests like Norman Wisdom.
Between 1956 and 1958 the cinema newsreels and press cameramen followed Sabrina around as she judged beauty contests, posed with exotic birds, visited disabled people, attended film premieres and negotiated the London streets in her enormous American saloon with the S 41 personalised number plate. After Stock Car there had been occasional gag shots in comedies like Blue Murder at St Trinian's, and in Make Mine A Million, Askey's 1959 spoof of the BBC, she looked absolutely gorgeous, revealing – in her one proper dialogue scene – a light, attractive voice. But if there was to be no film stardom, her face and figure were nonetheless known to everyone in Britain.
An extensive portfolio of "cheesecake" photographic sessions generally depicted Sabrina taking her ease in basque and negligee. Nudity was not necessary: it was enough for her 18in waist to contrast with her spectacular bosom. This decorous level of titillation was as suitable for mainstream journals like Photoplay and Picturegoer as it was for the pocket-sized booklets like Spick and Span available from certain newsagents. Fans with 8mm projectors could obtain short colour movies for private viewing. The short film At Home With Sabrina exposed her daily routine, which apparently included hoovering and some light gardening with a trowel, after which she relaxed in swimsuit and sunglassses. Goodnight With Sabrina concentrated on her disrobing for a bubble bath, the soapy froth covering her modesty, before retiring to bed.
Read more
From the start, comedians had only to mention Sabrina to raise a laugh: she was immortalised on canvas, parodied in the West End revue For Amusement Only, a Sabrina bar and grill opened in Wardour Street, and a samba incorporating her name was composed by the bandleader at the Orchid Ballroom, Purley.
In late 1956 she made a record herself: "Persuade Me" was put across with a breathless intimacy guaranteed to arouse the interest of the male population. Hollywood tough guy Steve Cochran was Sabrina's regular escort during this period, and for a while the couple appeared inseparable, whether holidaying on the French Riviera or enjoying a romantic rendezvous in Santa Monica.
In late 1957 Sabrina made another stage foray, in a Robert Nesbitt revue at the Prince of Wales theatre. Plaisirs de Paris starring Dickie Henderson. Sabrina played gamely enough in the comedy interludes (for a sketch entitled "Are You Fully Covered?" she was aptly cast as "the Risk" opposite Henderson as "the Insurance Broker"), and genuinely dazzled as Helen of Troy in "The Realms of Venus", one of the extravagant chorus numbers. When this show was presented at the Tivoli in Sydney the following year, she was promoted to leading lady. Australian reactions to "the talk of two hemispheres" – as the theatre's programme described her – were enthusiastic. Before a polar expedition sailed from Melbourne for the Antarctic, one of the amphibious craft was named after her; then she travelled north to a thousand-acre sheep station, to model dresses from the local wool.
Independent news email
Only the best news in your inboxContinue
Register with your social account or click here to log inI would like to receive morning headlines Monday – Friday plus breaking news alerts by email
Sabrina entered America in late 1958, making her debut with a 40-minute cabaret act in Manhattan's Latin Quarter, and subsequently toured most of the United States. In 1961 she was invited to feature "as herself " in Satan In High Heels, a sexploitation melodrama involving junkies, burlesque dancers, murder and seduction, but her participation was mainly confined to a night club sequence in which she performed a couple of blues numbers.
In 1964 there was a last professional appearance on British television. ABC's network arts programme Tempo had, in order to analyse the genre, commissioned an original farce entitled You Mitre Guessed. The standard ingredients of unworldly vicar, deaf housekeeper, suspicious policeman and inconvenient blonde were assembled, with Sabrina primarily required to scamper around in a diaphanous night-dress and sit on laps.
From 1965 she was based on the West Coast, and in late summer of 1966 was on the legitimate theatre stage in a Los Angeles production of the West End success Rattle of a Simple Man – essentially a play for two actors concerning the unexpected rapport between a Soho prostitute and her girl-shy client. For once, Sabrina was taken seriously.
In 1967 there were a couple more film assignments: a Z-grade western shot in Mexico, The Phantom Gunslinger, starring opposite Troy Donahue; and Mountains of the Moon, a double-episode adventure in Ron Ely's Tarzan television series. As this latter aired in November, Norma Sykes married wealthy Hollywood gynaecologist Dr Harold Melsheimer, and set up home in a Spanish-style villa at West Toluca Lake, Encino, California.
Showbusiness receded into the background, although her husband's professional standing in Hollywood maintained her in a life of luxury. Ten years later they divorced, leaving Sabrina with a spacious Los Angeles residence in the million-dollar price bracket, and her own Mercedes. She died of blood poisoning last year aged 80, but her death was only announced until this month.
Sabrina (Norma Ann Sykes), model and TV personality, born 1936, died 24 November 2016
Cyril Young died in 2013