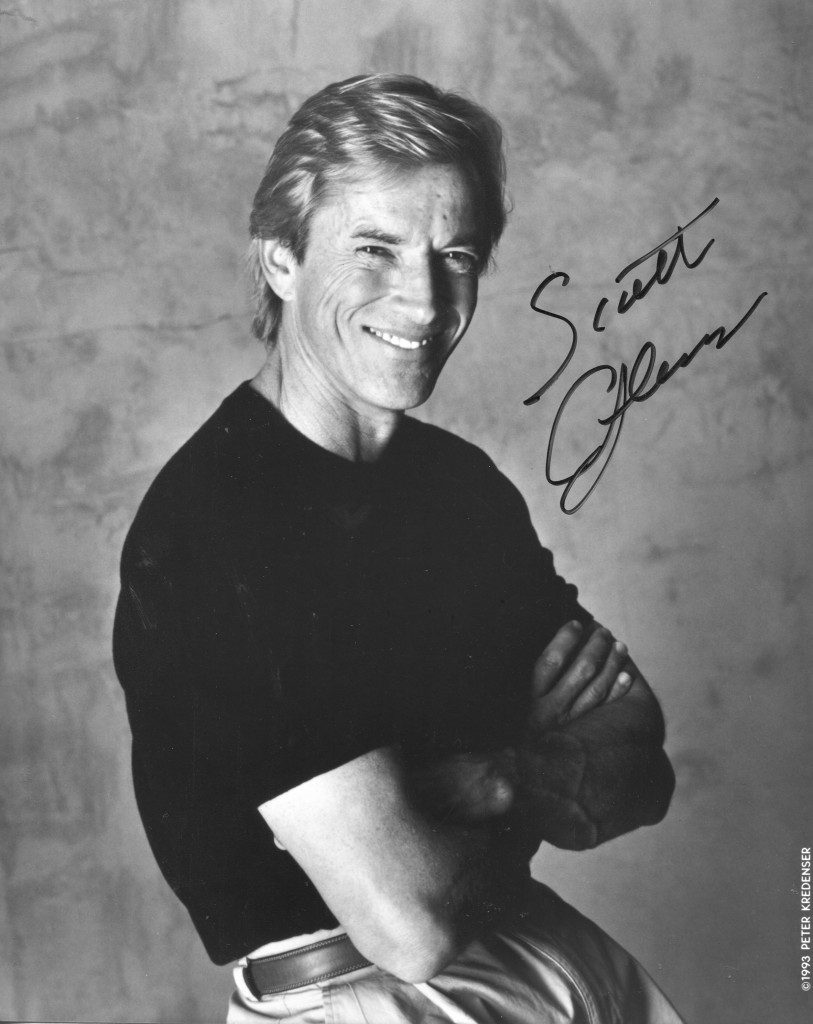 Scott Glenn was born in Pittsburgh in 1941. His films include "Nashville" in 1975, "Personal Best" in 1982, "The Right Stuff" and "Silence of the Lambs".
TCM overview:
An intense and highly respected performer who excelled in a variety character roles, Scott Glenn struggled for nearly a decade before breaking through as the main antagonist in the box office hit, "Urban Cowboy" (1980). Prior to that, Glenn first became a known commodity with a standout turn in Robert Altman's large ensemble classic "Nashville" (1975), but in the ensuing decade he catapulted to fame as an Olympic track coach in "Personal Best" (1982), astronaut Alan Shepard in "The Right Stuff" (1983), and one of four accused outlaws out for revenge in "Silverado" (1985). After playing a submarine commander who joins "The Hunt for Red October" (1990), he was the head of the FBI's Behavioral Science Unit in the Oscar-winning thriller "The Silence of the Lambs" (1991). Glenn kept busy with appearance in a variety of low-profile features before turning up with character parts as a murderous Secret Service agent in "Absolute Power" (1997), a cop-turned-drug dealer who meets a grizzly fate in "Training Day" (2001), and the Director of the CIA in both "The Bourne Ultimatum" (2007) and "The Bourne Legacy" (2012). Though he never quite became a leading man, Glenn was a vibrant character actor who routinely surprised with the depth of his performances.
Born on Jan. 26, 1941, Glenn was raised in Pittsburgh, PA, by his father, Theodore, a business executive, and his mother, Elizabeth, a homemaker. As a child, Glenn routinely battled illness and was bedridden for a full year with scarlet fever. During that time, a legend that poet Lord Byron was in the family ancestry kept Glenn's imagination active with dreams of becoming a poet himself, and he wrote as much as his illness would allow. His long recovery marked the beginning of an intense and lifelong passion for physical fitness and adventurous sports, though his literary leanings remained closest to his heart. After graduating high school in Pittsburgh, Glenn attended the College of William and Mary, where he earned a journalism degree. But his professional plans were put on hold because of a three-year stint in the marines, during which he served in Southeast Asia. Following his discharge from the military, Glenn worked as a crime reporter for a short time at the Kenosha Evening News in Kenosha, WI, before being offered a newspaper job in the Virgin Islands.
Though he accepted the job offer, Glenn decided to finish a play he had been writing before he began work. Since he was struggling with creating dialogue, a friend suggested that acting classes might help him with the problem. Two weeks in, Glenn realized that he was born to act and he continued studying with renowned actor William Hickey, before training with the legendary Lee Strasberg at the Actor's Studio while working as a laborer and bouncer. Within a year, he was onstage in off-Broadway productions at La Mama and The Public theaters, and by 1969 he was receiving regular paychecks for a recurring role on the daytime soap "The Edge of Night" (CBS/ABC, 1956-1984). In 1970 he was cast in his first feature, playing opposite Barbara Hershey in "The Baby Maker," which led to a decision to move to Los Angeles in pursuit of more film work. But for the next several years, Glenn struggled to find his footing, landing roles in low budget biker films like "Angels Hard as They Come" (1971) and horror flicks like "The Gargoyles" (1972) and "Hex" (1973).
Frustrated by the lack of quality work, Glenn finally began to break out when director Robert Altman cast him in his landmark film, "Nashville" (1975), in which he played a Vietnam war veteran who has arrived in the capital of country-western music to see popular singer Barbara Jean (Ronee Blakley) perform while seemingly harboring ulterior motives. With a large ensemble cast that included Lily Tomlin, Ned Beatty, Shelley Duvall, Jeff Goldblum, Barbara Harris and Keith Carradine, "Nashville" helped open doors for Glenn and he was next seen briefly in Francis Ford Coppola's "Apocalypse Now" (1979), as an army colonel who was sent to exterminate the mad Colonel Walter Kurtz (Marlon Brando), only to be seduced into joining his private army. But after co-starring in the Western "She Came to the Valley" (1979), Glenn was so disillusioned by Hollywood that he moved to Ketchum, ID, where he worked as a bartender and mountain ranger for two years, though he did stay in fighting shape on stage in Seattle. Following this brief interlude, Glenn was lured back into showbiz by playing an ex-convict and arch-rival of John Travolta's Bud Davis in the hit "Urban Cowboy" (1980).
With his career finally kicked into high gear in his early forties, Glenn began to enjoy steady and varied work on the big screen, playing Mariel Hemingway's track coach in "Personal Best" (1982) and the first man in space, Alan Shepard, in "The Right Stuff" (1983), an epic docudrama about the birth of America's space program. After starring opposite Sissy Spacek and Mel Gibson in the family drama, "The River" (1985), he joined Kevin Kline, Kevin Costner and Danny Glover for Lawrence Kasdan's revisionist Western, "Silverado" (1985), where the four played a group of disparate outlaws going up against a crooked sheriff (Brian Dennehy). Glenn went on to play notorious mob hit man Verne Miller in "Gangland: The Verne Miller Story" (1987), before co-starring with Willem Dafoe and Gregory Hines in the action thriller "Off Limits" (1988). Meanwhile, his reputation continued to grow in the following decade with a turn as a submarine commander in the Tom Clancy-based thriller "The Hunt for Red October" (1990) and stoic F.B.I. agent Jack Crawford, who helps a young recruit (Jodie Foster) track down a serial killer (Ted Levine) with the help of Hannibal Lecter (Anthony Hopkins) in the Oscar-winning Best Picture, "The Silence of the Lambs" (1991).
Glenn continued his box office hot streak by playing the arsonist firefighter in "Backdraft" (1991), for which the middle-aged actor also contributed his own stunt work, and reunited with "Nashville" director Robert Altman for a memorable cameo opposite Lily Tomlin in "The Player" (1992). Following a series of forgettable thrillers – "Slaughter of the Innocents" (1993), "Extreme Justice" (1993) and "Night of the Running Man" (1995) – Glenn scored with his portrayal of an investigative reporter in "Courage Under Fire" (1996), a political drama about the investigation of a friendly fire incident starring Meg Ryan and Denzel Washington. He went on to play a Secret Service agent embroiled in scandal after taking part in the shooting death of the president's (Gene Hackman) mistress in "Absolute Power" (1997), which starred Clint Eastwood as a master jewel thief who bears silent witness to the crime. Branching out into indie dramas, Glenn had a small role as a priest in Sofia Coppola's film debut "The Virgin Suicides" (1999), and went on to further acclaim for his acting – and stunt work – in the Mt. Everest action thriller, "Vertical Limit" (2000), starring Bill Paxton and Chris O'Donnell.
Slipping comfortably into character parts, Glenn shined as a former cop-turned-drug dealer in "Training Day" (2001) and was an eccentric fisherman who owns a local Newfoundland newspaper in "The Shipping News" (2001), starring Kevin Spacey and Julianne Moore. He turned to television in the early part of the new century, starring as a cotton farmer in "A Painted House" (CBS, 2003) and an FBI agent brought in to organize the new government bureaucracy of "Homeland Security" (NBC, 2004). Glenn next played Admiral Jack McCain in "Faith of My Fathers" (A&E, 2005), and returned to indie filmmaking with a starring turn opposite Brendan Fraser in the crime thriller "Journey to the End of the Night" (2006). After supporting Hilary Swank in "Freedom Writers" (2007), he was the director of the CIA in "The Bourne Ultimatum" (2007) and portrayed U.S. Secretary of Defense Donald Rumsfeld in Oliver Stone's satirical biography, "W." (2008). Sticking with real-life personages, Glenn portrayed businessman and thoroughbred horse owner Christopher Chenery in "Secretariat" (2010), before being seen as the Wise Man in the action-fantasy "Sucker Punch" (2011) and reprising his CIA director role for "The Bourne Legacy" (2012).
The above TCM overview can also be accessed online
here.