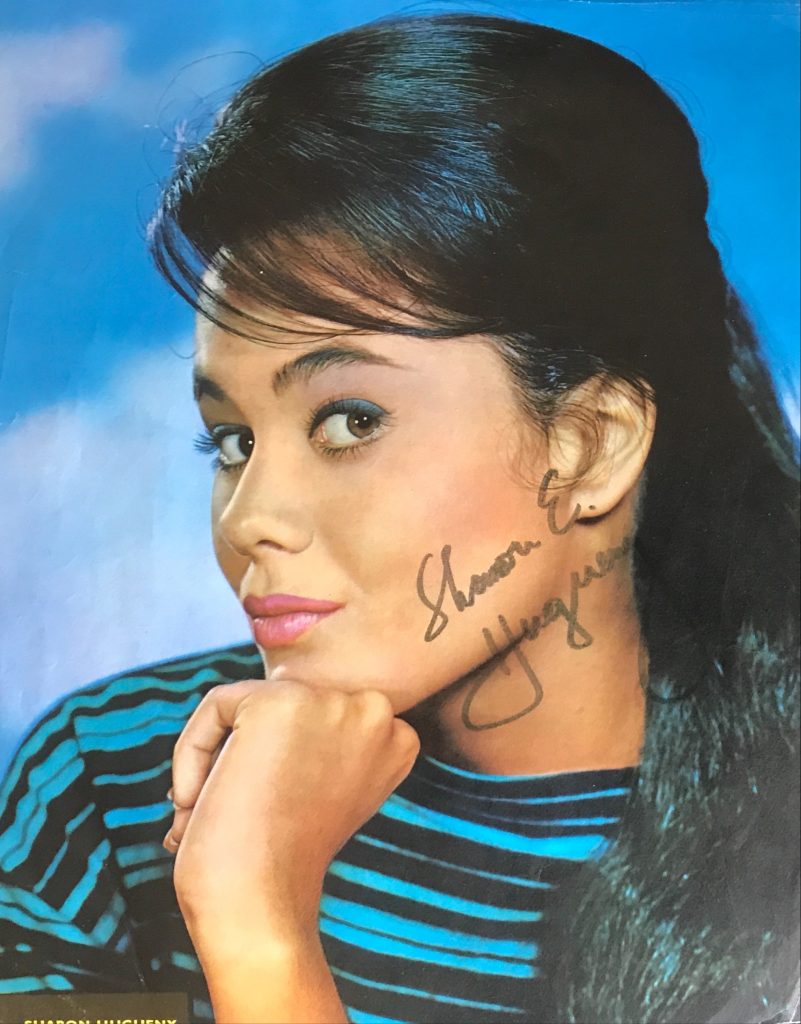 Sharon Hugueny.
Sharon Hugheny was a beautiful young actress who starred in a few movies in the early 1960's. At 17 she starred with Troy Donahue in "Parrish" and went on to star in "The Young Lovers" with Peter Fonda and "The Caretakers" in 1963 with Joan Crawford. She died in 1996 at the age of 52.
IMDB entry:
Sharon Elizabeth Hugueny was a leap-year baby, born February 29, 1944, in Los Angeles, California. She was an intelligent, introspective, and sensitive child that preferred serious reading, writing, and music to the "more frivolous" interests of her peers. Sharon's parents – a World War II Navy veteran and his wife – were loving-but notoriously strict with their three children (Sharon, a younger brother, born in 1950, and a sister born, in 1957). Any boy interested in dating teen-aged Sharon was reportedly required to pass two interviews plus a car inspection before being allowed to take her out. However, when famous talent-scout, Warner Bros.' Solly Biano, spotted Sharon in a theatrical production of "Blue Denim" when she was fifteen, her parents did allow her to meet producer/director Delmer Daves and to accept the contract offered to her by Mr. Jack Warner. Sharon signed that seven-year contract on her 16th birthday. Under Warner's personal guidance, she quickly began a performing guest-star on appearances in all of Warners' television programs, such as "Lawman" (1958), and "Maverick"(1957), where she received her first on-screen-kiss from star Roger Moore (and off-screen kisses from Peter Brown of Lawman, and Wilderness Family's Robert Logan}.
While filming Parrish in 1961, actor (later, Producer-and-President of Paramount, Mr. Robert Evans) visited her set and was immediately bedazzled by breathtaking Sharon, whose dark beauty earned frequent comparisons by Hedda Hopper and Louella Parsons to Elizabeth Taylor. Evans' feeling for Sharon was reciprocated; and so, seventeen-year-old Sharon began dating the thirty-one-year-old Evans, much to the dismay of her parents, friends, and studio. Within weeks the two became engaged and then, on May 28, 1961, married. Unfortunately, their union was doomed from the start. Sharon was, by all accounts, extremely mature for her age; yet Evans seemed to regard her as a child, not as a wife. Their relationship deteriorated. At one time, Mr. Evans abandoned California for his clothing business, Evan Picone, located in New York, which effectively broke her motion picture- and -television contract with Warner's. This uprooting had taken Sharon thousands of miles from her family, work, and friends; furthermore, Warner Brothers placed her on suspension. (Evans later said that "taking Sharon to New York was like forcing a Persian cat into the Amazon.") In Mexico, less than six months after they married, he arranged for a quick, no alimony, divorce, which confused his naive wife.
Sharon's career, unfortunately, never recovered. She would become one of many fine actresses of the 1960s that possessed great beauty and tremendous talent but were not provided with good-quality material to showcase their assets. From 1965 to the mid 1970s, Sharon virtually disappeared from public view, other than for a number of television guest-starring spots, such as "Mannix."
There followed a marriage to photographer Raymond Ross in 1968 to his death in 1974), a divorced, and a child. By 1976 she was under new management and married to Gordon Cornell Layne, founder of Mid America Pictures.
Sharon was en route to ABC to sign two contracts when a new tragedy intervened: Sharon was struck by careering police car doing 90 mph in pursuit of a fleeing drug addict. Not only did this end Sharon's career, it very nearly ended her life. Still seeking recovery, she and Mr. Layne left Santa Monica for Lake Arrowhead, in 1987. After nineteen years under Gordon's personal around-the-clock care, on July 3,1996, Sharon Elizabeth Hugueny Layne died at home, from misdiagnosed cancer. The "Sharon Elizabeth Hugueny Performance Arts Scholarship" has been projected to honor her memory.
– IMDb Mini Biography By: Jennifer E. Williams <JenVLO123@aol.com> and Gordon Cornell Layne (her loving husband)
The above IMDB entry can also be accessed online here.