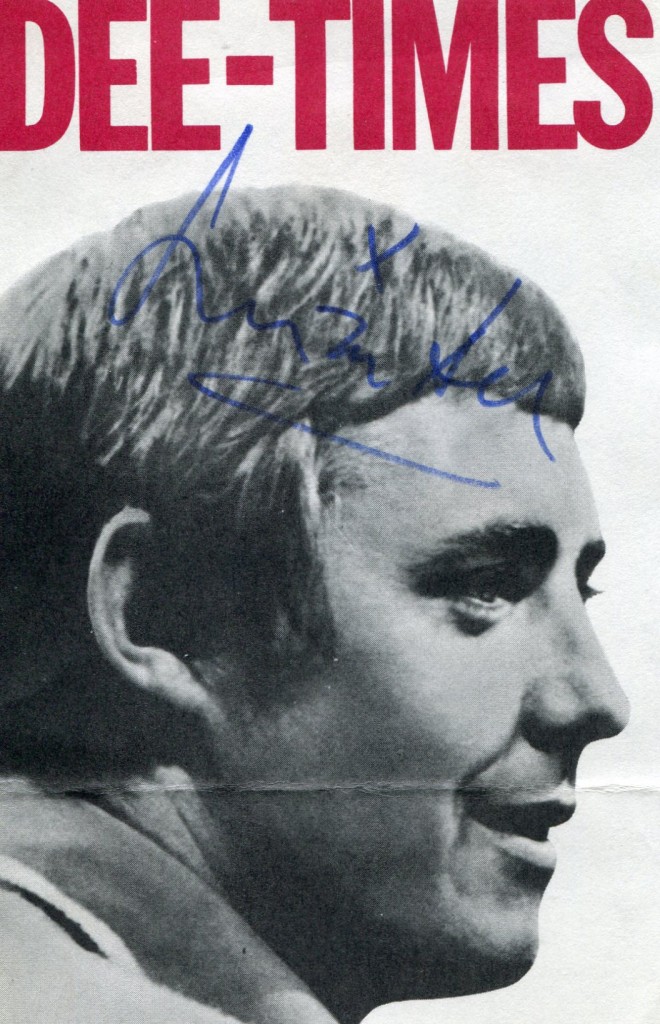 Simon Dee was a very popular TV talk show host who made two films, "Doctor in Trouble" in 1970 and "The Italian Job". He died in 2009 at the age of 74.
Anthony Hayward's "Guardian" obituary:
Simon Dee, who has died of bone cancer at the age of 74, was a radiodisc jockey of the Swinging Sixties who took his larger-than-life personality to television as host of the chatshow Dee Time. Dee began his broadcasting career as one of the pirate radio DJs who brought the latest pop sounds to Britain's teenagers. His was the first voice to be heard on Radio Caroline, the country's inaugural offshore pirate station, which took to the airwaves in 1964, anchored three miles off the Essex coast, just outside British territorial waters. His theme tune was On the Sunny Side of the Street.
The following year, Dee left to present a late-night Saturday show on theBBC Light Programme and was also heard on Radio Luxembourg. When, in 1967, the BBC finally launched Radio 1 and the Marine Offences Act outlawed Caroline and other pirates, Dee was among the original team of DJs on the new channel, presenting the Monday edition of Midday Spin. Like some of his colleagues, he also presented Top of the Pops.
However, he was by then already making waves on television with his chatshow Dee Time (1967-69), which attracted up to 18 million viewers. Anyone who was anybody wanted to appear in the programme, which opened with the upbeat introduction "It's Si-i-i-i-mon Dee!" and closed with film of the host driving off in an E-type Jaguar, with a blonde in the passenger seat. Sammy Davis Jr, Zsa Zsa Gabor, Rod Taylor, Richard Harris and John Lennon were among the guests who queued up to be interviewed by Dee. He was even reported to have been asked to audition for the role of James Bond in 1969.
But Dee walked out on the show after only two years when the BBC refused to bow to his salary demands. He took his massive ego to the ITV company LWT, which offered him a salary of £100,000 to host The Simon Dee Show (1970), although it already employed the heavyweight interviewer David Frost.
When Dee fell out with his new bosses, the latenight Sunday show was axed. This followed the broadcast of an interview with the new Bond actor George Lazenby, who used the programme to make claims about American senators he believed to have been involved in the assassination of President John F Kennedy. Dee's fall from grace proved at the time to be one of the fastest and most sudden in broadcasting history. His career was over, never to be revived.
He was born Cyril Nicholas Henty-Dodd in Lancashire, although at the height of his fame his publicity material claimed that the star's birthplace was Ottawa, Canada. Privately educated, he attended Shrewsbury school, Shropshire, then worked in a coffee bar and as a vacuum-cleaner salesman, photographer and designer, before joining Radio Caroline. This was when he changed his name, combining his son's forename with the initial letter of his surname to become Simon Dee.
While establishing himself on tele- vision as a symbol of the era, he hosted the 1967 Miss World contest, before making appearances in the films The Italian Job (1969) and Doctor in Trouble (1970). Of that first cameo, he recalled: "Mike [Michael Caine] had been on the show and thought he'd do me a favour. I played a poofy Savile Row tailor and I was so good that poofs started chasing me."
The comedian Benny Hill parodied Dee as Tommy Tupper, host of the chat-show Tupper Time, and, many years later, it was claimed that he was the inspiration for the Austin Powers spoof spy films.
After his show was axed, Dee was spotted signing on the dole at Fulham labour exchange. However, he remained in the news, claiming that he had been ousted as a result of his opposition to Britain entering the EEC and that his phone was tapped by the intelligence services. Dee said: "Being a high-flier in the media, I knew I'd have my phone tapped by British intelligence. It was perfectly obvious that the CIA, who controlled our media and still do, would be on my case." In 1974, he served 28 days in Pentonville prison for non-payment of rates on his former Chelsea home.
Although he made brief comebacks as a DJ with the Reading-based commercial station Radio 210 in the late 1970s and as host of Sounds of the Sixties on BBC Radio 2 in 1988, they did not last. When Dee returned with a one-off live edition of Dee Time on Channel 4 in 2003, one critic wrote that Dee reminded him of "Alan Partridge – a toxic mix of naff, bitterness, strange vulnerability and pompous self-regard". The show was followed by the documentary Dee Construction, charting the star's rise and fall.
Dee, who moved to Winchester in 1994, was married three times and had three sons and one daughter.
• Simon Dee (Cyril Nicholas Henty-Dodd), disc-jockey and television presenter, born 28 July 1935; died 29 August 2009
The above "Guardian" obituary can be accessed online here.