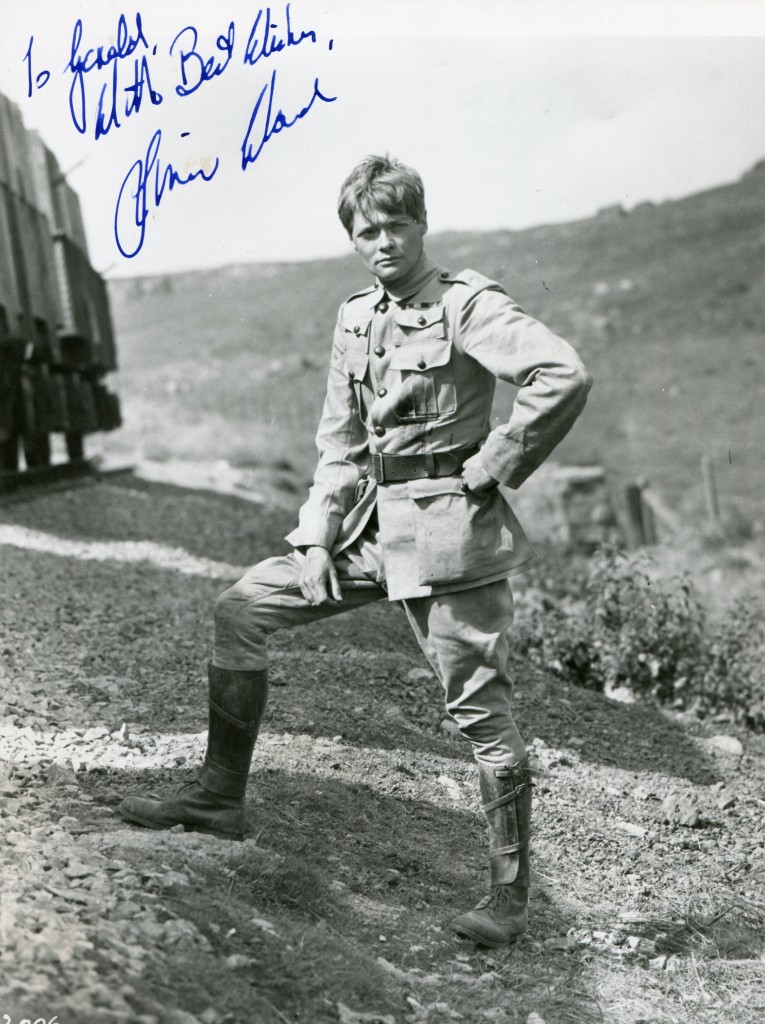 Simon Ward is best known for his performance in the 1971 movie about Winston Churchill entitled "Young Winston". He was born in 1941 in Kent. His other movies include "Zulu Dawn" and "The Three Musketeers". He also starred with Martin Shaw in the popular courtroom drama series "Judge John Deed". He died in 2012. His daughter is the actress Sophie Ward.
Tom Vallance's "Independent" obituary:
Simon Ward was a handsome actor whose patrician, public-school demeanour made him ideal casting for dashing period romances and for the screen role that brought him international prominence, that of the youthful Winston Churchill in Richard Attenborough's Young Winston (1971). On stage, he had already received favourable notice for his role in the original production of Joe Orton's Loot (1967), and he later starred in such films as All Creatures Great and Small (1975), as the author James Herriot) and Zulu Dawn (1979), as Lieutenant Vereker. His career stalled in 1987 when he suffered a mysterious physical attack which resulted in serious brain damage and memory loss, but he later resumed acting, with recurring roles in such television series as Judge John Deed and The Tudors, and film roles including that of Mr Linton in Wuthering Heights (1992), which starred his daughter, Sophie Ward.
The son of a car dealer, he was born in Beckenham, Kent, in 1941, and had acting ambitions from an early age. He was educated at Alleyn's School, Dulwich, where the National Youth Theatre was founded. He joined it at age of 13 and stayed for eight years. After a spell training at the Royal Academy of Dramatic Art he made his stage début with the Northampton Repertory Company in 1963, and in the same year he appeared on the London stage when played the title role in Hamlet in a National Youth Theatre production at the Scala Theatre, its cast including Hywel Bennett and Bill Kenwright. He then worked with repertory companies in Birmingham and Oxford.
Though he is sometimes reported to have made his film début as one of the rebellious students in Lindsay Anderson's If… (1968), he is not credited on screen and his participation has never been verified. Films in which Ward certainly appeared before Young Winston include I Start Counting (1969), in which Jenny Agutter suffered the threats of a serial killer, Frankenstein Must Be Destroyed (1969), one of the better Hammer horrors, in which Ward was a young doctor blackmailed into helping Baron Frankenstein (Peter Cushing) perform his gruesome experiments, and Quest for Love (1971), an intriguing time-travel romance starring Joan Collins.
Ward had a great personal success in Young Winston, particularly in the scenes depicting his love-hate relationship with his father (Robert Shaw), who tells him, "You're the greatest disappointment in my life', and his mother (Anne Bancroft) a ravenously socialising American. Ward's subsequent films included Hitler: The Last Ten Days (1973), in which he was a "sympathetic" Nazi, and The Four Feathers (1978). He played George Villiers, Duke of Buckingham, in Richard Lester's lively The Three Musketeers (1973) and its sequel, The Four Musketeers (1974).
He and Colin Firth played idealistic pilots in the First World War adventure Aces High (1976), based on RC Sheriff's classic play Journey's End, and distinguished by its fine aerial sequences. He played William Trench in the 1978 version of The Four Feathers, and frequent television productions included An Inspector Calls (1982) and The Corsican Brothers (1985). In 1986 he starred as TE Lawrence in the first London revival of Terence Rattigan's Ross, which toured the UK and played in Toronto before opening at the Old Vic in London.
In 1987 he made newspaper headlines when he was discovered unconscious with a fractured skull by a canal in Camden, London. He was unable to recall the devastating incident, for which he had brain surgery, and since there were no witnesses the police were (and remain) baffled.
Ward developed a chronic blood disorder, polycythaemia, due to the assault, but he was able to gradually resume his career on stage, screen and television, in 1995 becoming part of a controversy when at very short notice he took over Stephen Fry's leading role in the play Cell Mates after Fry walked out and disappeared near the start of the run.
On television, Ward had notable success as Sir Monty Everard in Judge John Deed (2003-07) and Bishop Gardiner in The Tudors (2009-10). In 2010 he embarked on an arduous tour starring in Alan Bennett's play The Madness of King George III, but last May he had to withdraw from a revival of Pygmalion, in which he was playing Alfred Doolittle, because of a virus he could not overcome.
Ward had three daughters, the eldest being Sophie Ward, who had been married to a vet for eight years when she came out as lesbian, and in 2010 she married Rena Brannon at a registry office in Stroud. Ward's youngest daughter, Kitty, is married to the stand-up comedian, Michael McIntyre.
Ward moved to Somerset in 2010 and said, "It has taken the edge off my hunger for working because it is so beautiful here, and I love being near my children and six grandchildren."
Simon Ward, actor: born Beckenham, Kent 16 October 1941; married (three daughters); died 20 July 2012.
The above "Independent" obituary can also be accessed online here.