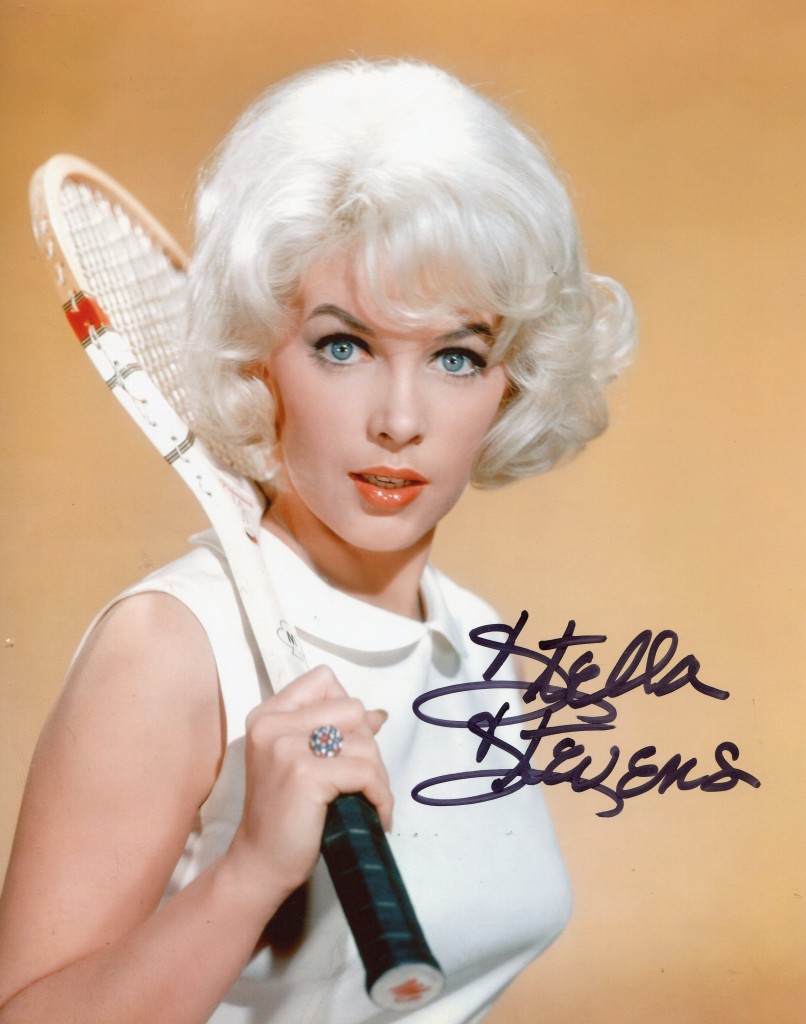 Stella Stevens was born in Mississippi in 1938. She has some fine films to her credit including "The Nutty Professor" opposite Jerry Lewis in 1963, "Girls, Girls, Girls," opposite Elvis Presley, "The Silencer" with Dean Martin and "The Ballad of Cable Hogue". Perhaps her most famous movie is "The Poseidon Adventure" in 1972. Her son is the actor Andrew Stevens.
TCM Overview:
A popular screen siren of the early 1960s, actress Stella Stevens lent sex appeal to such popular light dramas and comedies as "The Courtship of Eddie's Father" (1963) and "The Nutty Professor" (1964) before becoming a staple of TV and low-budget films for the next three decades. Though a talented actress, especially in gentle comedies, casting agents found it difficult to see past Stevens' statuesque frame, which was the subject of three Playboy pictorials. Despite solid turns in Sam Peckinpah's "The Ballad of Cable Hogue" (1970) as Jason Robards' feisty lover and "The Poseidon Adventure" (1972), Stevens never found the proper vehicle for her abilities, and spent most of her time under the radar in episodic TV or genuinely awful films like "Monster in the Closet" (1986). Nevertheless, she continued to log appearances well into her seventh decade, which was a testimony to her professionalism, talent and apparent good humor.
Stella Stevens was born Estelle Caro Eggleston on Oct. 1, 1938, the only child of Thomas Ellett Eggleston and his wife, Dovey Estelle Caro. Sources frequently cited her birthplace as Hot Coffee, MS, but the moniker was simply a nickname for the town of Meridian, which lay near the Mississippi-Florida border. When Stevens was four, she moved with her family to Tennessee; there she met Herman Stephens, an electrician whom she married when she was just 15. A year later, she gave birth to her only child, future actor and producer Andrew Stevens. By 17, she had divorced Stephens, but kept a modified version of his surname for her professional career. While studying medicine at Memphis State College, she became interested in acting and modeling, and was reportedly discovered while appearing in a production of "Bus Stop" at the college. Stevens signed with 20th Century Fox, which provided her film debut with "Say One for Me" (1959), a modest musical starring and produced by Bing Crosby. For her minor turn as a chorus girl, Stevens shared the Golden Globe for Most Promising Newcomer – Female, with fellow up-and-comers Tuesday Weld, Angie Dickinson and Janet Muro.
However, the promising start led to few subsequent opportunities, and Fox dropped her after six months. Stevens turned to the burgeoning gentleman's magazine Playboy to boost her image, and in 1960, she became the publications Playmate of the Month for January. The layout, which tastefully revealed Stevens' voluptuous frame, had the desired effect, and that year, she landed the role of Appassionata von Climax in the screen version of "L'il Abner" (1960). A steady stream of television appearances, magazine layouts and features soon followed, but most emphasized Stevens' physical appeal rather than her talents. Occasionally, she received a solid vehicle for her acting skills, like "Too Late Blues" (1961), director John Cassavetes' drama about a jazz musician (Bobby Darin) who abandoned his idealistic dreams for a sultry singer (Stevens).
Stevens also had a particular gift for light comedy, as seen in her turns as a former beauty queen who caught Glenn Ford's eye in "The Courtship of Eddie's Father" (1963) and in particular, Jerry Lewis' "The Nutty Professor" (1964), where she played the comely college girl who is wooed by the smooth Buddy Love, but saw the good in his alter ego, the hapless Professor Kelp. Despite these highlights, Stevens was found mostly in ornamental roles in features like "Girls! Girls! Girls!" (1962) with Elvis Presley, which she reportedly loathed and was forced to participate in, creating much friction between her and Paramount, and "The Silencers" (1966), one of the Matt Helm spy spoofs with Dean Martin. Stevens would return to Playboy for two subsequent layouts in 1965 and 1968 to help boost her visibility.
Stevens began the 1970s with critically praised turns in Sam Peckinpah's "The Ballad of Cable Hogue" and "The Poseidon Adventure" (1972). In the former, she played a former prostitute who developed a tender romance with dogged cowboy Jason Robards, while in the latter, she was Ernest Borgnine's determined ex-streetwalker wife, who survived most of the horrors of the sinking ocean liner, only to perish in the final reel. The pictures helped to solidify the idea that Stevens was more than an attractive figure, and she worked steadily throughout the decade on television and in features, though few were as high profile as her early efforts. By the late 1970s, she had resorted to B-pictures like "The Manitou" (1978), and eventually turned to television, where she co-starred on "Flamingo Road" (NBC, 1980-82) as a kindly madam who aided series lead John Beck. In 1979, she directed a feature length documentary called "The American Heroine," about women from all walks of life, but the project was never released.
Stevens remained busy as she entered her fifth decade in the 1980s, though quality projects continued to elude actresses – particularly one-time sex symbols – of a certain age. She was a staple of episodic television, but her features had sunk to exploitative trash like "Chained Heat"(1983), a women-in-prison melodrama with Linda Blair, and direct-to-cable softcore efforts like "Body Chemistry III: Point of Seduction" (1994), many of which co-starred her son, Andrew Stevens. In 1989, he joined her for her second directorial effort, a low-budget comedy called "The Ranch," about a city slicker who turned an inherited ranch into a spa. That same year, she joined the cast of the daytime soap opera "Santa Barbara" (NBC, 1983-1994) as star Robin Mattson's troublemaking mother, Phyllis Blake. In the 1990s and 2000s, Stevens was a regular on television programs and in the occasional low-budget feature, though the 2004 horror film "Blessed," produced by her son, was a rare exception. She published her first novel, Razzle Dazzle, in 1999 and launched a line of fragrances for men and women that, like her career itself, emphasized sexiness.
The above TCM overview can also be accessed online
here.