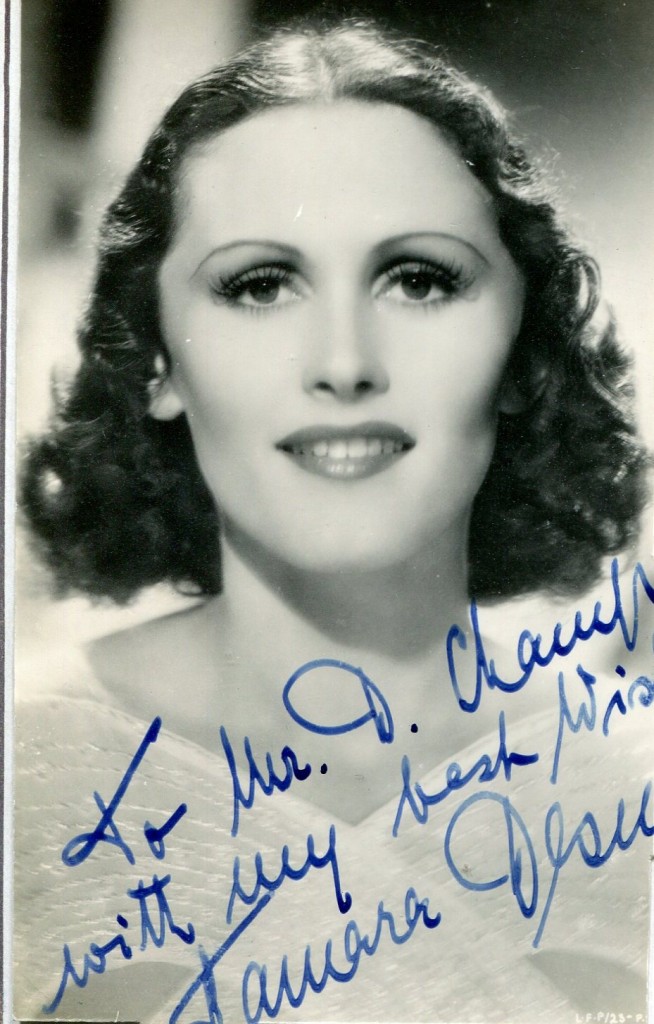 Tamara Desni was born in 1910 in Berlin. She began her film career in German movies in 1931. By 1934 she was in the UK where she spent the bulk of her career. Her films include "Fire Over England" in 1937, "The Squeaker" and "The Hills of Donegal" in 1947. She died at the age of 97 in Grenoble, France.
Tom Vallance's "Independent" obituary:
Tamara Desni was an exotic, brunette actress, singer and dancer of Russian descent, who had a measure of success on stage and in films. Her peak year as a movie star was 1937, when she was romanced by Laurence Olivier in the historical epic Fire Over England, and sang and danced as the lover of a small-time crook in The Squeaker.
Playing a cabaret performer named Tamara in The Squeaker, she sang two songs, "He's Gone" and "I Don't Get Along Without You", in a light, sub-Dietrich voice, and performed some lithe steps and high-kicks wearing a see-through evening gown. In Fire Over England she played a Spanish aristocrat fiercely opposed to her father's assisting an English spy – until she sets eyes on him.
When the spy (Laurence Olivier) returns years later she is now married to a Spanish nobleman, but has to fight the conflicting passions of patriotism and passion. She and Olivier also had a song together, a folk ballad entitled "The Spanish Lady's Love". Though her performance is fine, it tends to be forgotten because of the film's notoriety: it was the movie that brought together Olivier and Vivien Leigh, who began a torrid affair while making it.
The daughter of the singer Xenia Desni (also known as Dada), who appeared in several German movies, she was born Tamara Brodsky in Berlin in 1911. She was only a child when her father abandoned the family to live in the United States. Tamara married her first husband, a dentist, while still in her teens. She made her film début in 1931 in Der Schrecken der Garnison ("Terror of the Garrison"), the same year she made a triumphant London stage début in the operetta White Horse Inn at the Coliseum Theatre. For this spectacular production, credited with saving the Coliseum, which was faltering as a music hall, the entire theatre was transformed into the Tyrol. "You have not time to breathe watching this wonderful spectacle," stated the News Chronicle, and Tamara Desni was also featured in the next Coliseum show, Casanova (1932).
Desni made her first British film, Falling for You, in 1933, supporting the popular musical comedy team of Cicely Courtneidge and Jack Hulbert, who played reporters searching for a missing heiress (Desni), with whom Hulbert falls in love. She made an elegant dancing partner for Hulbert, who introduced several new songs by Vivien Ellis and Douglas Furber. The teaming was successful enough for Hulbert to cast her with him in another hit movie, Jack Ahoy, in which Hulbert introduced his famous number "My Hat's on the Side of My Head".
Her other films included Forbidden Territory (1934), adapted from a Dennis Wheatley novel, in which she was one of two Russian girls who assist in the rescue of a British nobleman from the secret police; a sprightly musical comedy, How's Chances? (1934), in which she played the sweetheart of Harold French; and an excellent psychological thriller, Bernard Vorhaus's Dark World (1935), in which Desni played a dancer loved by two brothers. Blue Smoke (1935), a story of gypsy life in which she again came between two rivals in love, is notable only because she and her co-star, Bruce Seton – best remembered for his television series Fabian of the Yard – fell in love. In 1937 he became the second of her five husbands.
Desni sang again when she played Olga, a gold-digging vamp who also brings tragedy to two brothers, this time in Roy William Neill's His Brother's Keeper (1939). Reportedly grim but gripping, this film is one of several made by Warner-First National at Teddington Studios that are now considered lost. Desni was then off the screen until 1945, when she returned in a supporting role in the musical Flight from Folly, a vehicle for Pat Kirkwood. Having divorced Seton in 1940, she was briefly married to a naval flyer during the Second World War, then in 1947 she wed one of the British screen's most memorable villains, Canadian-born Raymond Lovell.
Her last three films were "B" movies – Send for Paul Temple (1946), the musical drama The Hills of Donegal (1947) and Dick Barton at Bay (1950). The radio show Dick Barton – Special Agent (1946) had built an audience of 15 million within a year, and was the third most popular radio show of its time after Radio Forfeits and Woman's Hour, but the investigator's screen adventures were lamentably low-budget, poorly written and weakly acted. Desni was second billed to its star Dick Stannard in Dick Barton at Bay, but as Madame Anna, one of the leaders of a gang out to steal a death-ray, she had little to do but accept compliments for her beauty and make observations about her cohorts ("You're getting jumpy, Fingers").
Shortly after the Barton film, Desni moved to France, where she and Albert Lavagna, a builder, successfully opened an inn and restaurant in the Alpes Maritimes: L'Auberge Chez Tamara, in Grasse. Though she was wary of taking another husband, when Desni discovered in 1955 that she was pregnant, she and Lavagna decided to marry. The first of two daughters was born in 1956, and the marriage lasted for 50 years until Lavagna's death.
Tom Vallance
Tamara Brodsky (Tamara Desni), actress, singer and dancer: born Berlin 22 October 1911; married first Hans Wilhelm (marriage dissolved), secondly Roland Gillet (marriage dissolved), thirdly Bruce Seton (marriage dissolved), fourthly Raymond Lovell (marriage dissolved), fifthly 1955 Albert Lavagna (deceased; two daughters); died Valence d'Agen, France 7 February 2008.
The above "Independent" obituary can also be accessed online here.