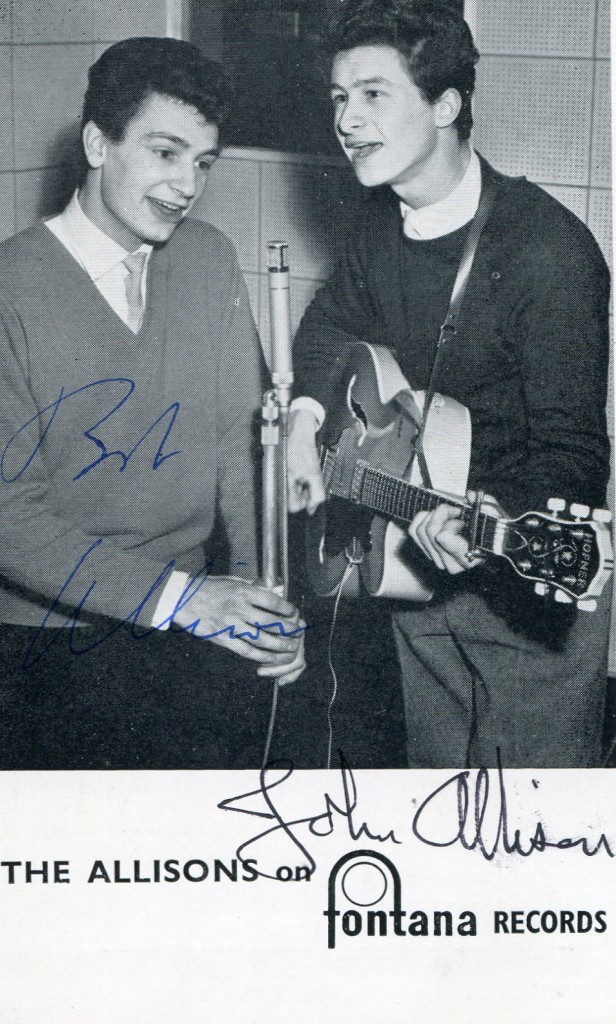 The Allisons were a singing duo who represented the UK in the Euovision Song Contest in 1961 with their song "Are You Sure".
"Wikipedia" entry:
The Allisons were an English pop duo consisting of:
Bob Day (born Bernard Colin Day; 2 February 1941 – 25 November 2013)[1]
John Alford (born Brian Henry John Alford; 31 December 1939)[2]
They were marketed as being brothers, using the surname of Allison.
The Allisons represented the United Kingdom in the Eurovision Song Contest 1961 with the song "Are You Sure?". They came second with 24 points. The song was released as a single on the Fontana Records label, and climbed to number 1 on the UK NMEpop chart. However, the chart compiled by The Official Charts Company shows the song spent six weeks at number 2 and a further three weeks in the top 4.[3] "Are You Sure" sold over one million records, earning a gold disc.[2] In Germany the single reached number 11.[4] Despite a couple of minor follow-up hits, the duo disbanded in 1963.
Alford initially tried songwriting, but he and Day teamed up for short tours to keep 'The Allisons' name alive. Additionally, in the 1970s and 1980s Alford was joined by other "brothers" — Mike "Allison" and Tony "Allison". By the 1990s, Day and Alford regularly reunited to perform on the oldies circuit.
Bob Day died on 25 November 2013, aged 71, after a long illness.
The above "Wikipedia" entry can also be accessed online here.