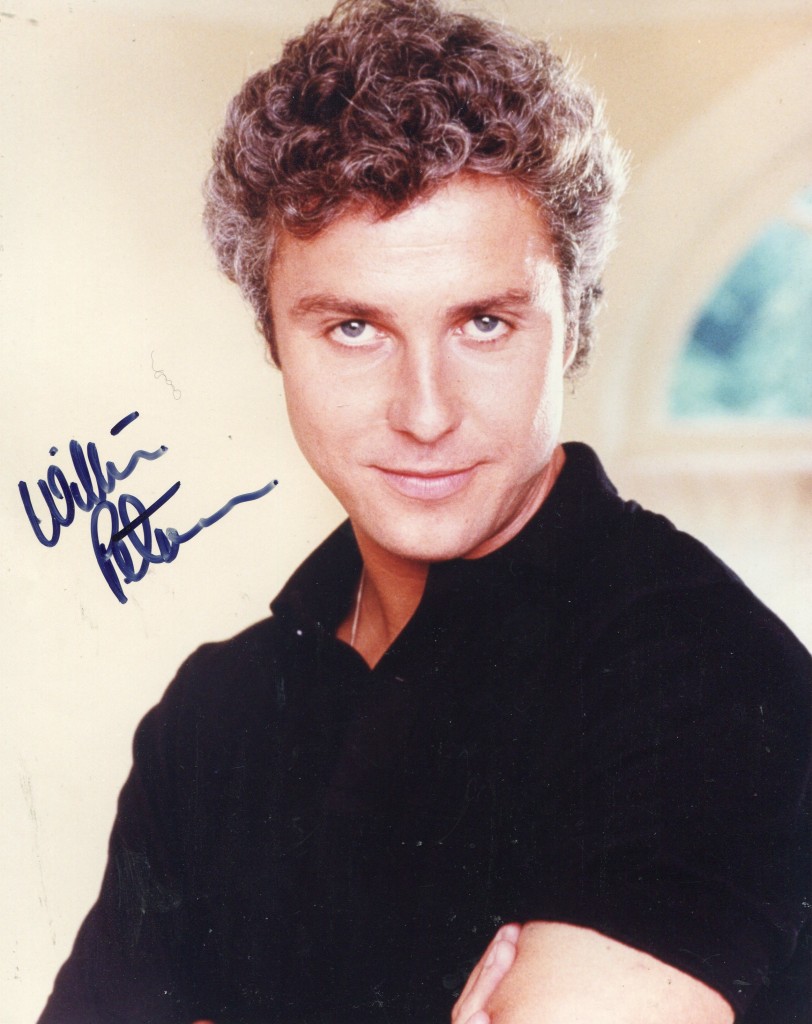 William Petersen was born in 1953 in Evanston, Illinois. He is best known now for his on TV in "CSI". His movies include "Manhunter" in 1986 and"Cousins" with Isabella Rossellini.
TCM overview:
A powerful, brooding figure in features and on television since the early 1980s, William Petersen explored the darker corners of the lawman's psyche in "To Live and Die in L.A." (1985) and "Manhunter" (1986) before becoming a household name on "CSI: Crime Scene Investigation" (CBS, 2000- ). A veteran of the Chicago theater community, he burst onto the Hollywood scene with forceful turns in the aforementioned crime dramas, but neither had the box office clout to turn him into a major movie star. Instead, he concentrated on the stage while delivering consistently believable turns in films like "Young Guns II" (1990) and "Fear" (1991), as well as numerous television efforts. His cool, withdrawn investigator Gil Grissom on "CSI" thrust him into the limelight, making him a major TV star, but he walked away from the hit series in 2008 to return to his roots. One of the most eclectic figures in entertainment, his professional choices and performances earned the enduring respect of his peers and admirers.
Born William Louis Petersen in Evanston, IL on Feb. 21, 1953, he was the youngest of six children born to Danish and German parents who worked as retailers. An admittedly poor student with an independent streak, he left Evanston to live with an older brother in Boise. There, he continued to ignore his studies while attending Bishop Kelly High School, preferring instead to devote his attention to sports and parties. He gained entry to Idaho State University on a football scholarship, but was prevented from playing due to failing grades. The sports department put him into the theater program in a last-ditch attempt to boost his grade point average. However, the move had an unexpected affect: Petersen fell in love with stage acting, and later moved to Spain with his first wife, Joanne, and a college professor to launch a Shakespeare company.
Petersen eventually returned to the United States, where he worked odd jobs while seeking out acting gigs. The search was arduous, and for a time, Petersen, his wife and their new daughter, Maite, lived with his parents in Evanston. There, he began involved with the newly active Chicago theater scene. After earning his Actor's Equity card in 1978, he became a staple of the region's plays, appearing in productions by the famed Steppenwolf and Organic Theatre companies, as well as with his own group, the Remains Theater Company, which he launched with fellow stars-in-training Gary Cole and Ted Levine. Petersen netted a Joseph Jefferson Award – the city's top theater laurel – for playing convicted killer Jack Henry Abbott in "Belly of the Beast: Letters from Prison." In 1981, he made his feature film debut as a hotwired bartender in Michael Mann's "Thief." He was billed as William L. Petersen for the appearance, and would alternately retain and drop the middle initial throughout his career.
While appearing in "A Streetcar Named Desire" at the Stratford Festival in Ontario, Canada, Oscar-winning director William Friedkin caught his performance and asked Petersen to read for a new action film he was directing. After just two lines, Friedkin hired him on the spot as a reckless FBI agent on the trail of a counterfeiter (Willem Dafoe) in "To Live and Die in LA" (1985). Petersen's intense performance and willingness to play a dangerous and non-heroic character in his first starring role impressed critics, many of whom cited him as a star on the rise. Petersen followed this appearance with another heavyweight turn as an FBI profiler with a knack for understanding the motives of serial killers in Michael Mann's "Manhunter" (1986). As the physically and psychologically scarred agent Will Graham, Petersen's pursuit of a vicious psychopath (Tom Noonan) brought him in contact with Dr. Hannibal Lecter (Brian Cox), whom Graham captured years before. A taunt exercise in suspense, the film failed to connect with an audience in the same way that "Silence of the Lambs" (1991), its follow-up, would. Petersen himself found the experience exhausting, and after the film's completion, shaved his beard and dyed his hair to distance himself from the role.
In the years that followed his initial Hollywood launch, Petersen focused more on projects that he found artistically challenging rather than ones that would forward his career. Stage remained his main focus, while films and television kept him financially. He famously turned down the chance to appear in Oliver Stone's "Platoon" (1986) because he did not want to be away from his family for six weeks, and later refused to play Henry Hill in Martin Scorsese's "Goodfellas" (1986). Instead, Petersen's cinematic output in the 1980s and 1990s was filled with modest hits and near-misses: he was the coach of a minor-league baseball team in the 1986 comedy "Long Gone" (HBO), then played the stoic Pat Garrett in "Young Guns II" (1990). A rare hit during this period was the thriller "Fear" (1991), with Petersen as a suburban father who attempts to protect his daughter (Reese Witherspoon) from Mark Wahlberg's homicidal hoodlum-turned-stalker.
Television eventually became Petersen's main outlet. He had done solid work as the formidable Joseph P. Kennedy in the 1990 miniseries "The Kennedys of Massachusetts" (ABC), and later played his son, President John F. Kennedy, in the HBO drama "The Rat Pack" (1998). Small screen work eventually filled his work schedule; some it was top-notch, like William Friedkin's 1997 adaptation of "12 Angry Men" (Showtime) with George C. Scott, Jack Lemmon, James Gandolfini Edward James Olmos. Petersen portrayed Juror #12, whose high-profile job as an ad executive prevented from grasping his role in deciding the fate of a young man on trial. Some were adequate time-wasters, like Peter Benchley's "The Beast" (1996), with Petersen as a marine expert battling a giant squid off the Florida coast. In the early 1990s, he attempted to wrest some control over his projects by launching his own production company, High Horse Films, with longtime acting peer Cynthia Chvatal. Among their offerings were the indie drama "Hard Promises" (1991), with Petersen as a wayward divorcé who attempted to stop his wife (Sissy Spacek) from marrying again, and "Keep the Change" (TNT, 1991), a likable drama about a failed artist who became entangled in small town dramas after returning to his birthplace out West.
In 2000, Petersen landed the role for which he would become best known to audiences, that of forensic investigator Gil Grissom on "CSI: Crime Scene Investigation." A dedicated scientist with a passion for insects, Grissom's vast intellect gave him almost supernatural insight into the motives and execution of fatal crimes, but also made it difficult for him to connect with his co-workers and others on a basic human level. The laboratory was his true home, where he could experiment to his heart's content; only when his hearing began to fail did a sense of vulnerability creep into Grissom's persona. A romance with deeply troubled co-worker Sara Sidle (Jorja Fox) also showed a heart beating beneath his lab coat, and the couple eventually overcame their various personality quirks to marry in 2010. A colossal hit for CBS during its decade-plus run, the show also made Petersen financially solvent, as he served as one of its producers from its initial episode.
In 2008, Petersen announced that he would leave the massively successful procedural to return to stage acting. He expressed his gratitude for the show's success, but felt that he was beginning to atrophy as a performer by remaining in the same role for too long. His final episode drew 23 million viewers. In the aftermath, he remained an executive producer on the series, and was reported to be involved in a feature film based on the series. In 2009, Petersen received his star on the Hollywood Walk of Fame, for which he was joined by most of his "CSI" castmates. That same year, he won his third Joseph Jefferson Award for his turn in "Blackbird" at the Victory Gardens Theater in Chicago.
The above TCM overview can also be accessed online
here.