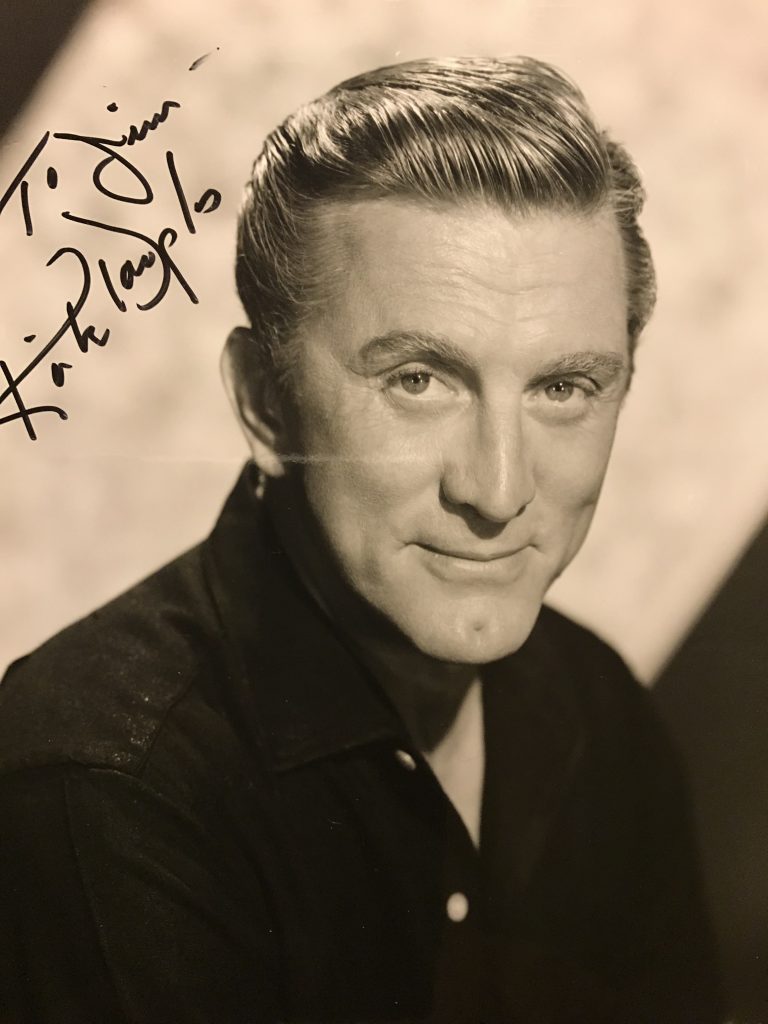 TCM overview:
The archetypal Hollywood movie star of the postwar era, Kirk Douglas built a career with he-man roles as soldiers, cowboys and assorted tough guys in over 80 films. His restless, raging creations earned him three Academy Award nominations for Best Actor and one Golden Globe win for his portrayal of Vincent van Gogh in "Lust for Life" (1956). But besides his lasting mark as a seething strong man with a superhero-like head of hair and the most famous dimpled chin this side of Shirley Temple, Douglas was a Tinseltown innovator and rebel. As one of the first A-listers to wrest further control of their career by founding an independent production company, Douglas also effectively ended the 1950s practice of blacklisting Hollywood talent suspected of communist ties when he insisted on crediting famed screenwriter Dalton Trumbo for his script adaptation of "Spartacus" (1960). Douglas maintained his position as a perennial favorite – often opposite fellow tough guy Burt Lancaster – in Westerns and World War II films until the early 1970s, when changing tastes edged the timeworn genres into the wings. He began a second career as a writer and focused on the philanthropic efforts of The Douglas Foundation, occasionally surfacing throughout the 1980s and 1990s to portray irrepressible old firecrackers in made-for-TV movies and the occasional feature. Kirk Douglas was born Issur Danielovitch on Dec. 9, 1916. He was the only boy of seven kids born to Russian Jewish immigrants, Herschel and Bryna. His parents were junk dealers in Amsterdam, NY and Douglas' memoir characterized his early years as plagued with poverty and anti-Semitic backlash from local kids. The determined teenager landed a wrestling scholarship to St. Lawrence University, where he was a star on the wrestling team and began to dabble in the drama department. He was a natural, charismatic talent and went on to land another scholarship to the acclaimed American Academy of Dramatic Arts in New York City, where his classmates included a 16-year-old Lauren Bacall and future wife, Diana Dill. Douglas was poised to break into Broadway (and adopted the stage name Kirk Douglas) when U.S. involvement in World War II prompted him to join the U.S. Navy, where he served as a communications officer. Douglas returned to New York and promptly married his Academy schoolmate Diana Dill, herself a rising young starlet. Douglas resumed his budding career, working hard to break into radio dramas and commercials before landing on the Great White Way in productions including "Alice in Arms" and "The Wind is Ninety" (1945). Douglas and Dill had a son, Michael in 1944. Hollywood ingénue now a star overnight, thanks to Bogie and "To Have and Have Not" (1944), Lauren Bacall recommended her former classmate to director Hal Wallis, which led to Douglas' feature film debut opposite Barbara Stanwyck in "The Strange Love of Martha Ivers" (1946). In 1947, Douglas became a father again with the birth of son, J l, and his career ramped up with features "Mourning Becomes Electra" (1947) and "Out of the Past" (1947). He enjoyed the first of seven roles opposite Burt Lancaster in "I Walk Alone" (1948) before truly achieving stardom as the unscrupulous boxer punching his way to the top in Stanley Kramer's "Champion" (1949). Douglas' Oscar-nominated performance established his forceful and intense screen persona, setting the tone for many more strong performances as selfish, cocky and egocentric characters. Douglas was bumped up to an average of three films a year and began working with the top directors of the day in Billy Wilder's "Ace in the Hole" (1951), William Wyler's "Detective Story" (1951) and Howard Hawks' "Big Sky" (1952), all of which showcased the actor's coiled intensity and commanding movie star presence. Offscreen, his marriage to Dill ended and the actress moved back to New York to raise the couple's young sons. Focusing on his work, Douglas kicked off a four-film collaboration with director Vincente Minnelli, beginning with the riveting melodrama "The Bad and the Beautiful" (1952), in which he played a ruthless movie mogul clawing his way to the top and leaving a trail of deception and betrayal in his wake. His violent, over-the-top scenes with an equally overly dramatic Lana Turner were borderline camp, but engrossing nonetheless, making the film a huge hit with audiences. Douglas earned a second Oscar nomination for the performance and went on to appear in Minnelli's romance "The Story of Three Loves" (1953) the following year. While filming "20,000 Leagues Under the Sea" (1954), well-known ladykiller Douglas swept his French publicity agent, Anne Buydens, off her feet and married her in a quick Las Vegas ceremony. The pair had son, Peter, in 1955 and the same year, hatched one of Hollywood's first independent production companies, named Bryna in honor of Douglas' mother. He also established The Douglas Foundation, a civic-minded charity involved in health and community programs. Bryna's first production, the Western "The Indian Fighter" (1955), was released later that year. He received far more attention – including a Golden Globe award and an Oscar nomination – for his portrayal of Vincent van Gogh in Minnelli's biopic "Lust for Life" (1956) – one of Hollywood's most rhapsodic takes on the obsessive, self-tortured artist. Under the Bryna banner, Douglas brought Stanley Kubrick's "Paths of Glory" (1957) to theaters. It was a disappointment in its initial release, but grew in stature to the front rank of anti-war films. Douglas played a French Army officer (and attorney) who defends three soldiers unjustly accused of cowardice in the trenches during World War I, but the real star was Kubrick, whose camera moved inexorably through the carnage of battle, capturing a brutal authenticity. That same year, the Douglas-Lancaster electricity brightened famously in "Gunfight at the OK Corral" (1957), creating a humorous public rivalry after starring roles as Wyatt Earp and Doc Holliday. In the producer's chair, Douglas starred in the underappreciated Western "Last Train from Gun Hill" (1959) before he, Lancaster and Laurence Olivier delivered standout performances in the sparkling film adaptation of George Bernard Shaw's "The Devil's Disciple" (1959), Shaw's take on how the bumbling British lost their American colonies. In 1960, Douglas and Bryna productions made history when, in the middle of anti-communist witch hunts that blacklisted Hollywood talent suspected of being communist sympathizers, Douglas insisted on crediting blacklisted screenwriter Dalton Trumbo for his screen adaptation of Howard Fast's novel Spartacus. This courageous action – perhaps Douglas' overriding offscreen legacy – essentially ended the blacklist, allowing banned filmmakers to openly return to the industry. "Spartacus" (1960) itself also became an instant classic of the ancient "sand & sandles" epic genre. He again collaborated with Trumbo on the Western "Lonely Are the Brave" (1962), where Douglas essayed a fugitive steeped in the values of the old West who escapes into the Rocky Mountains on horseback in this melancholy and powerful film that eventually attained cult status and earned the star a BAFTA nomination. Douglas bought the rights to Ken Kesey's "One Flew Over the Cuckoo's Nest" and adapted it for Broadway, where he appeared in 1963 in the role of Randel P. McMurphy. Lancaster and Douglas showed up heavily disguised in character roles for John Huston's engaging murder mystery "The List of Adrian Messenger" (1963) and returned to leading roles in John Frankenheimer's absorbing political thriller, "Seven Days in May" (1964). After releasing a solid run of Westerns and World War II films like "Her s of Telemark" (1965), "Is Paris Burning?" (1966) and "The Way West" (1967), shifting tides in American cinema began to render postwar her s like Douglas a thing of the past. So instead, he sought new opportunities, keeping close to his son-of-a-bitch persona in Martin Ritt's mafia drama "The Brotherhood" (1968) and in Elia Kazan's study of the modern man "The Arrangement" (1969), but that role was originally intended for very different actor, Marlon Brando, and it fit Douglas as poorly as Brando's own clothes might have. Even as Douglas-type Westerns were evolving into a different entity, he soldiered on in the comedic "There Was a Crooked Man" (1970) and the dark, psychedelic "The Gunfight" (1971) opposite Johnny Cash. His directing debut "Scalawag" (1973) was an unsuccessful mash-up of musical, Western and pirate films, and highlighted that the sturdy leading man was having difficulty transitioning into a new era of filmmaking and public taste.
In 1975, Douglas sat by frustrated when, after having tried unsuccessfully to bring "One Flew Over the Cuckoo's Nest" to the big screen for a decade, son Michael finally produced the film and the studio cast Jack Nicholson in his former stage role. Nicholson went on to win Best Actor and the film Best Picture at the Academy Awards. Douglas released his sophomore directing effort that year, faring better with the Western "Posse" (1975), in which he returned to tried and true territory and as a haughty, self-obsessed sheriff. He teamed with fellow aging star Burt Lancaster in the TV movie "Victory at Entebbe," (ABC, 1976) and appeared in the spooky thriller "The Fury" (1978) before taking the stage in a tour de force performance as grown up Huckleberry Finn and Tom Sawyer in Bernard Sabath's "The Boys in Autumn" (1981). Douglas took on another dual role in the Australian Western "The Man from Snowy River" (1983), a family video favorite for its eye-filling scenery and incredible action sequences with wild horses. He earned an Emmy nomination in the title role of the CBS movie "Amos" (1985), which led Douglas to become active in the cause of elderly abuse, for which he even testified before the Congressional Select Sub-Committee on Aging. In 1986, Lancaster and Douglas brought the curtain down on their collaboration with the good-natured parody and aptly titled feature, "Tough Guys" (1986). Douglas published the memoir The Ragman's Son in 1988, and the bestseller sparked a new writing career. His first novel Dance with the Devil was released in 1990, a year before he made headlines for surviving a Los Angeles helicopter crash that killed two fellow passengers. The Douglas Foundation opened the doors of the Anne Douglas Center for Women, a homeless shelter in downtown Los Angeles, and Douglas returned to bookstores with well-received titles The Secret in 1992 and Last Tango in Brooklyn in 1994. He starred opposite Craig T. Nelson in the father-son reconciliation TV film "Take Me Home Again" (NBC, 1994) and made a rare comedy appearance as a crotchety family elder in the feature "Greedy" (1994), which fell short of expectations but not because of Douglas, whose love of life clearly came through in a dynamic performance. In 1996, a debilitating stroke permanently impaired his speech but Douglas made an emotional public comeback to accept a lifetime achievement Oscar at the 1996 Academy Awards, despite his impaired speech. In 1997, Douglas released a second autobiographical work, Climbing the Mountain: My Search for Meaning and the Douglas Foundation funded a citywide program to fix up more than 400 children's playgrounds in Los Angeles. The same year, he reunited with longtime friend Lauren Bacall in the light comedy "Diamonds" (1997) co-starring Dan Aykroyd. Douglas was honored with a Lifetime Achievement Award from the Hollywood Film Festival in 1997 and another from the Screen Actor's Guild in 1999. In 2002, he released a third autobiography, My Stroke of Luck. The following year he and son Michael – known to have had a tumultuous relationship (made perhaps worse through career jealousies once Michael's star eclipsed his father's) – made a long overdue screen pairing (along with Michael's son Cameron and Douglas' ex-wife, Diandra) in the comedy "It Runs In the Family" (2003), the story of a dysfunctional New York family and their attempts to reconcile. Unfortunate for any parent, Douglas lost his youngest son Eric, an aspiring actor and comedian, to a drug overdose the same year he and wife Anne Buydens celebrated their 50th wedding anniversary with a renewal of their vows. Already getting on in years and dealing with his stroke on a daily basis, Douglas took the loss of his youngest extremely hard, having watched Eric struggle with substance abuse over the years. In 2005, Douglas allowed longtime friend, actress-director Lee Grant, to explore the storied careers and relationship of Douglas and his equally famous son Michael in the HBO documentary "A Father…A Son…Once Upon a Time in Hollywood" (2005).
 The above TCM overview can also be accessed online
here.