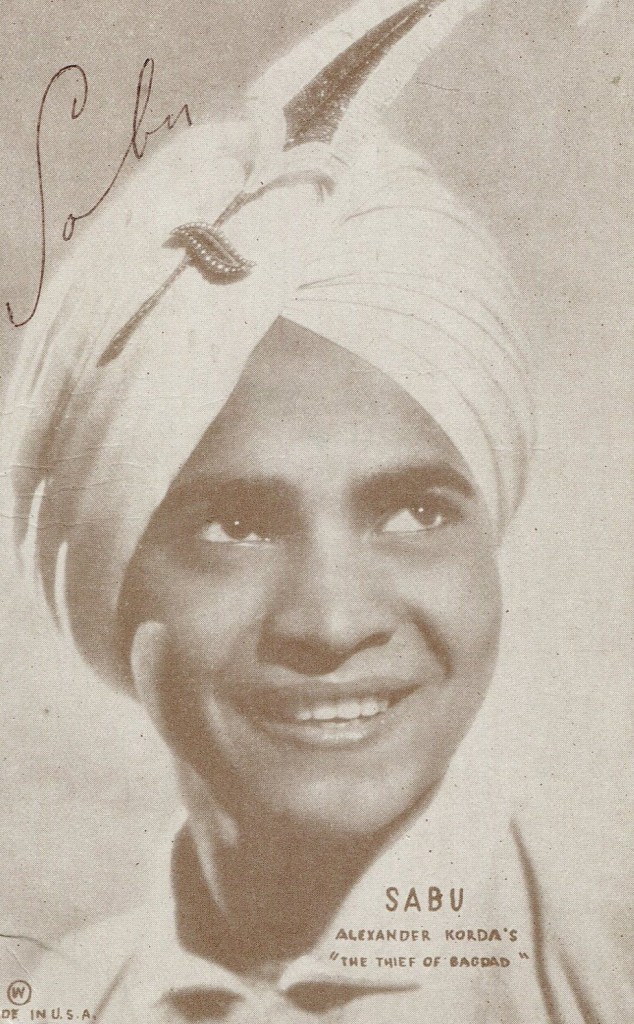 Gary Brumburgh's entry:
Sabu Dastagir (or Selar Shaik Sabu, depending on your resource) was born on January 27, 1924, in the little town of Mysore, India, which is nestled in the jungles of Karapur. The son of an elephant driver (mahout) in service for the Maharajah of his town, the young stable boy learned responsibility early in life when, at age 9, his father died and Sabu immediately became the ward of the royal elephant stables. As with many Hollywood success stories, good timing and dumb luck allowed the impoverished youth a chance for a better life. By sheer chance the timid 12-year-old orphan was discovered by a British location crew while searching for a youth to play the title role (an elephant driver!) in their upcoming feature Elephant Boy (1937). Quite taken aback by his earnest looks, engaging naturalness and adaptability to wild animals and their natural habitat, the studio handed the boy a film career on a sterling silver platter and was placed under exclusive contract by the mogul Alexander Korda himself.
Sabu and his older brother (as guardian) were whisked away to England to complete the picture and became subsequent wards of the British government. They were given excellent schooling in the process and Sabu quickly learned the English language in preparation for his upcoming films. Elephant Boy (1937) was an unqualified hit and the young actor was promptly placed front and center once again in the film Drums (1938) surrounded by an impressive British cast that included Raymond Massey and Valerie Hobson. With the parallel success of the Tarzan jungle movies in America, Hollywood starting taking a keen look at this refreshingly new boy talent when he first arrived in the U.S. for a publicity tour of the film. Again, his second film was given rave reviews, proving that Sabu would not be just a one-hit wonder.
His third film for Korda is considered one of the great true classics. In the Arabian fantasy-adventure The Thief of Bagdad (1940), Sabu plays Abu the Thief and is not only surrounded by superb actors — notably June Duprez, John Justin, Rex Ingram (as the genie) and Conrad Veidt (as the evil Grand Vizier) — but exceptional writing and incredible special effects. Sabu's name began stirring international ears. His last pairing with Korda was the excellent adaptation of Rudyard Kipling's classic book Jungle Book(1942) playing Mowgli, the boy raised by wolves, who must adapt to the ways of mankind after being returned to his mother. The movie was directed by Alexander's brother Zoltan Korda.
Following this triumph, Sabu officially became the exotic commodity of Universal Pictures and he settled in America. Although initially rewarding monetarily, it proved to be undoing. Unfortunately (and too often typical), a haphazard assembly-line of empty-minded features were developed that hardly compared to the quality pictures in England under Korda. Saddled alongside the unexceptional Maria Montez and Jon Hall, his vehicles Arabian Nights (1942), White Savage (1943) and Cobra Woman (1944) were, for the most part, drivel but certainly did fit the bill as colorful, mindless entertainment.
Almost 20 years old by the time he became a citizen of the U.S. in 1944, he enlisted in the Army Air Force and earned WWII distinction in combat missions (Distinguished Service Cross, Air Medal, among others) as a tail gunner. By the time Sabu returned to Universal and filming, the charm of his youth had worn off and the boyish stereotype impossible to escape.
Post-war audiences developed new tastes, but Sabu had not choice but to trudge on with retreads of his former glory. Films such as Tangier (1946) again opposite Ms. Montez,Man-Eater of Kumaon (1948) and Song of India (1949) opposite lovely princess Gail Russell did little to advance his career. While filming the last-mentioned movie, Sabu met and married actress Marilyn Cooper who temporarily filled in for an ailing Ms. Russell on the set. The couple went on to have two children.
Sabu actually fared better back in England during the late 40s, starring in the crime drama The End of the River (1947) and appearing fourth-billed as a native general in the exquisitely photographed Black Narcissus (1947). Daring in subject matter, the film hadDeborah Kerr heading up a group of Anglican nuns who battle crude traditions, unexpected passions and stark raving madness while setting up a Himalayan order. By the mid-50s Sabu's career was rapidly approaching extinction, seeking work wherever he could find it – in low-budget Europe productions, public appearances, etc. An attempt to conjure up a TV series for himself failed. His life was further aggravated by unpleasant civil and paternity suits brought about against him. His last two pictures were supporting roles in Rampage (1963), which starred Robert Mitchum, and A Tiger Walks (1964), a thoroughly routine Disney picture which was released posthumously.
Sabu died unexpectedly at age 39 of a heart attack on December 2, 1963, at his home in Southern California and was buried at Forest Lawn Cemetery in the Hollywood Hills. SonPaul Sabu developed into an accomplished songwriter and even formed a rock band called Sabu; daughter Jasmine Sabu, who died in 2001, was a noted horse trainer whose skill was utilized occasionally for films. Although he went the way of too many of our former stars, Sabu continues to enchant and excite newer generations with his unmatched athletic skills and magnetic charm in those early adventure fantasies of yesteryear.
– IMDb Mini Biography By: Gary Brumburgh / gr-home@pacbell.net