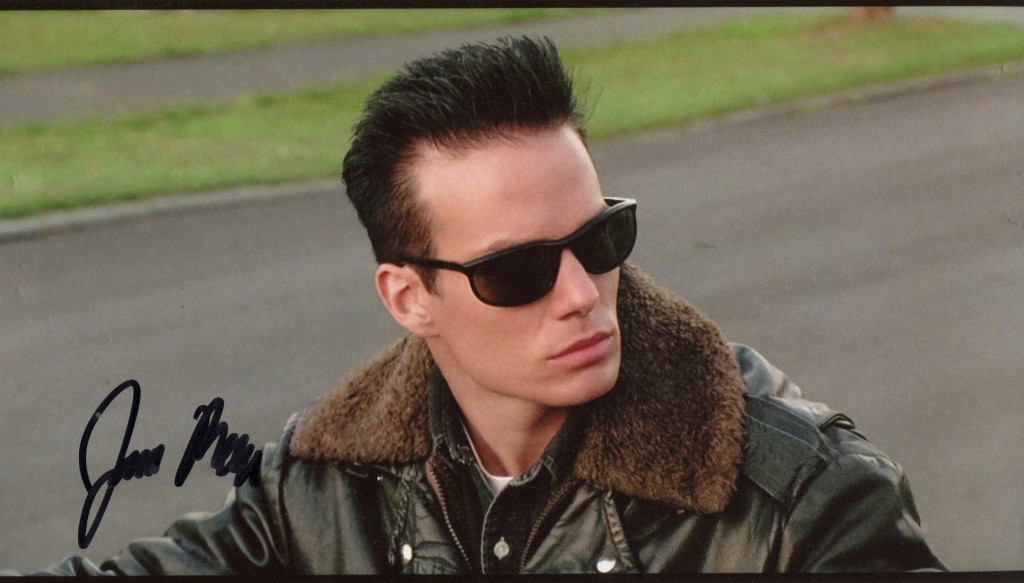 IMDB entry:
James Marshall was born James David Greenblatt in Queens, New York, USA, to Charlotte (Bullard), a dancer, and William R. Greenblatt, a producer and director. His father is of Ashkenazi Jewish descent and his mother has English and Irish ancestry.
James grew up in Bergen County New Jersey. At the age of fifteen he moved with his family to the Los Angeles area where he attended Santa Monica High School. Once high school was over, James attended acting classes and struggled to break into Hollywood. His father offered to help James, but he didn't want to take the nepotism route. Coming from a family of entertainers (his mother a former radio city music hall Rockette and his sister a musician) he had Hollywood in site. Accepting small acting parts, working as a messenger, as well as at a pizzeria, James felt the pressures of the business. James made a big splash when director David Lynch cast Marshall for his new series entitled Twin Peaks. Playing the moody, biker boyfriend of Laura Palmer thrust James Marshall into the living rooms of millions and introduced the new actor to a captivated audience. By early 1990 his career took a turn onto the silver screen with an appearance in the movie Cadence, starring Martin Sheen and Charlie Sheen. This lead to his first starring role with a major movie studio. The movie was the 1992 boxing drama, Gladiator. Three months of rigorous training was put into the role before even getting to the set. The buzz on Marshall was so great that director Rob Reiner cast James and co-star Cuba Gooding Jr. in his upcoming film A Few Good Men. The movie was an excellent springboard towards a busy acting career. James has continued working steadily in television movies and features. In May of 1998 James married actress Renee Allman. They have appeared together in the features Criminal Affairs and Doomsday Man. Together they have one child, James David, who was born in January of 2002. The happy family live together in the Los Angeles area. James continues to work on a host a television movies and film projects. In addition James is an accomplished author, artist and musician.
– IMDb Mini Biography By: Joe Miller <joem938216@aol.com> and Jame-Marshall.net
The above IMDB entry can also be accessed online here.