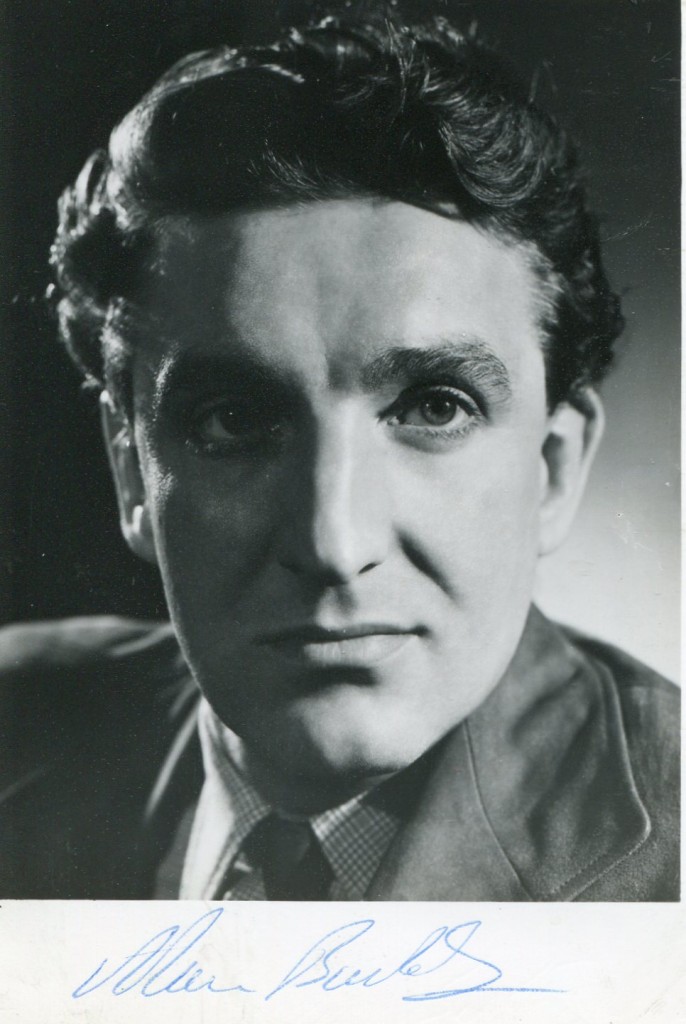 Alan Badel was born in 1923 in Manchester. He first came to attention for his performance as 'Romeo' opposite Claire Bloom in "Romeo and Juliet" at the Old Vic in 1950. He had a major stage career and also gave terrific performances on television in "Bill Brand" and "The Woman in White". Surprisingly he did not become a major movie star despite getting a lead role in Hollywood in 1953 opposite Rita Hayworth in "Salome". His other films include "Magic Fire" and "This Sporting Life". He died at the age of 58. His daughter is the actress Sarah Badel.
"Wikipedia" entry:
He was an English stage actor who also appeared frequently in the cinema, radio and television and was noted for his richly textured voice which was once described as "the sound of tears".
Badel was born in Rusholme, Manchester and educated at Burnage High School. He fought with the French Resistance during theSecond World War.
In his early career, he played leading parts, including Romeo and Hamlet, with the Old Vic and Stratford companies
Badel's most notable early screen role was as John the Baptist in the Rita Hayworth version of Salome (1953), a version in which the story was altered to make Salome a Christian convert who dances for Herod in order to save John rather than have him condemned to death.
Badel portrayed Richard Wagner in Magic Fire (1955), a biopic about the composer, and Baron Nicolas de Gunzburg in theParamount film Nijinsky (1980).
He also played the role of Karl Denny, the impresario, in the film Bitter Harvest (1963) based on the novel 20,000 Streets Under the Sky by the author and playwright Patrick Hamilton. In the film he engages a young Welsh girl called Jennie Jones who, under his control, becomes a high class prostitute who commits suicide. The film starred Janet Munro in the lead part of Jennie Jones.
The film also starred a number of character actors who went on the make numerous film and television roles, namely, John Stride, William Lucas, Norman Bird, Allan Cuthbertson, Anne Cunningham and Francis Matthews. The landlady of John Stride's character, Joe, was played by Thora Hird who received no opening or closing credit in the film.
Also in 1963 he played opposite Vivien Merchant in the TV production of Harold Pinter's play The Lover.
He also played the French Interior Minister in The Day of the Jackal (1973), a political thriller about the attempted assassination of President Charles de Gaulle. Badel also played the villainous sunglasses-wearing Najim Beshraavi in Arabesque (1966) with Gregory Peck and Sophia Loren. One of Badel's most noted roles was that of Edmond Dantès in the 1964 BBC television adaptation of The Count of Monte Cristo by Alexandre Dumas, which also starred Michael Gough. He appeared in television adaptations of The Moonstoneand The Woman in White by Wilkie Collins.[citation needed]
Badel married the actress Yvonne Owen in 1942 and they remained married until his sudden death in Chichester, aged 58. Their daughter Sarah Badel is an actress