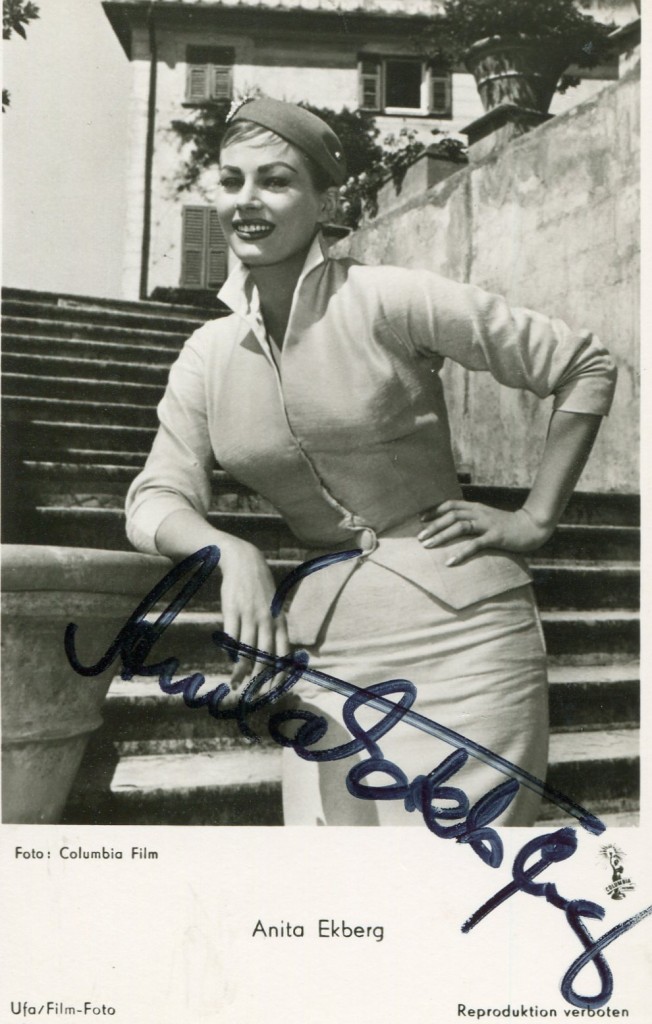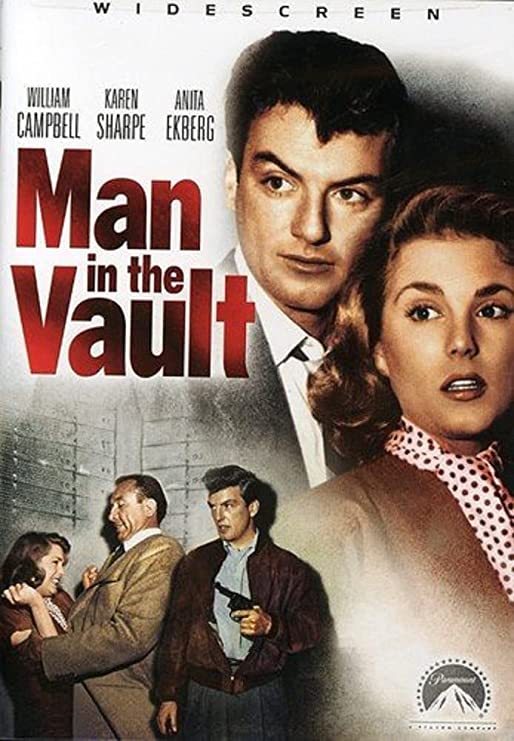 One of the screen's great beauties, Anita Ekberg was born in Malmo, Sweden in 1931.   She won thge 'Miss Sweden' contest in 1950 and went to the U.S, to compete in the 'Miss Universe' competition.  Although she did not win the competition, she went on secure a movie contract.   After a numberof small parts, she had a major role in "Artists and Models" in 1955 with Dean Martin and Jerry Lewis.   She then had about ten years in major roles including "War and Peace", "Back From Eternity" and her most famous film "La Dolca Vita" in 1960.   She died in Rome in 2015.
GRonald Bergan & John Francis Lane's obituary in "The Guardian":
 In Federico Fellini's 
La Dolce Vita
 (1960), a tipsy blond starlet, wearing a black low-cut dress, wanders into the Trevi fountain in Rome. She tries to entice her escort to join her by calling "Marcello, Marcello" in seductive tones. The scene made the Swedish-born Anita Ekberg, who has died aged 83, a sex symbol 
par excellence
. "She had the beauty of a young goddess," Fellini said. "The luminous colour of her skin, her clear ice-blue eyes, golden hair and exuberance, joie de vivre made her into a grandiose creature, extraterrestrial and at the same time moving and irresistible." Her co-star, 
Marcello Mastroianni
, was initially less impressed: "She reminded me of a German soldier of the Wehrmacht who in a round-up asked me into a truck." However, after a week of getting wet in the fountain and drying her frocks in the sunlight, Ekberg gained his respect and even affection.
The director Frank Tashlin once commented: "There's nothing more hysterical to me than big-breasted women – like walking leaning towers." Ekberg was a beautiful, tall, voluptuous leaning tower in Tashlin's punningly titled Hollywood or Bust (1956). Later, in Le Tentazioni del Dottor Antonio (The Temptation of Dr Antonio), the Fellini episode from the omnibus film Boccaccio 70 (1962), she was the gigantic model who comes down from her billboard promoting milk to pursue a puritan who has campaigned against the advert.
Both Tashlin and Fellini had found a way of using the former Miss Sweden in erotic satire. She was born in the city of Malmö, on the south-western tip of Sweden, the sixth of eight children of August, a doctor, and his wife, Alvah. Having been crowned Miss Malmö and then Miss Sweden, Ekberg went to the US in the early 1950s for the Miss Universe contest and stayed to appear in a number of Hollywood films. These included The Golden Blade (1953), an Arabian Nights tale starring Rock Hudson, in which she played a handmaiden, and Abbott and Costello Go to Mars (1953).
Ekberg was asked to be merely decorative in a few further exotic adventure tales, such as Zarak (1956), in which Victor Mature portrayed an Afghan outlaw; and to be a stooge to Jerry Lewis in Artists and Models (1955) and Hollywood or Bust, and to Bob Hope in Paris Holiday (1958) and Call Me Bwana (1963). Her looks were used more effectively in King Vidor's War and Peace (1956), in the role of Hélène, the adulterous wife of the besotted Pierre Bezukhov (Henry Fonda).
Larger dramatic roles followed in B-movies, including Screaming Mimi (1958), a bizarre psychological thriller in which she performs striptease numbers at a sleazy nightclub called El Madhouse, and gets attacked while taking a shower – two years before Psycho. In Valerie (1957), she appeared opposite Anthony Steel, whom she had married in 1956.
It was said that the career of Steel, one of Britain's biggest movie stars in the 50s, was ruined when he married Ekberg and moved to Hollywood. There, he struggled to find much work and was often referred to by the tabloids as Mr Ekberg. Their stormy marriage ended in 1959. One of their public arguments, while being pursued by the paparazzi in Rome, was said to have inspired some scenes in La Dolce Vita.
After that film, Ekberg, never much of an actor, became a prisoner of her own image. She posed for Playboy, Bob Dylan named her in the song I Shall Be Free, and she appeared in a number of mediocre international productions including The Mongols (1961) and Four for Texas (1963), in which the director Robert Aldrich concentrated on Ekberg's bust, especially as
After an unhappy second marriage, to the actor Rik Van Nutter, which lasted from 1963 to 1975, Ekberg drank heavily and gradually gained a great deal of weight. She lived alone in a grand villa in the country near Rome, guarded by two Dobermans. After a fire and a break-in at her house, she moved into a care home and in 2011 sought financial assistance from the Fellini Foundation.
When invited to celebrate the 40th anniversary of La Dolce Vita she declined, but in 2009 agreed to appear in a BBC documentary. Previously, Fellini visited her in his film Intervista (Interview, 1987), in which there is a moving reunion between Mastroianni and Ekberg, who nostalgically watch their key scene from La Dolce Vita together.
Ronald Bergan
John Francis Lane writes: WhenFederico Fellini asked me to play one of the reporters milling around at the news conference of the movie star played by Anita Ekberg in La Dolce Vita, I suspected he only vaguely remembered what I'd told him of my experience as a real reporter at her wedding to Anthony Steel.
At the time of the wedding, I was Rome stringer for the British newspaper the News Chronicle. It could not afford to send its showbiz columnist to Florence so I went instead. The wedding, at the Palazzo Vecchio, was attended by 50 members of the press. When we got back to the hotel, the luminaries rushed to their rooms to write their gilded prose, while I, knowing how unreliable the Italian phones were, thought it a good idea to ask the telephonist if there were problems getting through to London. She offered me a line immediately.
What to do? I took a chance. Laboriously I started adlibbing the article, following my first instinct which had been to send it all up. I had only the pay-off in my head: "The next morning they will be back on the real film set." I came out of the booth sweating and trembling, and, as I stumbled towards the bar, who should suddenly appear but Ekberg, still in that fabulous white dress with one bare shoulder that I had just ridiculed. Seeing me, the only one of her "wedding guests" around, she beckoned me to join her for a glass of champagne.
What had I done? I had dared to make fun of a goddess. It was the end of my hopes of becoming a foreign correspondent. I sipped my champagne and gulped desperately as I saw my illustrious colleagues fighting to get a line to London for what would certainly be their rapturous accounts of the fairytale we had been privileged to witness.
When I next saw Ekberg, on the set of La Dolce Vita, she was more concerned that Fellini might be sending her up. Of course he was, yet I heard him console her affectionately: "But Anitona, how could I? You are meant to be Ava Gardner!" Her marriage was brief, but thanks to Fellini, the Nordic goddess became immortal.
• Kerstin Anita Marianne Ekberg, actor, born 29 September 1931; died 11 January 2015
The above "Guardian" obituary can also be accessed online here.
"Movies Unlimited" article:
It's one of the most iconic scenes in Italian cinema: a voluptuous woman in a clinging, strapless black dress wading into Rome's famed Trevi Fountain. The actress chosen to take this memorable dip in Federico Fellini's 1960 film La Dolce Vita wasn't Sophia Loren, Gina Lollobrigida, Virna Lisi or another native beauty, however. It was stunning Swedish blonde Anita Ekberg, who was one of the screen's leading sex symbols in the 1950s and '60s and who passed away this past weekend in Rome at the age of 83.
Born Kirsten Anita Marianne Ekberg in the southern coastal town of Malmo in September of 1931, the sixth of eight children, Ekberg started modeling as a teen and in 1950 won the Miss Sweden beauty contest. Although she failed to take the Miss Universe crown the following year, Anita was awarded a contract with Universal Pictures. Her screen debut was an uncredited role in the 1953 Tyrone Power western The Mississippi Gambler (Power was also the first of several leading men–some married–she would be romantically linked with), and while with Universal she would be used as attractive "window dressing" in such 1953 films as Abbott and Costello Go to Mars and The Golden Blade, with Rock Hudson. After playing a Chinese villager (!) in the John Wayne adventure Blood Alley (1955), she appeared with Dean Martin and Jerry Lewis in two of the duo's final picturestogether, 1955's Artists and Models and Hollywood or Bust (as an exaggerated version of herself) the following year.
In between clowning with Dean and Jerry, Anita got several chances to display her dramatic potential. She was cast in Paramount's lavish adaptation of Tolstoy's War and Peace in the role of Helene, ambitious wife of Count Bezukhov (Henry Fonda); as one a group of plane crash survivors lost in the South American jungle in RKO's Back from Eternity, with Robert Ryan and Rod Steiger; and as a criminal's duplicitous girlfriend in the "B" drama Man in the Vault. 1956 also saw her earn a Golden Globe Award (a share of one, at least: she tied with fellow starlets Victoria Shaw and Dana Wynter) for Most Promising Newcomer. Other late '50s Ekberg efforts included a pair of films with Victor Mature, the costume adventure Zarak (1956) and a drug-smuggling thriller, Pickup Alley (1957); Valerie (also '57), an offbeat psychological drama set in the Old West which co-starred her then-husband, Anthony Steel; the Bob Hope comedy Paris Holiday (1958); and the decidedly off-the-wall Screaming Mimi (also '58), a burlesque-themed noir thriller with Anita as an asylum escapee who becomes an exotic dancer under the tutelage of stripshow legend Gypsy Rose Lee.

1960 would bring Ekberg the role for which she would be most be remembered, as the glamorous actress who catches the eye of gossip magazine writer Marcello Mastroianni during his pleasure-seeking excursion through the streets of Rome, in Fellini's La Dolce Vita. Incidentally, the pair's late-night romp through the Trevi Fountain didn't bother the Scandinavian beauty, who stood in the unheated water for hours during the winter shoot, one bit. Co-star Mastroianni, on the other hand, needed a wetsuit under his clothes–and a bottle of vodka–to get through the scene. Things were considerably hotter years later, though, when Anita told the New York Times, "They would like to keep up the story that Fellini made me famous, Fellini discovered me," and claimed that in fact it was her aquatic romp that put the director on the map. Such feelings didn't stop her from working with Fellini again in Boccaccio '70 (1962), The Clowns (1970), and Intervista (1987), which also reunited her with Mastroianni.
Once she came back to Hollywood, Anita found quality roles harder to come by. She was nearly tapped to be the first "Bond Girl," Honey Ryder, in 1962's Dr. No before the filmmakers ultimately went with Ursula Andress. She reunited with Bob Hope (who once quipped that her parents "won the Nobel Prize for architecture") in 1963 for Call Me B'wana, and later that year co-starred with Andress, Dean Martin, Frank Sinatra and The Three Stooges in the frontier comedy 4 for Texas. Ekberg proved to be a charming distraction for Belgian detective Hercule Poirot (Tony Randall) in the light-hearted 1965 whodunit The Alphabet Murders, based on an Agatha Christie novel, and she went to the moon as a Russian cosmonaut in the Jerry Lewis outer space romp Way…Way Out in 1966. By decade's end, however, she was down to making European horror films like 1969's Fangs of the Living Dead.
The 1970s and '80s would find Ekberg cast in such exploitation efforts as the Euro-western The Deadly Trackers (1974); the title role in the convent-set shocker Killer Nun (1978); the made-for-TV adventure Gold of the Amazon Women (1979); a distaff 007 spoof, S.H.E: Security Hazards Expert (1980); and Cicciabomba (1982), an Italian dark comedy about a once-fat girl who turns into a bombshell and seeks revenge on her former tormentors. In response to audience comments about her own weight gain since her days as a '50s starlet, the always outspoken Anita said, "I'm very much bigger than I was…so what? It's not really fatness, it's development."
By the early '90s Ekberg was semi-retired and living full-time in Italy. Her final big-screen turn came in 1999's The Red Dwarf, a Belgian/Italian oddity in which she played a middle-aged opera diva who has an affair with a diminutive legal office clerk. Beset by financial and health problems in recent years (A 2009 report said she was "destitute" and that she lost her home to fire while hospitalized for a broken thigh), she had been using a wheelchair since a pet Great Dane broke her hip in 2011. Married and divorced twice with no children, the beauty queen-turned-movie goddess told an Italian newspaper in an 80th birthday interview that, while she was lonely, she had "no regrets" about her life. "I have loved, cried, been mad with happiness. I have won and I have lost." Anita Ekberg may not have always lived "the sweet life," but she had a full one, and moviegoers are the better for her sharing it with them.
The above "Movies Unlimited" article can also be accessed online here.
---