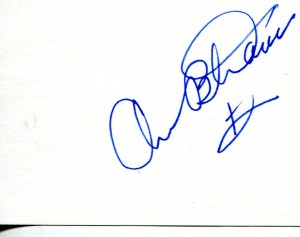 "The Guardian" obituary:
Comic actor Ann B Davis, who played the devoted housekeeper Alice on the television sitcom The Brady Bunch and won two Emmy awards as the forever-single secretary Schultzy on The Bob Cummings Show, died on Sunday, aged 88.   Her agent Robert Malcolm told NBC that she fell in the bathroom and hit her head, and died around 8.30 on Sunday morning at a hospital in San Antonio, Texas.   Bexar County, Texas, medical examiner's investigator Sara Horne says no cause of death is available and that an autopsy is planned Monday.   Bishop Bill Frey, a longtime friend of Davis, says she suffered a fall Saturday at her San Antonio home and never recovered.
Davis' character helped keep a large, blended family functioning on The Brady Bunch by offering advice and wisecracks to busy parents and frantic kids, or simply by making meatloaf for eight. She was known for her light blue housekeeper's uniform with a white apron.   Behind the scenes, Davis provided a model of acting professionalism to the show's six child actors, who on occasion were driven more by hormones and mischief than reason.   The Brady Bunch was among the first US television shows to focus on a non-traditional family. Robert Reed's character, architect Mike Brady, was a widowed father of three boys. Florence Henderson's character Carol Brady was a single mother – the show was vague as to why – who had three daughters. They get married in the first episode in September 1969      The series made its debut amid cultural tumult in the United States but remained invariably cheery and avoided controversy during its five seasons on the ABC network. It ran during a TV era populated by caustic sitcoms like All in the Family, Maude and Sanford and Son.
In 1994, Davis wrote of the wholesome The Brady Bunch: "Wouldn't we all love to have belonged to a perfect family, with brothers and sisters to lean on and where every problem is solved in 23-1/2 minutes?"   After the cancellation of the original series in 1974, she appeared on later incarnations of the show, including The Brady Bunch Variety Hour (1976-1977), The Brady Brides (1981), A Very Brady Christmas (1988) and The Bradys (1990). She also made a cameo appearance in The Brady Bunch Movie, a successful 1995 big-screen spoof of the series.   She wrote Alice's Brady Bunch Cookbook in 1994.   Davis already was a well-known TV actor when she landed the Brady Bunch role of Alice Nelson. She thrived as Charmaine 'Schultzy' Schultz on The Bob Cummings Show, which ran from 1955 to 1959.   Her character was a single secretary who had a crush on her boss – a bachelor photographer played by Cummings. She won Emmy awards for her role in 1958 and 1959 and was also nominated in 1956 and 1957.   Davis received a star on the Hollywood Walk of Fame in 1960 following the success of the series.
She was born in 1926 in Schenectady, New York, with a twin sister named Harriet. In the 1970s, she stepped away from show business to join a religious community, occasionally returning for roles in the various Brady Bunch projects. She never married.
The above "Guardian" obituary can also be accessed online here.