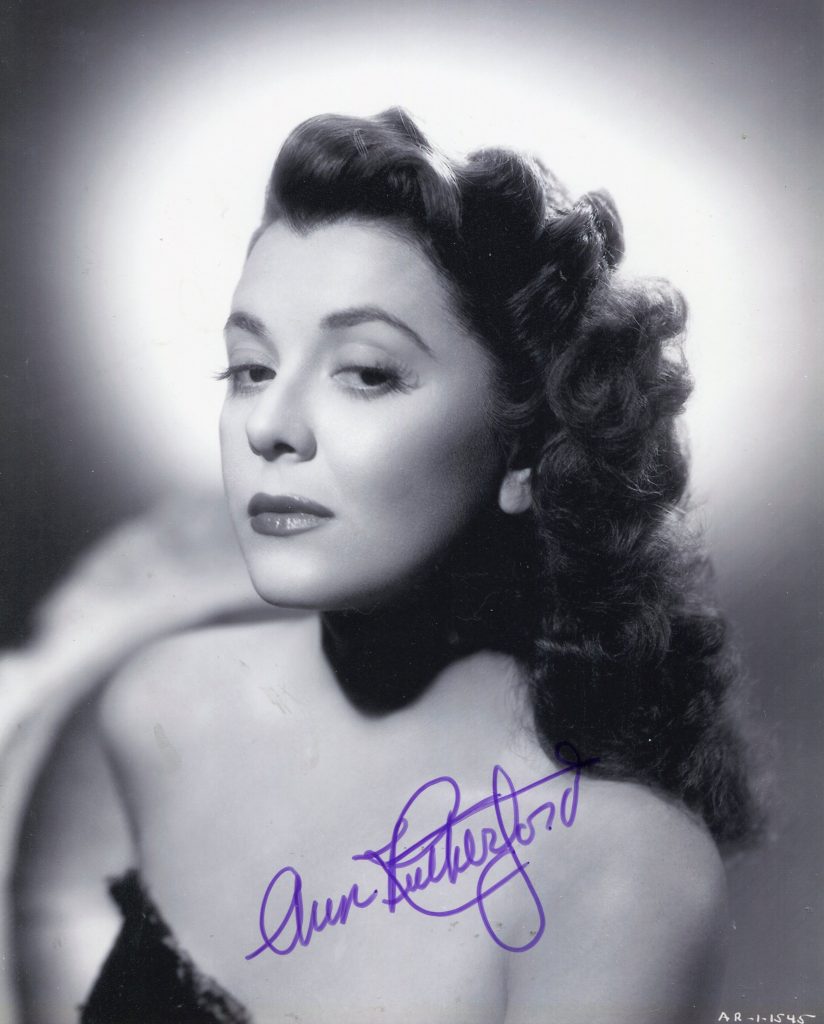 Ann Rutherford is forever remembered for two roles,'Careen' in "Gone With The Wind" in 1939 and as 'Polly Benedict' girlfriendof Mickey Rooney in the 'Andy Hardy' series made by MGM in the 1940;s.   She was born in 1917 in Vancouver, Canada and her family moved to San Francisco while she was a baby.  She also played Suzanne Pleshette's mother in TV's "The Bob Newhart Show".    She died at the age of 95 in 2012.
Ronald Bergan's obituary in "The Guardian":
Ann Rutherford, who has died aged 94, was adept at portraying pluck and persistence. As Polly Benedict, Andy Hardy's ever-faithful girlfriend, in 13 of the 15 Hardy family film series made between 1937 and 1946, she had to wait around for Mickey Rooney's accident-prone adolescent to return to her after some dalliance with another girl. Andy would seek advice on romance from his stern but wise and fair father, Judge Hardy (Lewis Stone). "Dad, can I talk to you man to man? Can a guy be in love with two girls at once?" Inevitably, Andy would realise, with hints from his dad, that Polly was his own true love.
The Hardy series, one of the most popular in screen history, was the archetypal idealisation of small-town America and apple-pie family values, with dark-haired Rutherford as the quintessential girl next door. She had to compete with a number of starlets that MGM was trying out in the series, including Judy Garland, Lana Turner, Esther Williams and Donna Reed. But Rutherford, a contract player, got plenty of work as Polly and tons of fan mail.
Born in Vancouver, she was the daughter of former Metropolitan Opera tenor John Rutherford and Lucille Mansfield, a silent-screen actor. She was brought up in California, where she made her theatre debut at the age of six, in a production of Raggedy Ann, and started to appear in films from the age of 16.
In fact, she got used to the waiting game in the several B-westerns she made before MGM snapped her up in 1937. Warbling cowboy Gene Autry, in four of the genre, seemed more interested in his horse Champion and his comic sidekick Smiley Burnette than Rutherford. Even when she's kidnapped by baddies in The Singing Vagabond (1935), he has time for a ballad or two. Up-and-coming John Wayne paid her a little more attention in The Oregon Trail, The Lawless Nineties and The Lonely Trail (all 1936), though there was hardly time for romance during the 70 minutes or so of action.
At MGM, Rutherford immediately took on the role of Polly Benedict in the second of the Hardy series entitled You're Only Young Once (1938). In between her on-and-off relationship with bouncy Rooney, Rutherford appeared as an ingenue in Dramatic School and Of Human Hearts, and as the spirit of Christmas past in A Christmas Carol (all in 1938).
In 1939, she was cast as Carreen, Scarlett O'Hara's weak-willed younger sister in David O Selznick's Gone With the Wind, a role Selznick previously envisioned for Garland. This "nothing part", as Louis B Mayer dubbed it, initially as a reason for not loaning Rutherford out to Selznick's company, eventually made her proud. In recent years, as one of the few surviving cast members of Gone With the Wind, she was a stalwart attendee at anniversary showings, where she was always besieged by autograph hunters.
Another younger-sister role was that of Lydia Bennet in the handsomely mounted Pride and Prejudice (1940), a film which was first publicised as: "Five charming sisters (age 16-24) on the gayest, merriest manhunt that ever snared a bewildered bachelor. Girls, take a lesson from these husband-hunters."
While Jane Austen spun in her grave, Rutherford appeared as the winsome wife of comedian Red Skelton as radio sleuth "the Fox" in Whistling in the Dark (1941), Whistling in Dixie (1942) and Whistling in Brooklyn (1943), and was Robert Stack's sweetheart in the western Badlands of Dakota (1941). The following year she was lent out to 20th Century Fox for Orchestra Wives, playing the new spouse of an instrumentalist in the "Gene Morrison band" – as the Glenn Miller band were called in the film. In 1942, Rutherford completed her duties towards Rooney in Andy Hardy's Double Life (1942), leaving MGM to freelance soon afterwards.
After a number of shoestring movies, there came Sam Goldwyn's The Secret Life of Walter Mitty (1947), in which she was Danny Kaye's grasping fiancée Gertrude Griswold, whom he understandably leaves at the altar for Virginia Mayo. Her last substantial role before retiring in 1950 was as Dona Elena in Adventures of Don Juan (1948), submitting to the seduction of an ageing Errol Flynn.
In 1953, Rutherford married her second husband, the producer William Dozier (who was formerly married to Joan Fontaine). In the 70s, she made a brief comeback in two canine films, They Only Kill Their Masters (1972) and Won Ton Ton: the Dog Who Saved Hollywood (1976). She is survived by her daughter, Gloria.
 • Mary Cecilia Ramone Theresa Ann Rutherford, actor, born 2 November 1917; died 11 June 2012